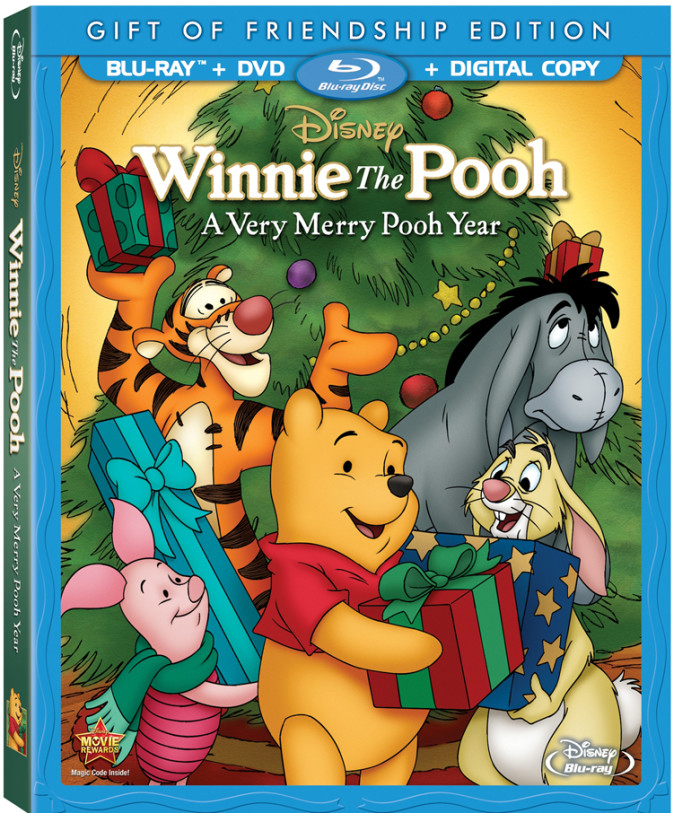 Get ready to ring in the season with a special Gift Of Friendship Edition of Disney's Winnie the Pooh A Very Merry Pooh Year! For the very first time, fans are able to join the Winnie the Pooh characters in this full-length adventure straight from the heart of the Hundred Acre Wood presented on spectacular Blu-ray and Digital Copy.  The newly digitally mastered classic film is set to release tomorrow (Nov 5th) in stores everywhere and will get the whole family in the holiday spirit with its never-seen-before bonus features, and inspiring celebration of friendship.
Bonus Features
Disney's Song Selection– Winnie The Pooh, Trimming The Tree With Jingle Bells, Snow Snows, Jingle Bells In The Snow, Happy Poo Year, Hurry No Not For Me, One Last Round Of Jingle Bells, Auld Lang Syne and the option to play the film with on-screen lyrics.
Sing Along With The Movie– Sing along with all your favorite songs.
Enchanted Environment –  Crackling fire, a decorated candle-lit Christmas tree, carols playing in the background, and the warm of the interior of Pooh's home is presented in this beautiful bonus feature.  Viewer is given the choice of selecting music and sound effects, music only, or sound effects only to go along with the visuals.
Disney Intermission – Pause the movie and discover fun family games and activities such as counting the carrots on Rabbit's Christmas tree, guessing what honey jar the present is hiding, an ornament memory game, and much much more!
Promo Trailers- The Jungle Book, Frozen, Mary Poppins.
Free Letters To Santa Kit-  Pooh related writing kit containing six Christmas themed stickers (Pooh, Tigger, Eeyore, Piglet, Rabbit, and Kanga with Roo), pen, two Dear Santa letters and envelopes.
Synopsis
It's the most wonderful time of the year, but Rabbit will only discover the true spirit of the season after his pals make misguided New Year's resolutions to change – with hilarious and heartfelt results! Featuring beloved characters, delightful songs and fun-filled bonus goodies, this special "Gift of Friendship Edition" is sure to become a shared family tradition for generations to come!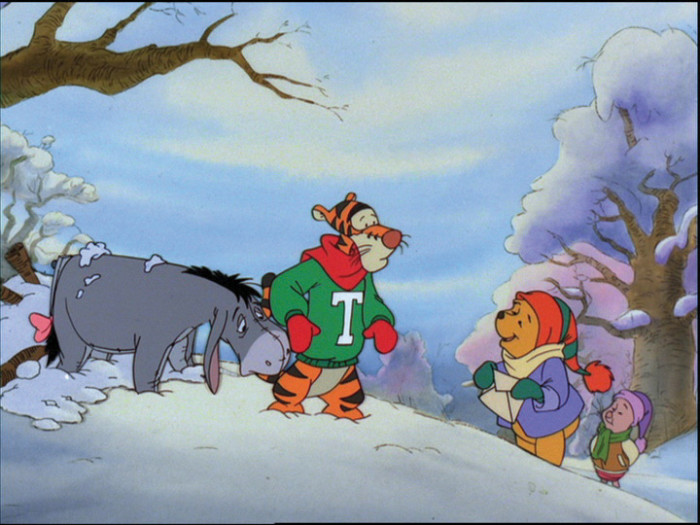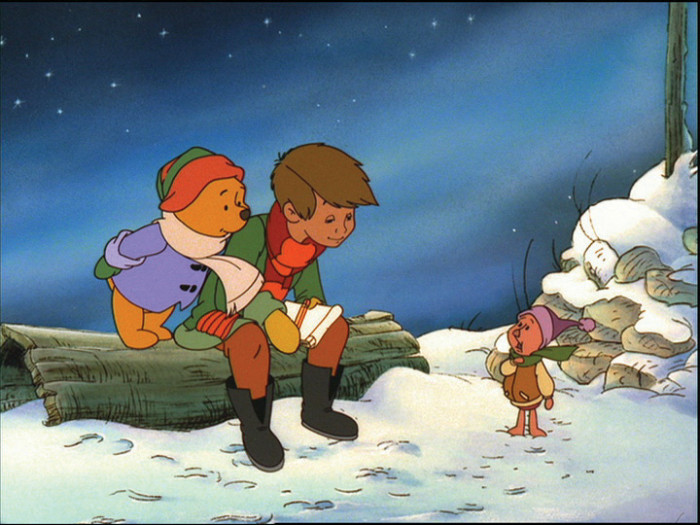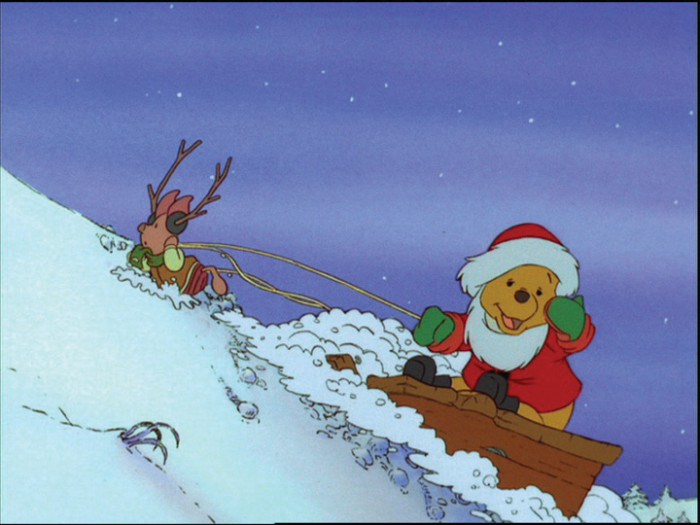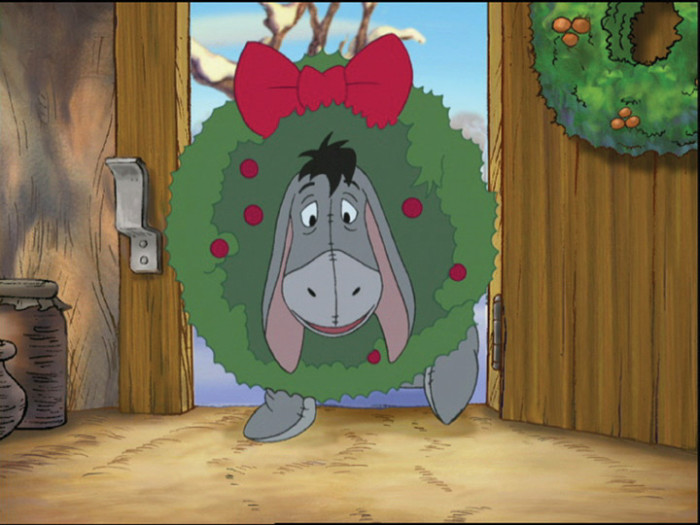 Cast
Jim, Cummings (Winnie the Pooh, Mini Adventures of Winnie the Pooh), Peter Cullen (My Friends Tigger & Pooh, Pooh's Heffalump Movie, Winnie the Pooh: Springtime with Roo), John Fiedler (Pooh's Heffalump Movie, Winnie the Pooh: Springtime with Roo), Michael Gough (Winnie the Pooh Un-Valentine's Day, Winnie the Pooh & Christmas Too), William Green (Winnie the pooh and Christmas Too)
The Winnie the Pooh Characters are Pooh-rifficly Good!
Disney's Winnie the Pooh A Very Merry Pooh Year Blu-ray Combo Pack (Blu-ray,DVD, and Digital Copy) contains a beautiful,  heartwarming movie in stunning vibrant colors, cheerful bonus features, and a fun Letters to Santa Kit to get children even more excited about Christmas!
The holiday treat is a delightful combination of Winnie the Pooh and Christmas Too, which was a 1991 Christmas TV special and the new film Happy Pooh Year.  Set on Christmas Eve, the movie begins with Pooh getting ready for his Tree Trimming Party and waiting for the gang of Winnie the Pooh characters to bring the decorations to put on the tree.  Holding Piglets gift, Pooh hears a knock on the door and tries to find a place to hide it while keeping his impatient guests waiting at the door.  Getting further distracted by his stomach, the gang let themselves in and discovers Pooh's head stuck in a honey jar.
After decorating the tree, Rabbit starts telling Roo about a Christmas past when they decided to write Santa a Christmas wish list of all the gifts they wanted.  But when the wind fails to deliver the letter to Santa, Piglet and Pooh try and find a way to bring Christmas to everyone by making gifts and dressing up as Santa and a reindeer.  Things do not go as planned and Pooh ventures out on his own to deliver the letter to Santa. Our friends learn Christmas just isn't the same unless it can be shared with friends.  All they really wanted was to have Pooh with them. And that memories are the real true gifts of Christmas.
On New Year's Eve Rabbit becomes annoyed with his friends and decides he is going to go someplace where there is "no honey-munching Pooh Bears, no petrified Piglets, no gloomy donkeys, and no always-bouncing Tiggers!"  Saddened by Rabbit wanting to leave, Pooh and friends agree to make a resolution to change so Rabbit won't move away. Pooh promises not to eat honey ever again. Piglet vows to not be afraid anymore. Eeyore promises to be so cheerful no one will know it's him. And Tigger oaths to never bounce another bounce.  The changes seem to make them switch personalities. Eventually, they all break their New Year's Resolutions and Rabbit realizes he likes his friends just the way they are.
Buy It
Winnie the Pooh A Very Merry Pooh Year is a wonderful tale in friendship and would make an awesome gift for the Pooh fan in your life!  The Blu-ray Combo Pack has a suggested price of $36.99.  Save 30% of the price by purchasing it at Amazon.com for only $25.89!
This review is in association with my Holiday Gift Guide festivities!  Keep checking back for more great recommendations coming your way!