I participated in an Ambassador Program on behalf of Mom Central Consulting (#MC) for Sprint. I received product samples to facilitate my review."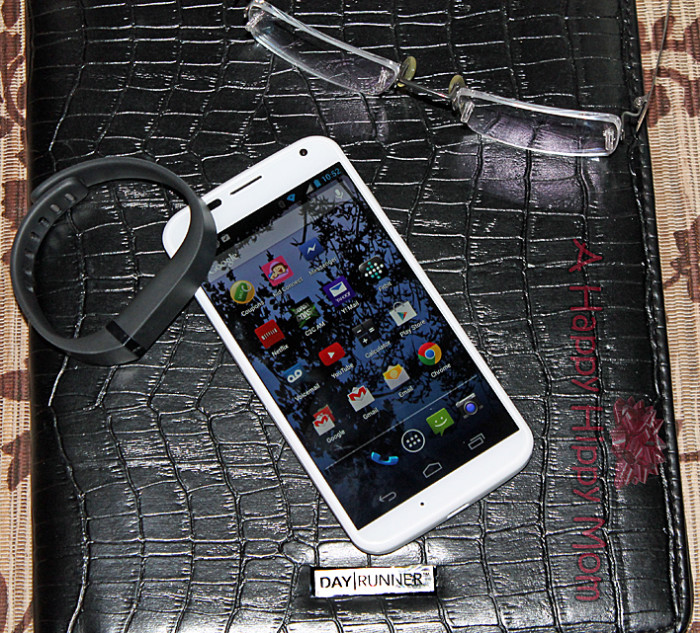 Just when you think you are over the hurdle of the back-to-school craziness, the holidays come along and make shopping for school supplies look like a picnic!  Plus, you still have all the responsibilities of after school activities, such as dance class, sports games, parent-teacher meetings (those are always fun), and other extracurricular happenings– piled up with the back-to-back holiday concerts, Christmas parties, and the rush to get the perfect gifts under the tree.  So, it's even more important to be organized and on top of everyone's schedules to get through the busiest and most stressful time of the year. Thank goodness for the innovative devices that can keep up with our demanding lifestyles and help make our lives more manageable!
Motorola MOTO X
For the past three weeks I have been testing out two AWESOME gadgets that help tame the whirlwind of the everyday life of a mom.  The first mom's little helper I want to share with you is the new Motorola Moto X. Paired with Sprint's 4G LTE, this smartphone is like having a tiny tablet that fits comfortably in the palm of your hand with the capability to keep up with all your demands on the go.
Design
 The first smartphone to be fully designed, engineered, and assembled in the U.S.A, on first impression you notice Moto X is a beautiful device right out of the box.  Featuring a 4.7-inch AMOLED RGB HD (720×1280) screen, the Moto X has a unique curved and textured back making it easy to grip.  There is even a dimple in the back to place your finger, which comes in handy for holding the phone while snapping pictures.  Measuring 5.1 x 2.6 x 0.22-0.41 inches and weighing 4.6 oz, it is neither the smallest nor lightest on the market, but due to the compact design it feels like you are holding a smaller phone. Undoubtedly, it is the perfect size for someone looking for all the perks of having a gorgeous display, yet still wants the comfort of holding a smaller device that slides nicely in a pocket.
The Moto X comes in two classic colors—woven black and white (the color I received).   With that being the case, there are rumors floating on the web that Sprint will be offering the Moto Maker coming November 11th.  This allows the customer to design their very own Moto X with vibrant colors, cool color accents, greetings, wallpapers, memory (16GB or 32GB), accessories, and more.
The Power Of All Things Google
Moto X runs on the world's most popular Android 4.2.2, Jelly Bean platform, which unlocks all the power of having access to more than 975,000 apps and games on Google Play at your fingertips.  It is powered by Motorola X8 Mobile Computing System, which includes a Qualcomm Snapdragon S4Pro family processor (1.7GHz Dual-Core Krait CPU, Quad-Core Adreno 320 GPU), a natural language processor and a contextual computing processor. Browsing, video playback, and running applications are smooth and snappy!
The phone comes pre-loaded with Google Mobile wireless services such as Google Search, Gmail, Google Maps for Android, Google Calendar and YouTube.
Touchless Control
Multitasking has never been easier! Have your hands deep within the batter, but need to make a phone call?  No problem!  Moto X responds to your voice without you having to touch it! Once you train your phone to recognize your voice you are able to make a call, get directions, send messages, play music, ask "Google" questions, check the weather, search for recipes, set alarms and reminders,  or do just about anything—hands-free– by using simple device commands.
I have to admit this is one of the most addicting features the Moto X has to offer.  After getting the phone to respond to my voice (has to be a quiet area during training) I started challenging the phone with different tasks!  Honestly, I think this phone might be smarter than some humans.  It certainly is able to take directions much better than the individuals who live in my area.  Anyhow, the phone looks like it is dead asleep and quickly awakens on hearing me say "Ok Google Now."  Then I would ask it a strange question or phrases to try and trip it up like "Luke, I am your father," which within seconds brought up a Youtube video of Star Wars —-at the exact scene where it is said. WOW!  Seriously, you could do this for hours and not get bored!  Not to mention, this is an extremely impressive feature to use during your next trivia party or when you can't remember the name of a movie, but know a quote out of it. LOVE IT!
[field name= iframe]
Camera
Moms can agree that the biggest, important aspect of a smartphone is the capability of it being able to take great pictures to catch all those adorable moments while away from home!  The Moto X is equipped with dual cameras.
Rear-Facing Camera
10MP with 16:9 aspect ratio
1080p HD video at 30fps with slow motion
Auto HDR
Panorama
Photo burst
4x digital zoom
Tap to focus
Front Facing Camera
If you happen to be a blogger and need an inconspicuous and rapid way to take awesome pictures—you are going to really like this phone!  The Moto X lets you go from pocket to picture with two twists of the wrist, so you will never miss another shot by struggling to find the camera launch button again.  Taking a picture is as simple as touching anywhere on the screen.  The embedded Clear Pixel technology collects more light letting you capture amazing shots twice as fast even in the darkest scenes and stops motion blur in bright light.  Here are a couple of images I was able to take with the Moto X.  The photo of the flowers was taken during the day with the bright sun shining through the window. The picture of my son was taken in the car at night.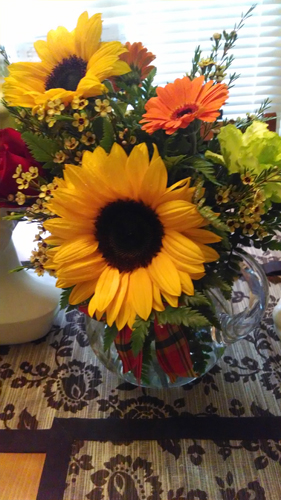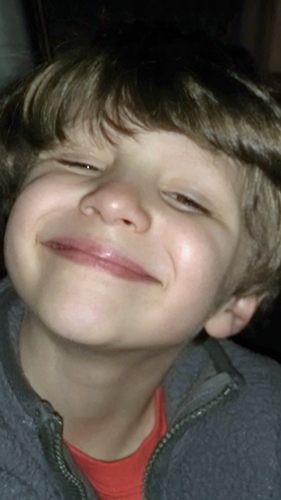 Sharing a photo is a cinch too!  Just swipe the screen left to view a photo or video from your gallery, then touch the Share icon to share the picture by email, messenger, Google+, and more!
[field name= iframe1]
Battery
The Moto X contains an internally-sealed (non- removable) 2200 mAh battery. Once fully charged, this battery has a long life able to get through the day on moderate usage without having to recharge it.  I charge it before going to bed at night and it lasts approximately 12 hours before having to plug it in again.  And I use my phone for everything, meaning it is under hardcore use constantly.
Active Display
Sick of having to unlock your phone to check to see if you received that important email you have been waiting for?  Even though your Moto X looks like it is sleeping, it is always ready to display incoming messages, calls, and more no matter what screen you are on.  However, you still have control over the notifications, since you get to choose your alerts.
Another smart feature is the Motorola Connect!  If you are using your computer you can answer texts using your keyboard! It lets you know who is calling before you reach for your phone.
Motorola Migrate
The worst thing about switching phones is the hassle of transferring all your stuff to the new device, which could take hours!  Busy moms need fast results! With Motorola Migrate moving photos, music, text, call history, contacts, and more from your old Android phone is quick and painless.
All you need to do is download the Motorola Migrate app from Google Play on your old Android.  Then on your Moto X touch the Apps icon and choose Migrate to copy your items from your old phone to your new device.
Sprint Exclusives
The Sprint Moto X comes with lots of great entertainment and extras for your enjoyment, including Sprint TV and Movies, with more than 15 channels of live sports, live breaking news and full episodes of the most popular daytime, primetime and kids entertainment.  For the music lover the device also includes Sprint Music Plus, a full-featured music store and player for music tracks, ringtones, and ringback tones, including millions of DRM-free music tracks and tones updated daily.
Motorola Assist
Don't want to be bothered while sleeping? Moto X learns from your habits and suggests actions to automate tasks, such as silencing your phone when you are sleeping or in a meeting. However, certain callers can still get through if needed.  All this is configured within the Sleep activity in Motorola Assist.  It also searches through your calendar to figure out if you are in a meeting and follows a multifaceted set of rules to filter out things on your calendar that may not actually be a meeting like birthdays and reminders.
Motorola even knows when you are driving by using a number of sensors on the phone, specifically the accelerometer and location data.  During driving it reads received text messages out loud, announces who is calling you out loud, answer calls hands-free, resumes music playback, and if prompted will send a message of ""I'm driving and will get back to your soon.-sent by Motorola Assist"  to whomever is calling or texting you.
Specs for Techs
Android 4.2.2, Jelly Bean
Sprint 4G LTE
World Phone – Quadband GSM (850/900/1800/1900)Tri Band UMTS (850/1900/2100)DC HSPA+
X8 Mobile Computing System, 1.7 GHz dual-core application processor
3G/4G LTE mobile hotspot capability supporting up to 8 Wi-Fi enabled devices simultaneously
Near Field Communication (NFC) capable
Wi-Fi® 802.11 a/b/g/n
3.5mm stereo headset jack
Bluetooth® 4.0 LE+EDR
Dimensions: 5.1 x 2.6 x 0.22-0.41 inches, weight: 4.6 oz
Display: Main Display: 4.7-inch AMOLED RGB HD (720×1280)
Memory: 16 GB standard and 2 Years of 50 GB storage offered for free on Google Drive
Battery: 2200 mAh battery for up to 13 hours continuous talk-time
Dual Cameras: 10 MP rear-facing camera with LED flash, 4 X digital zoom and video capture, 2 MP front-facing with video capture
More Pluses than Negatives
I have to admit I have a difficult time putting this phone down.  The awesome unique design combined with incredible innovative features makes my daily life easier and to put it bluntly…it is just plain FUN to use.  The ONLY negative is that the Moto X does not have a MicroSD card slot, so you are limited with the standard 16GB initially purchased. I have several 32GB MicroSD cards loaded with music I like to swap out and I am not able to use them with the Moto X.  Yet, there is the 2 Years of 50 GB storage offered for free on Google Drive to help with memory expansion. Other than that— I cannot think of a single flaw!
What's in the Box
Moto X; energy efficient charger; Micro USB cable; SIM removal tool; getting started guide
fitbit Flex
Do you wonder how many steps you take in a single day? The next helpful gadget I want to tell you about makes tracking your steps, distance, and calories a cinch.  The fitbit Flex  is a slim, stylish wristband that acts as an activity measurer.  The lightweight band is perfect for anyone looking to easily monitor their diet and activity level.  Dieters can keep track of how many calories consumed within their fitbit Flex dashboard along with water intake, calories in vs out, weight, distance, very active minutes, and more!  The program makes it easy to set goals, view progress, and earn step badges.  It even monitors how long and how well you sleep and functions as a silent wake alarm!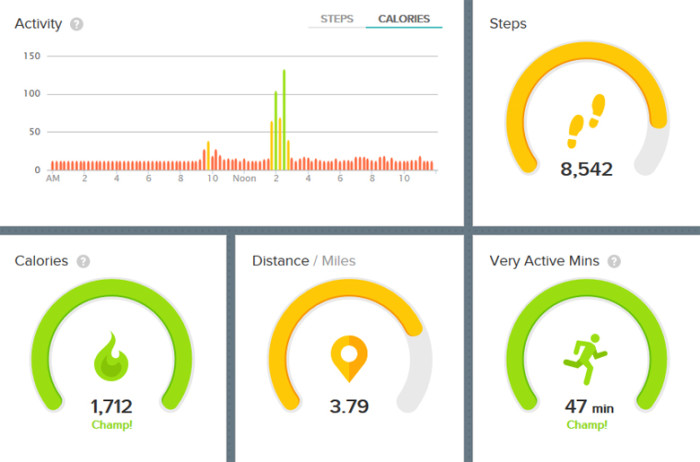 I adore this product!  Most of you who read my blog know I have been trying to lose weight through exercise and diet.  However, the scale doesn't want to cooperate and I am trying to keep track of everything I do to see how to improve my weight loss results.  This little mom helper makes it simple to see if I am eating too much or not enough and if I am getting sufficient activity.  The Flex also is a fantastic motivator to keep me moving as well.  I know if I am meeting my step goals just by looking at the LED lights on the wristband.  Additionally, I am trying to drink half my weight in ounces and this helps keep track of how much water I still need to consume.  Oh, and the best part is you never have to take the Flex off (except for charging) before showering, because it is waterproof!
Flex automatically syncs your stats wirelessly to your computer, tablet, or smartphone, so it is easy to access your levels even when you are away from home!
The fitbit Flex is available at Sprint! When purchased at Sprint, you'll have unlimited data – which makes it convenient to sync your fit bit data on-the-go as often as you want without worrying about overages on your wireless bill!
Buy It
Moto X and fitbit Flex would make excellent gifts for the busy mom in your life!  Please visit Sprint for product information and current prices!
This review is in association with my Holiday Gift Guide festivities!  Keep checking back for more great recommendations coming your way!