Tis the season for tea!  Why? Because whether you are a tea aficionado or just the occasional tea sipper, nothing is able to melt the holiday stress and cold weather blues away like a hot cup of delicious tea.  The infusion of tea leaves with herbs, spices, and fruits soothe the weary mind while rejuvenating the soul.  Not to mention, the aromas of cinnamon, nutmeg, ginger, and clove can get even the most miserable miser in the holiday spirit! Plus, tea makes a great holiday gift that anyone is able to appreciate!
I am a coffee drinker in the morning and a tea lover at night.  By the end of the day I want something to calm me and tea does the trick!  However, after trying Mighty Leaf Tea this week,  I have realized I have been missing out on the total tea experience!  The company was created by husband-and-wife tea Gary Shinner and Jill Portman, who turned their dream of infusing new life into the ancient indulgence of tea a reality for everyone to enjoy.
See and Taste the Difference
Now you might be thinking, how is Mighty Leaf Tea different than the other numerous tea brands on the market?  I mean tea is all the same right?  Nope!  Not all teas are created equal!  The majority of teas you widely see in the supermarkets are ground down to almost dust, placed in ordinary tea bags, contain artificial flavors, and lacks essence.  However, Mighty Leaf Tea is rich in zest, all-natural, free of sugars, and satisfy the senses with blends of intoxicating aromas.  The tea leaves are handpicked, left whole, and blended with all natural ingredients of fruits, herbs and spices.  The vibrant leaves and blossoms are too big for ordinary tea bags, so they designed their own silken, artisan Tea Pouches made of unbleached cotton that is hand-stiched.  You won't find any ugly staples are glue in these bags!  Not only are you able to taste the care gone into carefully selecting the quality ingredients, but you are able to see the difference the moment you open the box.  Seriously, the Tea Pouches are so big and pretty you feel guilty tossing them away!
Mighty Leaf Tea Gift Guide
Mighty Leaf makes choosing the perfect gift for the tea lover on your shopping list a cinch!  Their Holiday Gift Guide contains 10 luxurious gift ideas perfect for delighting the tea enthusiast in your life! Check it out!
The perfect duo
Mighty Leaf sent me the Tea Top Brew Mug and Sweet Selections set of 3 teas for review!
Mighty Leaf Tea Top Brew Mug
Kiss goodbye to over-brewed tea.  The Mighty Leaf Tea Top brew mug is a "traveling teapot," perfect for enjoying Mighty Leaf Tea.  Just pull up on the string to pull the spent tea pouch into the top compartment, away from your tea. Crafted of double-walled stainless steel, this 12 oz. mug keeps your tea hot while staying cool to the touch.  Recommended by Dr. Oz.  Available for $16.95 on mightyleaf.com

The Mighty Leaf Tea Top Brew Mug is easy to use and great for drinking hot tea on the go!  The double-walled stainless steel keeps the hotness in, but is cool to the touch.  I love my tea extra strong so I never have a problem with it over –brewing, but for the individuals who enjoy a more subtle flavor this brew mug will do the job.  Once the tea steeps for the recommended brew time you pull the string until you have full resistance of the Tea Pouch resting along the underside of the lid above the tea which prevents over-infusing.  The mug would make an awesome gift for the eco-conscious individual who wants to ditch the wasteful to-go-cups and enjoy tea while traveling, commuting to work, on walks, or anywhere else away from home.  It was recommended by Dr. Oz in a featured "Dr.Oz's Best Advice Ever – Over 50 All-Time Greatest Tips!" segment as a way of distressing by sipping away worries.  I love you Oz!!!
The Mighty Leaf Tea Top Brew Mug is not microwavable and should be hand washed using only hot soapy water.
Mighty Leaf Sweet Selections Gift Sampler
Satisfy cravings without eating sugar.  Includes 15 Tea Pouches of the following whole leaf teas:  Orange Dulce, Vanilla Bean and Bombay Chai. Orange Dulce teems with bergamot, orange, vanilla, and jasmine blossoms.  Spice it up with vanilla from Madagascar in our Vanilla Bean or with the pepper, orange, cinnamon, cardamom, and cloves in our Bombay Chai. The Sweet Selections Gift Sampler is wrapped with a complimentary gift ribbon and available for $24 on mightyleaf.com.
This is a wonderful sampler to give someone for the holidays.  The trio embodies everything you imagine comes along with the sweet smell and taste of the holidays!  The Bombay Chai is a delightful mix of black tea consisting of subtle hints of orange, cinnamon, cardamom, and clove.  It is incredible on its one, but also makes the most delicious Chai Latte with adding milk, a bit of stevia, and a dollop of whipped cream on top.  The Orange Dulce is AMAZING and is my favorite of the three teas.  I have had black tea with the hints of orange before, but the orange was muted and not very noticeable.  However, the Mighty Leaf Orange Dulce is packed with orange flavor and has a very distinct  aroma.  The Vanilla Bean is soothing with a smooth whisper of vanilla!  I know it is supposed to satisfy those sugar cravings, yet I can't stop thinking about how terrific it would be with Christmas Sugar Cookies!  YUM!
The artisan Tea Pouches look very elegant, although are strong enough to hold all the tea in while letting the entire flavor out!  These pouches don't let any loose floaters in your tea.  Each individual Tea Pouch includes a tag with recommended brewing time.
Brewing tips
Want the perfect cup of tea?  Try Mighty Leaf's brewing tips!
Prepare your tea with filtered or bottled water.  Avoid tap, distilled, or mineral water.

Be sure not to over-boil the water as it makes flat tasting tea.

For black tea and herbals, hot water is key!  Please do not let the water sit and cool before adding the tea pouch.

Brew green teas in water 30 to 40 degrees below boiling.  At this temperature, the steam from the kettle rises in curling wisps rather than a vertical column.  Or boil water and let it sit for 1-3 minutes before adding the tea pouch.

Immerse the tea pouch completely in the hot water and move it back and forth several times to maximize water flow through the bag.

There is a recommended brew time on the tag of our tea pouches.  Steep 4 to 5 minutes for black tea, 3 minutes for green tea, and 5 minutes for herbals.

Use a timer and be careful not to over-steep which can impart a bitter taste.

Reusing the tea pouch is not recommended.

Store tea in a cool, dry place away from direct sunlight.
Tea just isn't for sipping!
Check out these fantastic suggestions from Mighty Leaf on how to incorporate tea into recipes, holiday dinner planning, and filling your home with festive aromas!
Holiday Recipes:

Tea is a versatile ingredient that can be used to make lattes, smoothies, mocktails, and cocktails.  Substitute tea for coffee to make a Vanilla Bean Latte.  For ingredients, you will need Vanilla Bean, a black tea from Mighty Leaf with Madagascar vanilla, purified water, and milk (sugar is optional).  The recipe is here:  http://www.mightyleaf.com/tea-recipes-vanilla-bean-latte/.

For a new twist on eggnog, steep Bombay Chai from Mighty Leaf Tea in hot water, chill it, and add sugar, cinnamon, nutmeg, and eggnog.  Mighty Leaf's  Chai Nog Latte recipe has just the right aroma to bring back Holiday memories.

Impress your friends with tea infused cocktails.  Celebrate in style with a Bourbon Nectar by steeping Organic African Nectar by Mighty Leaf Tea, chill it, then add bourbon, simple syrup, and a squeeze of fresh lemon.  Check out our video of this recipe at http://www.mightyleaf.com/learn_tea-recipes-tea-cocktails/#Tea Cocktail Recipes.

Pair Tea with Holiday dinner courses:
Just like wine, pairing tea with food adds an artistic flair to a multiple course meal.  Full bodied black tea complements main dishes with poultry, meat, and game.  More delicate green teas work well with fish and vegetables.  Surprise your friends with an unusual white tea, like White Orchard from Mighty Leaf Tea, and pair it with fruit or cream based desserts.  For more tips, go to Mighty Leaf Pairing Tea With Food!

Cooking with Tea:

Think of cooking with tea as being the same as cooking with spices or herbs.  Asks your guests to name the exotic ingredient in Chocolate Green Tea Pound Cake.  Brine your turkey with Mighty Leaf Chai and fill your house with festive aromas.  Share your recipe with us on Facebook or Twitter.
15% Off  Tea
Sign up for Mighty Leaf email newsletters and receive a coupon for 15% off tea!
Stay Connected
Mighty Leaf Tea Website
Mighty Leaf Tea on Facebook
Mighty Leaf Tea on Twitter
Mighty Leaf Tea Holiday Giveaway!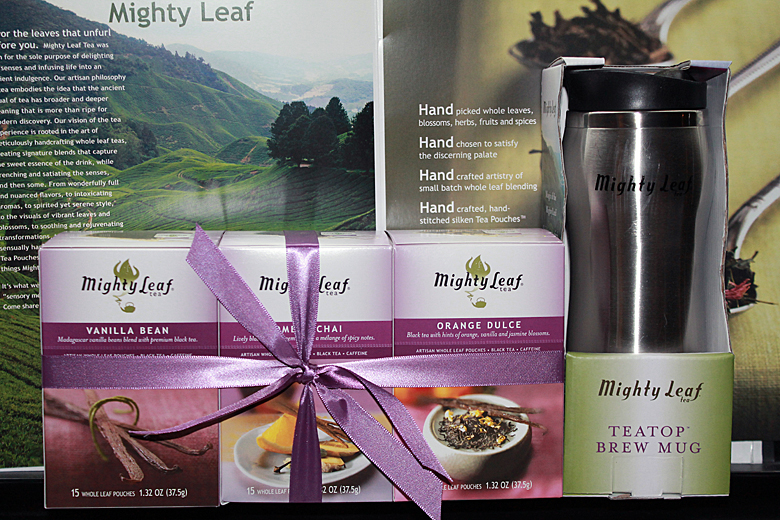 Courtesy of Mighty Leaf,  one lucky reader is going to win a prize pack containing the Mighty Leaf Tea Top Brew Mug and  Mighty Leaf Sweet Selections Gift Sampler!  To enter the giveaway, please follow the instructions provided on the Rafflecopter form.
Open to US Residents Only- age 18 + Ends November 30, at 11:59 pm (eastern time)! Enter Daily!
This review and giveaway is in association with my Holiday Gift Guide festivities!  Keep checking back for more great prizes coming your way!