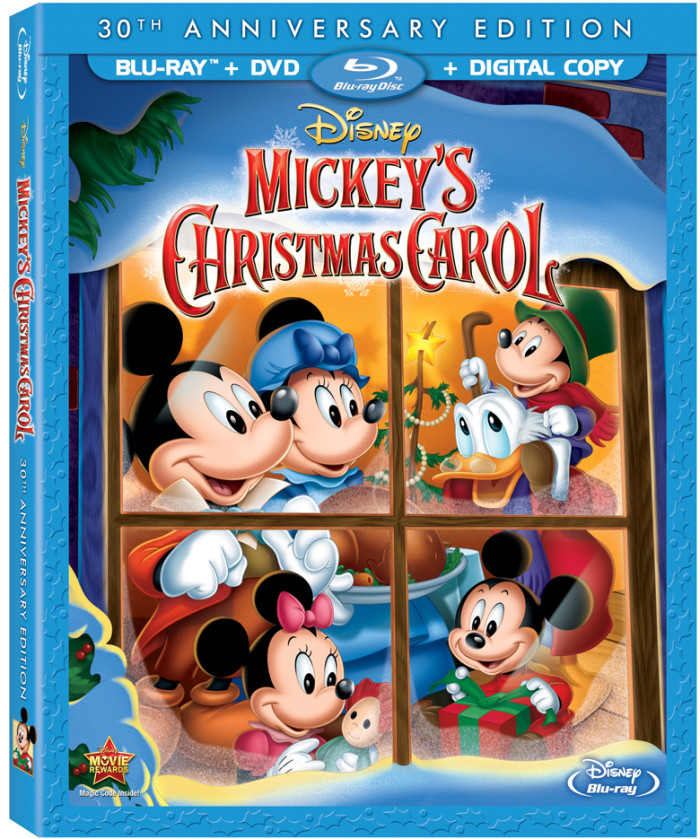 Bring the magic of the holidays into your home this season with the new Disney 30th Anniversary Special Edition of Mickey's Christmas Carol available November 5th in sparkling Blu-ray Hi-Def.  Disney fans will love viewing this timeless classic in stunning digitally mastered detail on Blu-ray and Digital Copy.  The Blu-ray Combo Pack (Blu-ray, DVD, and Digital Copy) also contains fully-restored holiday shorts, plus all-new bonus features!
Bonus Features
Shorts
All New "Yodelberg" – Mickey fights an avalanche, yeti, and other obstacles to visit Minnie who lives on a mountaintop.
"The Hockey Champ"- A Disney short starring Donald Duck that was originally released in 1939.  Donald the ""The Hockey Champion of Duck Swamp" tries teaching his nephews how to correctly play hockey. However, when he begins to show off his nephews teach him a thing or two about the art of being mischief.
"Pluto's Christmas Tree" – Released in 1952, this short features Mickey, Pluto, and Chip "n" Dale.  Mickey and Pluto set out to fetch a Christmas tree.  Pluto catches the attention of Chip "n" Dale while in the forest.  He chases the two chipmunks into the very tree Mickey decides to bring home.
"The Art Of Skiing" – Created in 1941, the narrated animated short stars Goofy who is staying at the Sugar Bowl Ski Resort to learn the art of skiing—pronounced shee-ing.
"Corn Chips" – A Walt Disney Production short made in 1951 starring Donald Duck and Chip "n" Dale.  Donald tricks the chipmunks into shoveling his sidewalk, creating a chain reaction of "yum yum popcorn" snowy events.
Disney Intermission
Disney Intermission begins anytime the pause button is selected during the film.  During the movie break Mickey invites viewers to sing Christmas Carols; We Wish You A Merry Christmas, Deck The Halls, and Jingle Bells.
 Synopsis
Make the season merry as Mickey, Goofy, Donald and all their pals star in a heartwarming retelling of Dickens' unforgettable holiday tale. Ebenezer Scrooge (Scrooge McDuck) is far too greedy to understand that Christmas is a time for kindness and generosity. But with the guidance of some wise ghosts (Goofy and Jiminy Cricket) and a bunch of newfound friends, Scrooge learns to embrace the spirit of the season. Share this wonderful holiday treat with the whole family!
Cast
Alan Young (DuckTales, DuckTales:The Movie), Wayne Allwine (Mickey Mouse Clubhouse, Mickey, Donald, Goofy: The Three Musketeers), Hal Smith (DuckTales, The Many Adventures of Winnie the Pooh), Eddie Carroll (House of Mouse, Mickey's Magical Christmas: Snowed in at the House of Mouse)
Friendlier Version Of The Timeless Dickens "A Christmas Carol"
Tis the season to be greedy and Ebenezer Scrooge (Scrooge McDuck) learns about generosity and kindness from the spirits of The Ghost of Christmas Past (Jiminy Cricket), Ghost of Christmas Present (Willie the Giant), and The Ghost of Christmas Yet to Come (Pete).
Dickens "A Christmas Carol" is a wonderful story, but the notion of ghostly visitations during the night is scary to most adults let alone kids!  Young children may find the timeless tale frightening, inducing nightmares, depending upon the way it is told.  The thoughts of sugarplums, candy canes, and everything nice about Christmas, do not automatically come to mind when thinking about the classic.  No one is able to argue the ending transformation of Scrooge from a miserable old geezer who steps on humanity to a humbled man bringing about goodwill is heartwarming, but the original tale also contains unforgettable imagery of coldness, despair, and death.   And do not believe just because a film is animated it cannot be spooky, because Disney's 2009 computer animated "A Christmas Carol" starring the voice of Jim Carrey as Scrooge was downright chilling at times!  I made the mistake of letting my son watch it last year and he could not stop talking about Jacob Marley's jaw becoming unhinged and kept asking why it happened!  Do not miss understand me!  The film is an amazing depiction of the way Dickens would want his story expressed, but is definitely not kid friendly!
However, Mickey's Christmas Carol is a movie that is able to be enjoyed by all ages.  Even though it shows a cemetery scene it is not overwhelming bringing about fear.  From the beautiful music, falling snow, to Goofy's (plays Marley) extreme clumsiness, the movie is a favorite in our home that is watched all year long (not just at Christmas).  Now we are able to enjoy it in stunning Blu-ray! Yeah!
Let's discuss the Blu-ray transfer.  The digital restoration crisps up the images and is an enormous improvement over the original, yet it is not seamless. Maybe it is just me, but at times the film seemed slightly out of focus.  In the funny Disney short "The Art Of Skiing" the grain is very noticeable, although it does not take away from the charm and is still very watchable.  Overall, it restores life into a beloved classic and the spruced up 26 minute tale (58 minutes long including shorts) is worth the Blu-ray investment!
Buy It
The 30th Anniversary Special Edition of Mickey's Christmas Carol is released tomorrow with a suggested retail price of $36.99!  Purchase it amazon for only $25.89 and save 30%!  The Blu-ray Combo Pack would make an excellent holiday gift for the Disney enthusiast on your shopping list!
This review is in association with my Holiday Gift Guide festivities!  Keep checking back for more great recommendations coming your way!