Are you ready? The 4th annual Neighborhood Toy Store Day is Saturday, November 9, 2013!  Participating local toy stores are helping to kick of the holiday shopping season and celebrating the joy of play on this very special day by hosting in-store events for families such as fun activities, craft projects, highlighting local talent, and offering exclusive discounts. Coordinated by the non-profit organization ASTRA (American Specialty Toy Retailing Association), the annual event is a great way to introduce families to the fun of shopping locally and applaud each toy store's commitment to the community.
Shopping local provides economic stability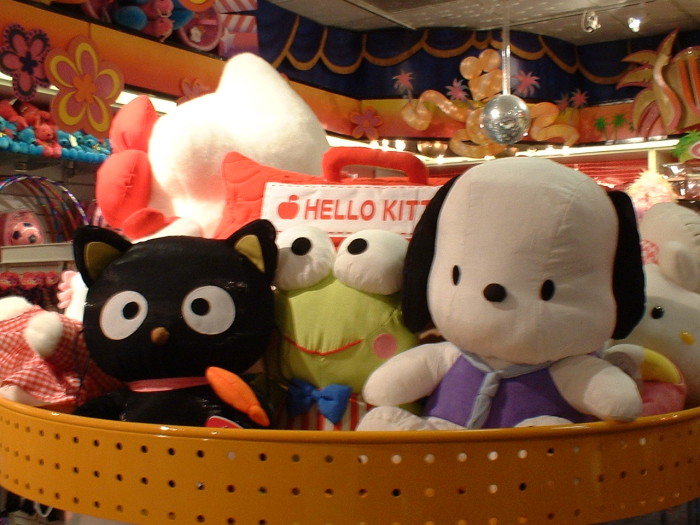 This time of year small businesses really depend on your support.  As you can imagine, with giant retailers dominating the U.S. economy it is more difficult staying afloat. For some retailers, the holiday season can signify 20 to 40 percent of annual sales. It is important to help keep these independent stores alive within the neighborhood, as they are the building blocks of generating local economy activity.  Here are 5 benefits of buying local provided in part from the Institute for Local Self-Reliance, a national nonprofit organization working to rebuild local economies.
1. Economic stability

Spending your money at an independent retail store supports the local economy. Local businesses create jobs, fund city services through tax dollars and promote neighborhood development.

2. Community development

Local businesses foster community well-being by building strong neighborhoods, sustaining communities, and contributing more to local causes. Not only do these stores add unique character to the local neighborhood, they increase the quality of life for residents and contribute to the value of homes in the area. In addition, local ownership means local decision making by people who live and work in the community and are therefore personally invested in its success.

3. Reduced environmental impact

Local stores help sustain vibrant, compact, walkable town centers, which in turn are essential to reducing sprawl, automobile use, habitat loss, and air and water pollution. Neighborhood stores require less travel for consumers, which decrease traffic congestion and carbon usage.

4. A diverse product selection

An abundance of small locally owned businesses, each selecting its own product mix, guarantees a much wider range of product choices for everyone in the community. In addition, independent toy stores tend to carry many of the high-quality, boutique and specialty products not typically found at big box stores.

5. Better customer service

Small business owners are committed to keeping customers happy. They tend to tailor their product offerings to meet the needs of the community, host local events and create incentive programs for loyal shoppers.
ASTRA's "Best Toys for Kids 2013" list
ASTRA's website is packed with tons of information about toys and play for children of all ages.  Their " "Best Toys for Kids 2013" list features toys found at neighborhood toy stores that will spark your child's imagination, build creativity,  and are of exceptional value.  If you are looking for expert advice on what toys you should purchase for your child's age, this list is the place to check first.
I received two of the toys on the list to review including Squigz (By Fat Brain Toy Co) and X-treme Sticker Maker Set (By Faber-Castell USA Inc.).
Squigz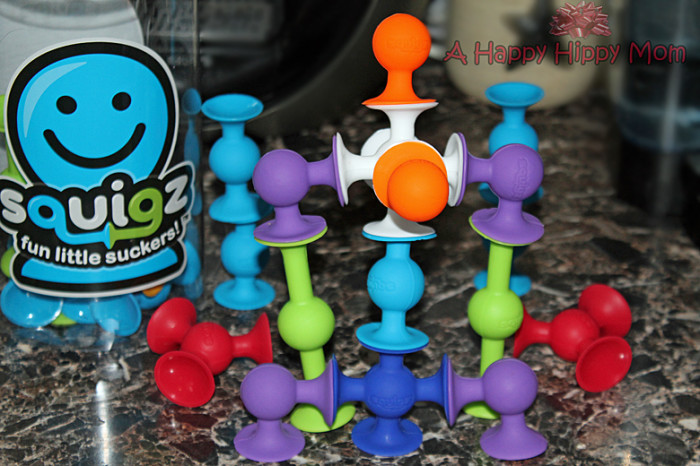 This toy really sucks—in a good way!  These thrilling litter suckers virtually stick to any flat surface and provide hours of constructive play.  Kids will have fun putting together and pulling apart the high-quality silicone-rubber suction cup pieces.  The Squigz Starter Set includes 24 pieces of 8 different cool shapes and colors.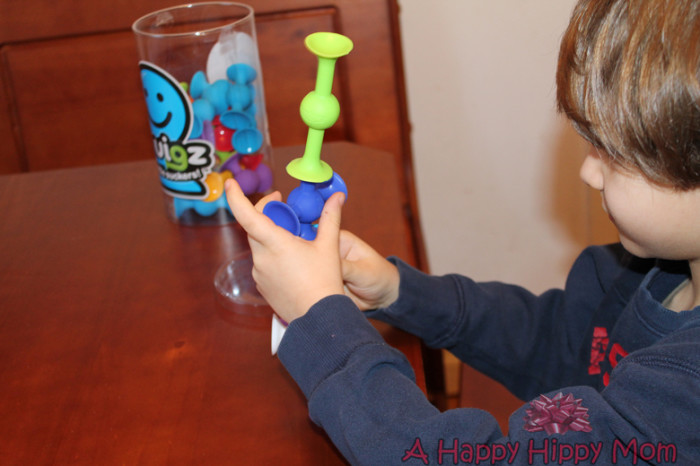 My son really likes this toy! The Squigz are very flexible and perfect for building whimsical characters, such as robots. Even though the pieces do not have any faces, children will give their Squigz creations a personality, which fosters imaginative play.  The suckers are also great for building vehicles, jewelry, strange monsters, or whatever shapes comes to your child's imagination.  However, building large structures like buildings tends to be a bit more difficult, because the suction construction falls over if the links get too long.
The pieces connect to each other easily and when pulled apart they make a satisfying and fun POP sound.  Pulling the suction cups apart takes a little muscle and is a great way for kids to improve their eye and hand coordination skills as well.
They literally do stick to anything, making construction possible on walls, bathtubs, countertops, windows or any non-porous surface.  They even stick to humans, which may or may not be a positive factor!  The good news is your animals are safe, being they do not stick to fur.  Thank goodness or my dogs and cats would be walking Squigz targets for my son!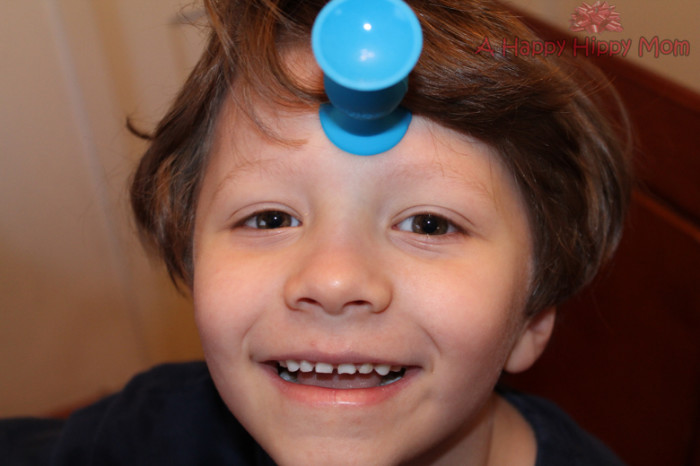 Squigz is a winner of the ASTRA's Best Toys For Kids 2013 Construction Arts Play category.  The toy is recommended for children ages 3+ and has a suggested retail price of $24.99.
X-treme Sticker Maker Set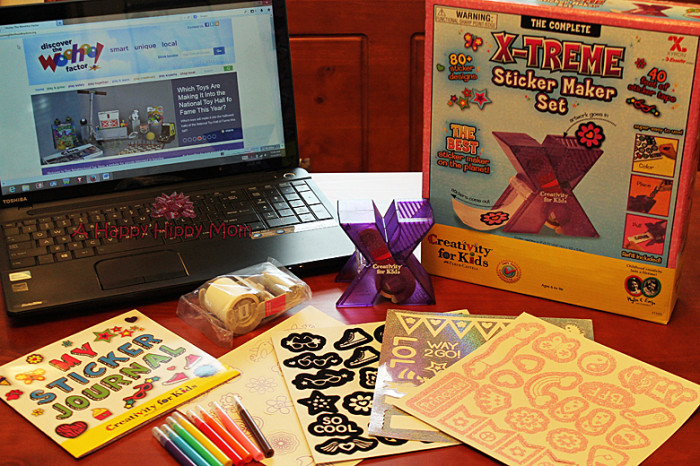 The X-treme Sticker Maker Set allows kids to express their personality and individuality as they create unique stickers.  The set includes 40 feet of sticker tape, eight colorful markers, and more than 80 color-in sticker designs with features such as velvet, metallic, glitter, color-in markers and sticker book.
You really can't go wrong with this set! One thing kids absolutely love is stickers!  The machine is extremely easy to use and kids will spend hours creating fun stickers using the designs or making their own original stickers from little photos, sayings out of magazines, small pieces of material like ribbon, and more!  They just have to make sure the pieces are no wider than 1.5" so they are small enough to fit through the top of the machine.
The machine comes pre-loaded with 20 feet of sticker tape and the kit also includes a refill with 20 more feet.  Once the tape runs out, additional refills can be purchased at your local toy retailer or creativityforkids.com.
The kit also includes 8 markers; purple, blue, green, yellow, orange, pink, red, and brown.  The markers are small and more than likely will need to be eventually replaced.
The X-treme Sticker Maker Set is not only great for kids, but adults too!  For you crafty mommas out there this nifty machine will allow you to do some very awesome scrapbooking using your own sticker creations.  I homeschool my son and I am already thinking how I can use this toy to reward him with super cool stickers for a job well done!
The X-treme Sticker Maker Set is recommended for children ages 6 and up.  It is a winner of the ASTRA's Best Toys For Kids 2013 Creative Arts Play category and has a suggested retail price of $24.99.
Priceless Memories
There are now no local toy stores within my neighborhood.  The bigger retail stores bullied them out of business. Sad, but true!  However, when I was younger I remember my Dad taking me to the toy shop in town and I use to love looking at all the neat assortment of windup toys on the shelf.  Christmas time was even more magical, since the store window would display a train all lit-up with small toys surrounding it.  It would make me daydream of Christmas day and what was going to be under the tree. Now that I am older and he is gone, I think back of those days with my Dad and appreciate the time we spent together.  Those memories are priceless and can't be bought!
I Heart My Neighborhood Toy Store Sweepstakes
ASTRA has launched the first ever "I Heart My Neighborhood Toy Store" sweepstakes in celebration of the fun of shopping for toys at the local toy store!
Through November 8, 2013 log onto yourneighborhoodtoystore.org and enter to win the following:
–    A grand prize vacation package to select all inclusive Hard Rock Hotels in Mexico and the Dominican Republic courtesy of Thomas & Friends™
–    Featured prizes including gift baskets or gift certificates from Kidoozie, earlyyears, Calico Critters and Playmobil (retail value: $250 per prize)
–    A gift basket of assorted Best Toys for Kids winning products from ASTRA (retail value: $250)
Stay Connected
Visit yourneighborhoodtoystore.org
Like TheWoohooFactor Facebook page
Follow TheWoohooFactor on Twitter  @TheWoohooFactor
Support by Tweeting!
Woohoo! Discover the thrill, excitement and fun of finding and playing with today's best toys here: http://bitylink.info/Mlp3
Have you discovered the woohoo factor yet? Learn more at http://bitylink.info/w908
Check out this new website about safe, creative and educational play for children: www.yourneighborhoodtoystore.org
Best Toys for Kids Content:
Looking for toys to spark your kids' imaginations? Check out ASTRA's Best Toys for Kids 2013 list http://bit.ly/ovWdxP
Neighborhood Toy Store Day Content:
[Store Name] is celebrating Neighborhood Toy Store Day this Saturday, November 9. Stop by for [activities] #toystoreday
Join us this Saturday, Nov. 9 at [address] for [activity], [activity] and [activity] to celebrate Neighborhood Toy Store Day 2013! We can't wait to play with you! #toystoreday
Happy Neighborhood Toy Store Day! Stop by [store] to celebrate today with [activities] #toystoreday
Hashtags for Twitter:
Insert relevant hashtags (#toystoreday)
Disclosure: I received products courtesy of ASTRA for this review; all thoughts and opinions are my own.