Nothing says I love you or lets a loved one know you are thinking about them during the holidays more than giving a unique gift of personalized jewelry.  With that being said, would you purchase a custom piece of jewelry online if you didn't know what it was going to look like?  Truthfully?  I know I would not want to take the risk of spending money on a present without seeing it first.  Although, if I was offered to see exactly what the custom jewelry is going to look like upon its arrival, I would have no problem buying it online.  If you feel the same way, you are going to LOVE PicturesOnGold.com new Interactive "Build Your Own Locket" application as much as I do!
"Design your Own Locket" application
In October of 2013 PicturesOnGold.com launched a "Build your Own Locket" application that allows customers to actually see the exact finished product prior to purchasing it.  The handy, easy to use tool allows the customer to become the ultimate artist and create one-of-a-kind Gold Lockets straight from the heart.
PicturesOnGold.com gave me the opportunity to try out the new "Build your Own Locket" application and I used it to design the stunning locket you see below.  Here is how I did it!  Please pay attention, since one of you is going to get a chance to create your very own custom Sterling Silver Heart Locket using the app. for FREE!  A fabulous prize valued at $249!
Simple step-by-step process
It is a very simple step-by-step process!  First you select from 1000's of front clip art designs which range from special occasions, holidays, symbols, sports, hobbies, and more!  Or you have the option to write an engraved message, or Monogram. I wanted my custom locket to be something special to wear during the holidays (even though I am sure I will wear it all year long), so I chose a cool snowman for the front.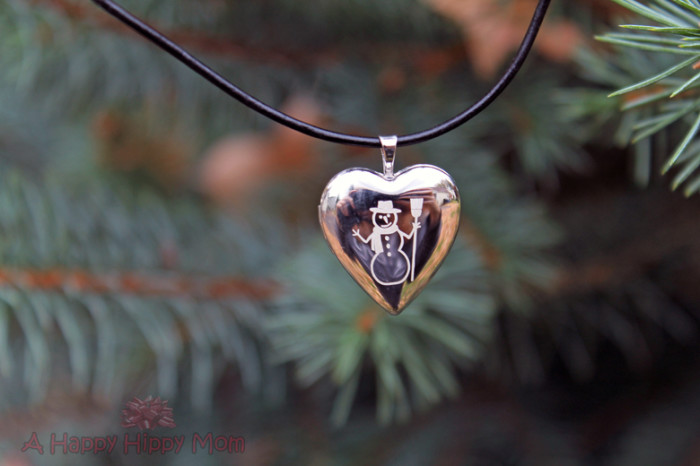 Then upload your photos and resize them to fit perfectly inside the locket. If you see white space, don't be concerned as the PicturesOnGold.com digital artists will automatically fill it in.  Additionally, if your photo has people in it that are spaced too far apart they will enhance the photo to bring them closer together.  They also remove the background as well for a very polished look.  Want the background to remain?  Just let them know within the "Special Instructions" box and they will leave it in place.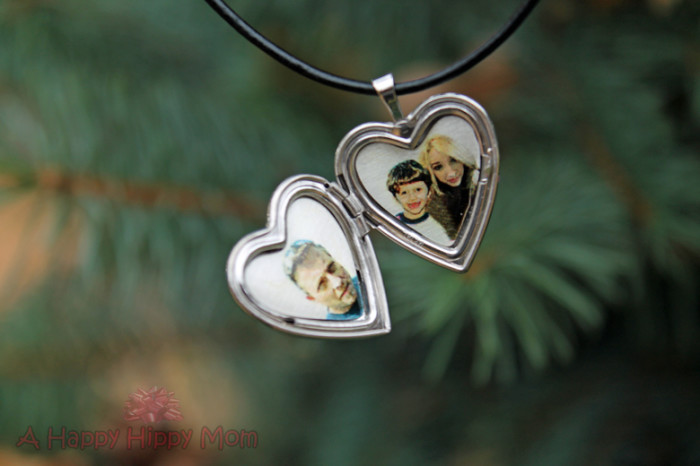 Next, choose a personalized engraving option which allows block or script writing on the reverse side.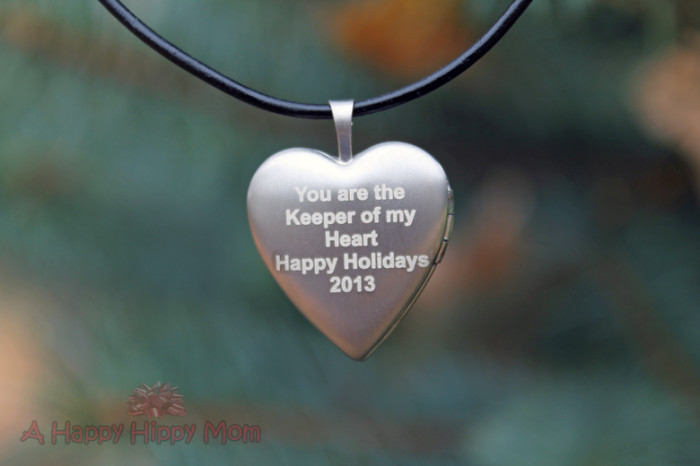 Select the type of chain you would like.  I decided upon the Sterling Silver Tip Black Leather Chain.
Lastly, preview the final product, making sure to go back and adjust anything you want changed, getting it exactly the way you want it to appear when it arrives to your home.
Craftsmanship is impeccable.
I am ecstatic about the finished product!  The color laser photo and personalized message engraving craftsmanship is impeccable.  Absolutely gorgeous! Plus, the color laser is 100% Waterproof & Scratchproof and is guaranteed for a lifetime. The new "Build your Own Locket" application is ingenious and gives the customer a piece of mind that there won't be any unpleasant surprises upon the products arrival, since they know exactly what they are getting.  It rather makes purchasing custom jewelry online foolproof! Try it out for the holidays!
10% Discount
Apply the Promo Code MOM2013 at checkout for a 10% discount for all orders placed on PicturesOnGold.com by November 30, 2013.
Stay Connected
Facebook https://www.facebook.com/PicturesOnGold
Twitter http://twitter.com/PicturesOnGold1
Pinterest http://pinterest.com/picturesongold
PicturesOnGold.com Build Your Own Sterling Silver Heart Locket Holiday Giveaway!
PicturesOnGold.com would like to give one reader the opportunity to use their new feature "Build Your Own Locket," to design your own Sterling Silver Photo Heart Locket for FREE for the Holidays! A $249 value! TO ENTER THE GIVEAWAY PLEASE USE THE RAFFLECOPTER FORM INSTEAD OF LEAVING BLOG COMMENTS HERE. Any comments are welcomed below, but won't count towards the giveaway. Only entries using the Rafflecopter form will be eligible for prize. Thank you!
Open To US and Canada Residents Only- age 18 + Ends November 30th, at 11:59 pm (eastern time)! Enter Daily!
[field name= iframe]