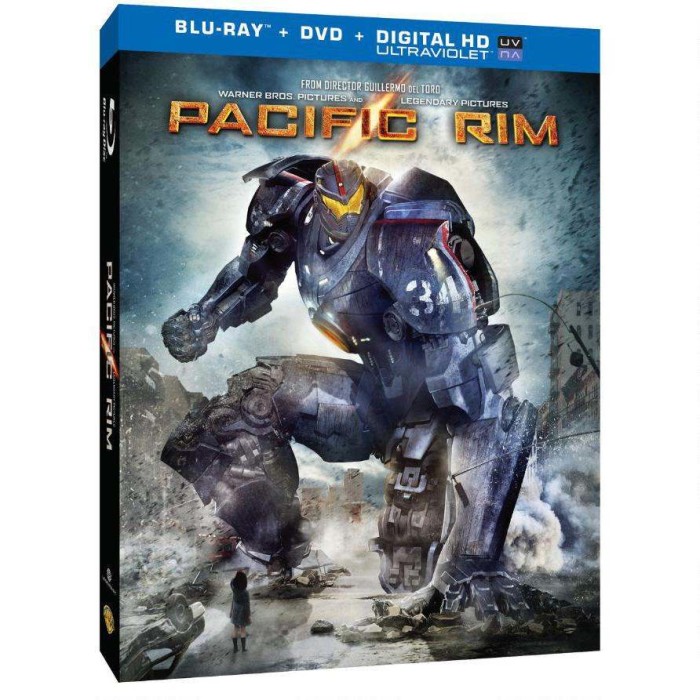 From Warner Bros. Pictures and Legendary Pictures, Pacific Rim releases onto Blu-ray 3D Combo Pack, Blu-ray Combo Pack, DVD and Digital HD on October 15!  In anticipation of its arrival,  I have the Pacific Rim Blog App to share with you and a giveaway for the chance to win a copy of Pacific Rim on Blu-ray! I completely missed the film in theaters, but looking forward to watching it on Blu-ray!  Here is more about the movie and the trailer!
[field name= iframe]
About Pacific Rim
Go BIG or go EXTINCT!
Directed by Guillermo del Toro, Pacific Rim is an epic science fiction film set in the 2020s. Earth is at war with Kaijus; colossal monsters from an inter-dimensional gateway on the Pacific Ocean floor. Humanity unites to fight these huge monsters by creating the Jaegers: gigantic humanoid robots that are controlled by two pilots whose minds and memories are linked. The story takes place in the later days of the war, following Raleigh Becket, a former Jaeger pilot called out of retirement and paired up with newbie pilot Mako Mori in a final effort to defeat the Kaijus!
Pacific Rim is released on Blu-ray & DVD Oct.15!
Blog App
Pacific Rim: CONTROLLABLE GIFs – Move & click your mouse across the GIFs to control the Giant Kaiju and Massive Jaegers!
Pacific Rim SUPERFAN QUIZ – How do your movie smarts stack up? Do you consider yourself to be a movie superfan? Take the quiz to find out!
Pacific Rim SOUNDBOARD – Pacific Rim features epic battles between the Jaegers and Kaiju! Play with SFX from the movie, create your own battle clashes, and save mankind from the apocalypse!
[field name= iframe1]
Get Social With It!
• Tweet using the #PacificRim hashtag to let your followers know about this epic movie!
• Share on Facebook, Pinterest, Twitter or Tumblr to get friends excited about the movie being released on DVD!
Pacific Rim Blu-ray Giveaway!
[field name= iframe2]
Courtesy of Warner Bros. Pictures and Legendary Pictures, one lucky reader will receive a Pacific Rim Blu-ray copy!  To enter the giveaway, take the Pacific Rim SUPERFAN QUIZ and share your results using the Rafflecopter form.
Open To US and Canada Residents Only- age 18 + Ends October 26, at 11:59 pm (eastern time)! Enter Daily!
Each household is only eligible to win 1 Pacific Rim Blu-Ray, so if you have won the same prize on another blog, you will not be eligible to win it again. Winner is subject to eligibility verification.
[field name= iframe3]
Disclosure: The assets included within this message were delivered to me to promote Warner Bros. No compensation was received.