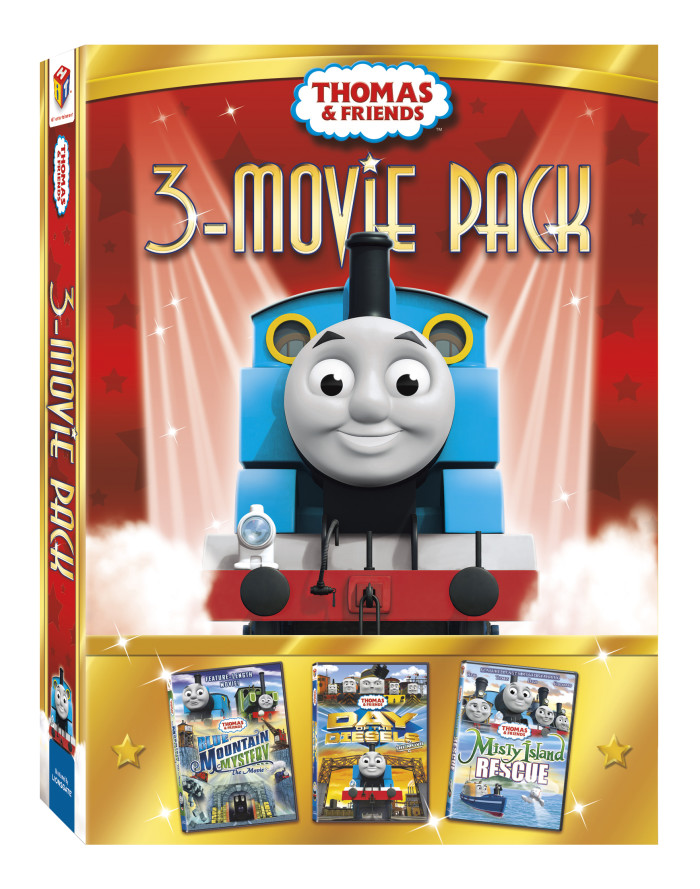 Go full steam ahead for great entertainment in Thomas & Friends 3 Movie Pack, arriving on DVD today (October 15, 2013) from Lionsgate and HIT Entertainment!  The three amazing movies include "Blue Mountain Mystery," "Day of the Diesels," and "Misty Island Rescue."  The exciting box set will take your child on rip-roaring adventures packed with heroic rescues, mysteries to be solved, new discoveries, and more!  Consisting of approximately 177 of total running time with a suggested retail price of only $19.98, this 3 DVD collection is packed with fun bonus features and would make the perfect under $20 gift this season for the little engine in your home.  Here is more about the movies.
Thomas & Friends Blue Mountain Mystery – The Movie
When trouble strikes at Blue Mountain Quarry, Thomas is sent to help. There he discovers a little green engine hiding in the tunnels. Thomas is determined to get to the bottom of the mystery but discovering the truth is harder than he imagined! Will he be able to help his friend or will the little engine be sent away from Sodor forever? Find out in Thomas' most mysterious adventure yet, a movie the whole family will love!
DVD Bonus Features
Blue Mountain Hide & Peep Game
Learn About Standard & Narrow Gauge Engines
Blue Mountain Mystery Karaoke Music Video
Working Together Karaoke Music Video
Thomas & Friends: Day of the Diesels – The Movie
See the Steamies and the Diesels face off in this action-packed movie adventure! There's a fire on Sodor and two new firefighting engines – Flynn and Belle – arrive to help Thomas and Percy save the day! When Thomas starts spending all of his time with Sodor's newest heroes, Percy is drawn to the Dieselworks, where he is made to feel special by the master of mischief himself, Diesel 10! But Percy doesn't know that he is part of Diesel 10's master plan to take over the Steamworks.
DVD Bonus Features
Fiery Flynn to the Rescue Game
Day of the Diesels Karaoke Music Video
Hear the Engines Coming Karaoke Music Video
Steamies & Diesels—Learn How They Work! Video
Thomas & Friends: Misty Island Rescue – The Movie
The engines are hard at work to build a new Search and Rescue Center. When Thomas helps a friend in need, he is rewarded with an exciting trip to the mainland.  Along the way, he gets lost at sea and finds himself on the mysterious Misty Island, where he meets new friends Bash, Dash and Ferdinand. Together they discover the secrets of Misty Island and help Thomas find his way home.  Will Sir Topham Hatt's search party ever find Thomas? Find out in this action-packed movie adventure the whole family will enjoy!
DVD Bonus Features
The Search for Thomas Game
Misty Island Rescue Karaoke Music Video
Sir Topham Hatt Karaoke Music Video
Fantastic Collection!
My son has seen all three of these Thomas & Friends movies and enjoys watching them over and over again.  Each one has some sort of life lesson to be learned of teamwork, friendship, and cooperation.  For instance, in Thomas & Friends Blue Mountain Mystery Thomas learns it is better to know the facts before jumping to conclusions. Additionally, the story articulates that through friendship, teamwork, and trust even the most difficult problems are able to be solved. The engaging stories teach kids on how to be useful little engines in the friendliest of ways using relevant storytelling.  Available at an incredible value of $19.98, this 3 film box set is a steal and would be a big inexpensive hit for the holidays.
Buy It
Amazon is offering the Thomas & Friends 3 Movie Pack for just $16.98!  If you do the math, that is only $5.66 per movie which is an awesome deal!
Stay Connected
Facebook: http://www.facebook.com/thomasandfriends