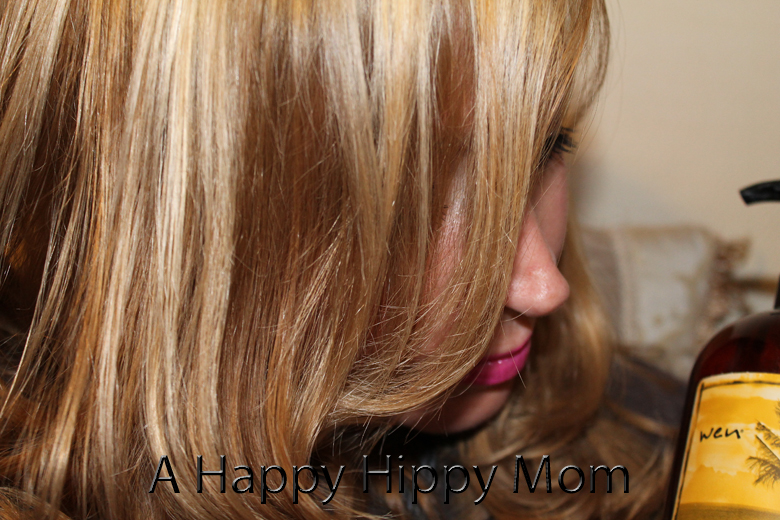 Wen, if you have a television you have undoubtedly seen the product advertised hundreds of times.  The Guthy-Renker infomercial is habitually on in the wee morning hours for the saps unable to sleep.  Yup, that's me!
Okay, in all fairness, I am very good at recognizing phony baloney items that are just out to pickpocket the average Joe or plain Jane from their hard earned money.  So, this is why you never see those types of crapolia products here on A Happy Hippy Mom.  I've worked relentlessly building this site for over four years and don't want my good name associated with rubbish.  I have turned down tons of review requests over the years due to them not being a good fit and hopefully have created a trusted repute among the wide vast blogging world.
Alright, back to Wen.  First of all I have to tell you on my bedroom wall I have a flat screen television hanging at the foot of my bed.  My husband is the KING of falling asleep to the television and leaving it on as we sleep. I know…It's not an ecofriendly thing to do and I have tried to break his dirty habit, but like the fried green beans—there is no telling him any different.  About two months ago, I woke up around 3 am to see Alyssa Milano saying how Wen has changed her forever and she will never go back to regular shampoo.  Um, I have heard that kind of talk before about a hair care product from a celebrity and I usually wrap it up to it being just a good marketing strategy.  Then out comes LA stylist Chaz Dean and the guy has better hair than most women do.  He is the mastermind behind Wen and after listening to him…I KNEW I had to try his incredible all natural product.  I don't know what there is about him, but the chap is extremely charming and probably could sell snow to Eskimos.  With that being said, I still don't like to commit to any product until I have tried it out myself.  Meaning, I don't like those types of offers that lock you into an auto subscription.  As an alternative to purchasing Wen at QVC, I bought a bottle of it off of eBay for a little over $30.
Wen is a type of all natural cleansing conditioner.  Unlike regular shampoos, Wen does not contain sodium laurel sulfate or other damaging detergents that tend to strip the hair, over dry the scalp, and cause lifeless, dull, frizzy hair.  Instead, Wen is made with herbs and natural ingredients such as organic Aloe Vera Leaf Juice, avocado oil, ect.  Basically, it is created with earth friendly ingredients which are not only wonderful for the environment, but additionally great for your hair too. Sounds too good to be true right?
On my first initial use I was like OMG this stuff is like paste!  How can this actually clean your hair?   The consistency reminds me of the thick Cholesterol Hair Conditioning Cream you use to replace moisture in sun-dried, over-processed hair.   Not to mention, the recommended 16-24 pumps for medium length hair seemed rather excessive and I was worried my hair was going to turn out a weighed down greasy mess.  Plus, I just spent $30 on a bottle and with having to use that much my 16 oz wasn't going to go very far!  However, the fragrance was very pleasant and I was going in with an opened mind ready for a hair awakening transformation.
Due to Wen being sodium laurel sulfate free, it does not lather as ordinary shampoo.   You apply the cleansing conditioner by massaging thoroughly into the hair, making sure to distribute to the ends.  The instructions say to leave it on for the remainder of your shower and then to rinse thoroughly and completely.  The process takes some getting used to, because most of us are in belief that without the soapy lather the hair doesn't get clean.   That is simply a myth.  I have to tell you my hair felt amazingly silky and clean after getting out of the shower.  Yet, if you can't get passed the product not lathering –don't buy it.  Additionally, I have dyed and highlighted my hair, overworked it with a blow dryer, damaged it with a straightening iron, and after using Wen my hair feels soft, lightweight, and looks shiny.  Plus, the product leaves my hair smelling amazing!  Yes, I am now a Wen girl!
Now let's talk about the cost.  For a 16 oz bottle of Wen it is going to cost you about $30 no matter where you buy it.  I have scoured the internet and cannot find it any cheaper than that. You can cleanse daily but when used properly you should only have to cleanse every 2-3 days.  The 16oz size should last you between 4-6 weeks depending upon your hair length and if you use it correctly.  Also, Wen replaces the need to use several separate products.  It is a shampoo, conditioner, detangler, leave-in conditioner and an overnight deep hydrating mask treatment for one price.  How much would you pay for all those quality products?  When you look at it in that way, $30 is relatively a reasonable cost to pay for a very effective hair care product able to produce fantastic multi salon results.
So, as a healthier alternative to using shampoos containing harsh ingredients– give Wen a try!  I absolutely love the stuff and it works for me.  However, I don't believe it is for everyone, especially for people who have lather hang-ups.  There are several different Wen varieties available, which are designed to be used with colored or natural hair.  Yet, the formulas were developed for different needs, such as the Fig being the most hydrating formulation.  I have used the [amazon_link id="B008DZ3VCI" target="_blank" ]Summer Mango Coconut[/amazon_link] (loved it) and just purchased the [amazon_link id="B001800I44″ target="_blank" ]Sweet Almond Mint[/amazon_link]!  Chaz also created several styling products, Wen for Kids, and even a pet line!
Wondering how Chaz came up with the name Wen?  The product is a reverse way of looking at cleansing the hair.   Hence, Wen is new spelled backwards!  Cool concept!
Disclosure:  The people at Wen have not contacted me nor have a clue as to who I am.  My opinions are of my own!