VTech, a pioneer in the learning tablet for children category, recently refreshed its InnoTab line to include the new InnoTab 3S  for 2013.  The 2nd generation Wi-Fi enabled children's learning tablet offers impressive changes and enhancements, including the VTech Kid Connect, a rechargeable battery pack with AC adapter, 2MP camera, D-pad control for better gaming experience, and 4GB memory expandable to 32GB via a micro SD card slot.  Other improvements consist of  pointer styluses (two)  for easier  writing on the tablet and a downsizing of the overall dimensions, creating a more compact and lightweight device for little hands to carry.
VTech Kid Connect
The new, exclusive VTech Kid Connect communication application (available at Google Play or Apple App Store) is the most notable upgrade worth mentioning.  It sets the InnoTab 3S ahead of the previous model and keeps VTech a step ahead in the electronic education toy department.  Now children as young as three are able to send text messages along with adorable animated stickers to parents' smartphones.  Parents can respond by sending a text message and stickers to the child's InnoTab 3S.  The innovative feature allows kids to mimic parents and provides a safe outlet in entering the texting trend, as well as delivering a sense of security of feeling connected to family.  Additionally, the program gives kids the capability to stay connected to their friends and siblings through tablet-to-tablet communication, sending messages safely between two InnoTab 3S tablets whether it is in the next room or from across the country.  And due to the fact all communication is permitted by parents, children are only communicating with approved individuals they know and trust, making VTech Kid Connect a wise choice in kid-safe family networking.
Kid-Safe Browsing
No worries of children accidentally stumbling on YouTube, where the might be subjected to hair-raising videos with the InnoTab 3S!  The tablet only allows access to age-appropriate websites scrutinized by VTech's educational experts.  Parents also have the option to add additional websites, giving them ultimate control over what sites their child access.  Furthermore, because this parental control feature is password protected, kids are not able to add sites without their parents' consent.  So, kids can have fun safely browsing sites the love using the easy-to-navigate format, while parents are assured they are not viewing inappropriate content. It is a win-win solution.
Packed With Fun Content
The InnoTab 3S comes with all the great content children and parents enjoyed in the InnoTab 2S, including kid-safe Wi-Fi connection, a cool 180 degree rotating camera with over 55 fun photo effects, large 5 inch color touch screen, Read, Play & Create cartridge, and included built-in apps such as the MP3 player, e-reader, video recorder, Wonder Cam, Art Studio, photo album and Wish List Maker.  Additionally, the InnoTab 3S comes with 20 free apps ($60 Value) to get you started, including My Magical Beanstalk game where kids get to take care of their very own magic beanstalk and watch it grow.  As the game progresses, your child will earn special gifts that will help them take better care of their beanstalk, downloadable via the Learning Lodge. Moreover there is a directional game called H2O Go! that teaches kids about Physical Science concepts, such as the properties of water as it transforms into ice, water, and gas.  Your child will strengthen their creative skills as the play the preloaded Color & Pop animated painting game.  Basically, there is enough pre-installed on the tablet to keep your kids busy for hours!
Favorite Character Games
Kids will want to learn when they see their favorite characters!  Software cartridges and downloads feature popular characters, such as Team Umizoomi, Dora the Explorer, Thomas & Friends, Teenage Mutant Ninja Turtles, Jake & the Never Land Pirates and Sesame Street. New titles for 2013 on the Learning Lodge include Monsters University, Turbo, Planes, Doc McStuffins, Sofia the First and more.
The Learning Lodge Extensive Library
The Learning Lodge already has a very impressive library of 350 titles, but by the end of the year it will grow to over 600 titles that help teach and build skills in reading, math, social studies, handwriting, science, problem solving, geography and more!  The engaging educational content and curriculum is tailor-made for each age group and is suitable for toddlers to grade-schoolers.  The Learning Lodge allows parents to even track their child's learning progress online!
Rechargeable Battery Pack & AC Adaptor IncludedUnlike the InnoTab 2S, the InnoTab 3S includes a rechargeable battery pack and AC Adaptor!  This is one of the incorporated features that won me over the models.  No more purchasing expensive batteries! YEAH!  I think VTech really listened to parents and kids when they developed the InnoTab 3S.  Parents were sick and tired of purchasing batteries weekly and kids lost out on getting to play their favorite education tablet until mom or dad ran to the store. No more waiting!  Just recharge the batteries using the AC adapter and they are ready for education gaming on the go again! (A $34.99 Value)
More To Come!
VTech is planning on offering a value-packed Deluxe Apps Package with Premium Kid Connect, which will include even more enhanced features, such as allowing kids and parents to send each other personalized voice messages, photos and drawings, in addition to the texts and animated stickers currently available.  The Deluxe Apps Package will also include Movie Maker, a creative animation camera game that lets kids create fun stop-motion animations from snapshots.  The Deluxe Apps Package is going to be offered in the fall for purchase through VTech's Learning Lodge.
Something to Think About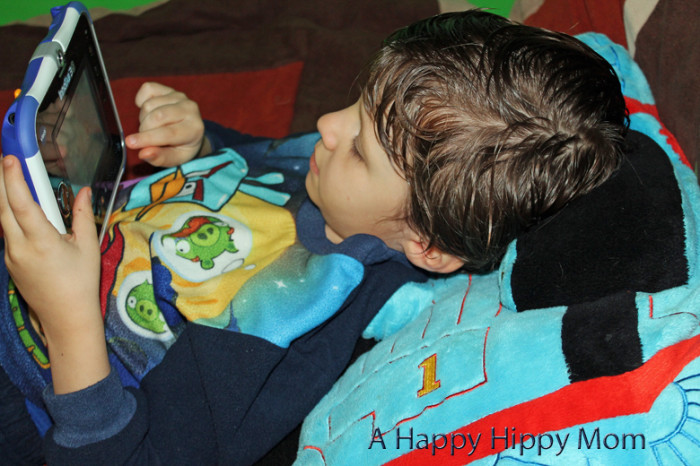 If you already have the InnoTab 2S and want to upgrade to the InnoTab 3S, the current game cartridges are compatible with the new tablet.  Furthermore, the InnoTab 3S is currently priced at $99.99 and is a better value than the InnoTab 2S ($79.99) when you consider the awesome new features, added apps., and included rechargeable battery pack with AC Adaptor.  With that being said, if your child is not interested in sending text messages than you might not need to get the upgrade.  However, the camera and design are actually a big improvement along with the directional pad.  So, it depends upon your child's needs and what you think will keep them engaged.
My son now has all three models. For him the texting and browsing capabilities of the InnoTab 3S are very exciting additions.  He does not know how to spell much to be able to communicate through texting, but enjoys sending the cute stickers.  Being this is his first year of schooling (Kindergarten) I love how the tablet gets him interested in education through fun play and  helps build his math skills, problem solving, as well as improves reading and cognitive development! Plus, it introduces science concepts!  The device is geared toward ages 3-9, so I know he won't outgrow it any time soon and it will provide several years of thrilling education playtime. Plus, the tablet is great for relaxing him at bedtime! What more could you ask for?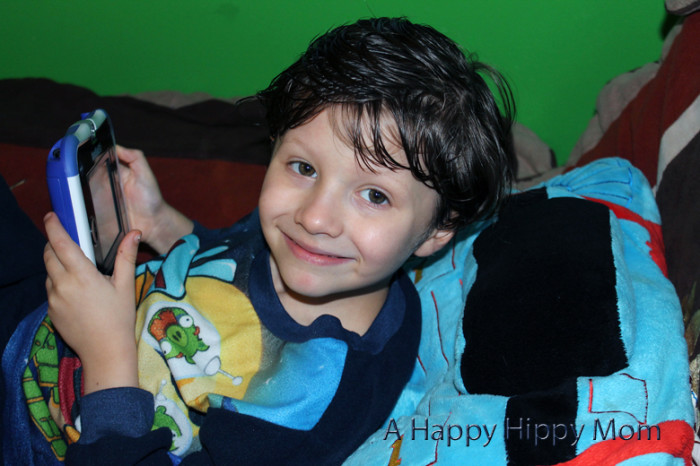 Buy It!
InnoTab 3S retails at MSRP $99.99 and is recommended for children 3 to 9 years old.
Stay Connected
VTech website – http://bit.ly/tHKlfD
InnoTab 3S – http://bit.ly/13n7yPF
VTech Twitter – http://bit.ly/Q7J7vM
VTech Facebook – http://on.fb.me/iIPfUE
VTech InnoTab 3S Giveaway!
VTech would like to give one lucky reader a InnoTab 3s ($99.99 value)!  To enter the giveaway, please follow the instructions provided on the Rafflecopter form. Any comments are welcomed below, but won't count towards the giveaway. Only entries using the Rafflecopter form will be eligible for prize. Thank you!
Open to to U.S.  residents, ages 18+.  Ends October 15th at 11:59 pm (eastern time)! Enter Daily!
Disclosure: The VTech product, information, and additional gift pack have been provided by VTech. However, all opinions are of my own.