When the alarm clock rings early in the morning and teens stumble out of bed to get ready for the school day, concerns turn to putting their best faces forward as they head to classrooms.   Looking in the mirror and seeing a new pimple is enough to cause any teenager anxiety. However, getting control over the troublesome face invader is as easy as sticking to a good cleansing routine and applying the proper medication when needed.  With that being said,  I thought it would be an excellent idea to share some recommended Clean & Clear essentials, extra beauty and grooming products, and expert tips from Dr. Whitney Bowe to combat acne,  which will help teens  look fabulous as they prepare for the day ahead.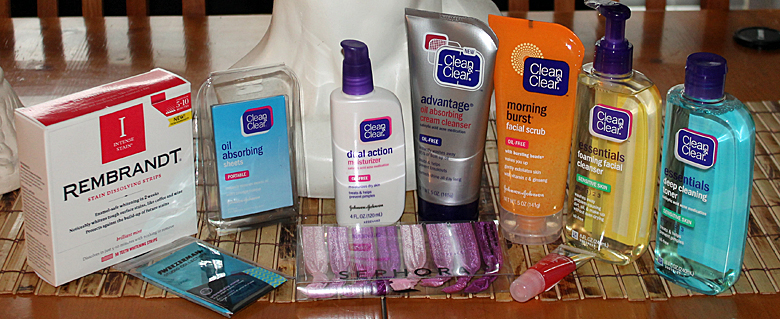 Clean & Clear Essentials, which will help those pimples disappear.
Clean & Clear ESSENTIALS Foaming Facial Cleanser (Sensitive Skin)
Clean & Clear Foaming Facial Cleanser for Sensitive Skin has an oil-free formula that gently removes dirt, oil and make-up. Formulated to cleanse without over-drying and reveal healthier-looking skin.
Clean & Clear ESSENTIALS Deep Cleaning Toner Sensitive Skin
CLEAN & CLEAR ESSENTIALS Deep Cleaning Toner for Sensitive Skin contains salicylic acid acne-fighting medication that treats and helps prevent pimples.
Clean & Clear ESSENTIALS Dual Action Moisturizer
CLEAN & CLEAR® ESSENTIALS Dual Action Moisturizer combines oil-free moisture with a proven acne-fighting ingredient. It can help to moisturize dry skin while treating and helping to prevent breakouts. It leaves your skin feeling soft and smooth.
Clean & Clear products to help absorb oil, keeping skin looking fresh and cool throughout the day.
Clean & Clear Oil Absorbing Sheets
Remove excess oils without smudging makeup with CLEAN & CLEAR® Oil Absorbing Sheets to control shiny skin.
Clean & Clear Advantage Oil Absorbing Cream Cleanser
There are cleansers. And then there's ADVANTAGE Oil Absorbing Cream Cleanser, the only one with POWDER PARTICLES technology that absorbs oil—even after you wash. The cleanser leaves you with a soft, powdery-finish that helps control oil so your skin stays less shiny all day.
Clean & Clear products that will wake up teens for school.
Clean & Clear Morning Burst Facial Scrub
From the invigorating MORNING BURST collection comes MORNING BURST Facial Cleanser. This unique gel cleanser with Vitamin C and Ginseng wakes you up with a fresh citrus scent while soft BURSTING BEADS burst with energy and vitamins, leaving your skin feeling clean, energized and ready to face the day.
Beauty & Grooming Tools
Neutrogena MoistureShine Lip Soother
Neutrogena MoistureShine Lip Soother hydrates, soothes and protects dry lips on contact with beautiful high-gloss shine. The unique hydragel formula contains cucumber, chamomile and glycerin for intense moisturization. Carry this pocket-portable gloss with you for use whenever you want hydrated, beautiful lips. Available in 9 glistening shades: Shimmer, Glimmer, Glisten, Shine, Gleam, Sparkle, Sheen, Glaze and Glow.
Rembrandt  Stain Dissolving Strips
REMBRANDT INTENSE STAIN Dissolving Strips noticeably whiten tough surface stains, like coffee, tea and wine and conveniently dissolve on teeth in just 5 to 10 minutes. Get noticeably whiter teeth in two weeks, and protect against the build-up of future stains.
Tweezerman Unbreakable Mirror
An ultra-durable compact for easy on-the-go tweezing and touch-ups.
Sephora Ombre Ribbon Hair Ties
Keep your hair in place and in style with this set of flexible hair ties adorned with fun and flashy designs. The soft fabric is gentle on your hair and comfortable to wear on your wrist between uses. Keep them in your gym bag or purse for ponytails and up-dos at your convenience.
Expert Tips From Board-certified dermatologist Dr. Whitney Bowe
As a Clean & Clear Ambassador, I had the opportunity to ask Board-certified dermatologist Dr. Whitney Bowe eight pressing questions relating to teen skin care! Check it out!
(Me) Does diet have anything to do with acne breakouts?
(Dr. Whitney Bowe ) Absolutely. We used to think the idea that diet was related to acne was simply a myth. However, recent studies over the last 10 years have forced us to admit that certain foods and drinks do indeed impact upon the skin. High glycemic index foods such as white bread, white rice, white potatoes, chips and cornflakes can all make acne worse.  So can skim milk.  However, eating and drinking lots of antioxidants (think deeply colored fruits, veggies and green tea) can make skin better.
(Me) What is the quickest method of reducing the size of a pimple?
(Me) Sometimes acne gets worse before improvements are noticed. What is the best way to help encourage a teen to stay on a skin care regimen when they are not seeing immediate positive results?
(Dr. Whitney Bowe ) Explain that taking care of your skin is like brushing your teeth—it's essential to stick to a regimen every single day. Sometimes skin does get worse before it gets better. Just realize that if you think your acne is getting worse, many of the lesions that were under the skin are actually coming up to the surface, so hang in there and keep going!
(Me) What is the absolute worst a teen can do for their skin (sleeping in makeup, popping pimples, etc.)?
(Dr. Whitney Bowe ) Popping a pimple can lead to a mark that lasts for months, or worse, a permanent scar!  Use a spot treatment instead. Never sleep in makeup. If you're too tired to make it to the sink, keep some

Clean & Clear Makeup Dissolving Facial Cleansing Wipes

by your bed and simply wipe down the face, no water required. Don't over cleanse—no buff puffs or loofahs near your face! They can make acne worse.
(Me) Do face cleansing towelettes clean the skin as well as soap and water?
(Dr. Whitney Bowe )They do! They even remove heavy eye makeup, which is pretty much proof of how effective they are at removing makeup!
(Me)Can you use the same acne medicine you use for your face on your body?
(Dr. Whitney Bowe ) Absolutely. Just be careful on the neck and chest area—that skin is very thin and might need a little more moisturizer than other areas do.
(Me)Does tanning help improve acne?
(Dr. Whitney Bowe )Absolutely not. In fact, the sun can lead to outbreaks. Some teens think that tans make acne better but it's really just camouflaging the red of the acne lesions. Once the tan fades, even more pimples will appear because the sun leads to acne flares.
(Me) Are mineral cosmetics better for the skin than regular makeup?
(Dr. Whitney Bowe ) If you are very sensitive to chemicals, mineral cosmetics are extra gentle because they sit on top of the skin and don't interact with the skin as much as chemicals do. Most people don't need to use mineral makeup, but if you are allergic or your skin is very sensitive (gets red and stings easily), then they are a good option.
For more information about Board-certified dermatologist Dr. Whitney Bowe, visit http://www.drwhitneybowe.com/
Would you like advice on your teen?
If you have a question you would like answered about your teen and/or want tips on strengthening the bond between you and our teen, please leave it in the comments section below.  I will do my best to get Clean & Clear teen expert/author Vanessa Van Petten to answer it.  Don't be shy!  This is your chance to receive teen advice from an expert for free!
Stay Connected
Use these social media sites to stay connected to Clean & Clear to learn more about the products.
Visit CleanandClear.com Website
CleanandClear Facebook Page
Disclosure: Product claims and info provided by Clean & Clear. I received samples of the products listed above. No compensation was received.