Are you satisfied with your mobile phone service provider?  What if I tell you there is a relatively new company out there that lets you customize your service plan as often as you like without any waiting—straight from your own phone? Sound interesting?  Meet Zact, a no-nonsense, no contact, no games wireless service provider powered by the parent company, ItsOn.  It is backed by the investors of Facebook, Instagram, Foursquare, Twitter and Pinterest- all fabulous social networking websites!
I had the opportunity to test Zact's services for the past few weeks and here is what I learned.  The Sprint-based wireless carrier has reinvented how cell phone companies bill you, giving the user ultimate flexibility and the capability to change their minutes, messages, and data usage right from the device instantly. You may be thinking…alright that is wonderful, but how is it actually different? The adjustments can be made as simple as it is to buying a song or downloading an app to a smartphone; meaning, no need to have long customer service calls that leave you frustrated and confused.  The best part is Zact's plans will automatically remind you to purchase more service if you run out, and if you don't use all of your monthly plan minutes, text or data for the month, they will simply credit you back to a cheaper plan the following month. Basically, its fool proof and you are only paying for what you use! There is no guessing which plan you may need, because Zact has you covered no matter what you choose.  Plus, you are able to add any number of devices for only $4.99 per month per device and share both your monthly and add-ons with as many devices as you want without having to pay a pricey "family plan."
The Phones

Zact currently offers two mobile phones, the $399 LG Viper and the $99 LG Optimus Elite in white or black.
LG Viper 4G LTE
PHONE FEATURES
Android 4.0 Ice Cream Sandwich
1.2 Ghz Dual Core Processor
1024 MB RAM
2 GB storage
5 MP Front and Rear Facing Camera
Camcorder and Video Calling
3G/4G
I gave my daughter the LG Viper 4G LTE to use and she LOVED it!  This phone has all the bells and whistles you would pay hundreds of dollars more for, including the personal hotspot feature which allows using the phone's data connection to connect to the Internet on your laptop, tablet, or WiFi enabled device at no extra charge.  However, my data setup did not include this, so she didn't get to test this feature. The phone is also equipped with the NFC chip, along with the Google Wallet app.  Additionally, you get about 1.5GB of free onboard memory and a 4GB MicroSD card in a slot under the back cover to start.  The dual 5-megapixel camera delivers impressive photos and great for video chat.  Powered by Android 4.0 Ice Cream Sandwich, the phone is easy to use while delivering optimal speed. Every teenagers dream device! Possibly every parent's nightmare if not handled or controlled correctly!
LG Optimus Elite
PHONE FEATURES
Android 2.3 Gingerbread
800 Mhz Processor
512 MB Ram
1 GB built-in storage
5 MP Camera/Camcorder
GPS Navigation
The LG Optimus Elite is a powerful phone for the low-cost.  Much like the LG Viper, this phone also comes equipped with tethering and hotspot capabilities, as well as the NFC direct sharing chip. However, I was slightly disappointed it did not come with a MicroSD card, but cards are cheap enough to purchase at any local department store and the memory is expandable up to 32GB using the slot.  The 3.5″ Capacitive Touch Screen is highly responsive and gives a beautiful display.  For only $99, you are getting a lot of bang for your buck!
PCMag's GreenTech Approval
Both phones meet PCMag's GreenTech Approval.  The handset's casings are made of 50 percent recycled plastic with the packaging constructed from 87 percent recycled material.  The phones are found to be RoHS compliant; basically meaning they are free from many potentially hazardous materials like halogens, mercury, phthalates, and PVC.  To me this is a very important aspect, since you or your family members are continuously handling the phones and placing them next to your heads!  Additionally, the LG Optimus Elite is energy efficient with its charger only consuming 0.03 watts of power when plugged into a wall socket without being connected to the phone. However, according to PCMag the LG Viper is missing Energy Star certification, but its battery still provides acceptable performance.  Two great phones if you are trying to go green!
Parental Controls
When it comes to teen parenting throw everything you think you know out the door!  I DO NOT BELIEVE IN SPYING on my teen.  I have been approached several times by a company who has created an app that can be easily downloaded to popular smartphones that allows a parent to know what their child is doing by secretly and remotely taking a photo with their phone or tablet's camera.  The instant spy camera app also secretly listens to the user's surroundings and is meant to catch naughty behavior.
Okay, to me this is just wrong and not my parenting style. I refuse to review the app.  Spying on your child causes nothing but potential teenage rebellious behavior and untrust. With that being said, I am a strong believer in setting boundaries and guidelines.  Let's face it, you give a teenager an inch they will certainly take a mile or two!  When it comes to cell phones there needs to be some rules applied or parents might find themselves struggling with expensive costs, text messaging over usage, and possible late night mischief.  I know one teen who racked up over a thousand dollars in text messaging costs, because the parent didn't keep an eye on his usage.  This could have been avoided if there was some control!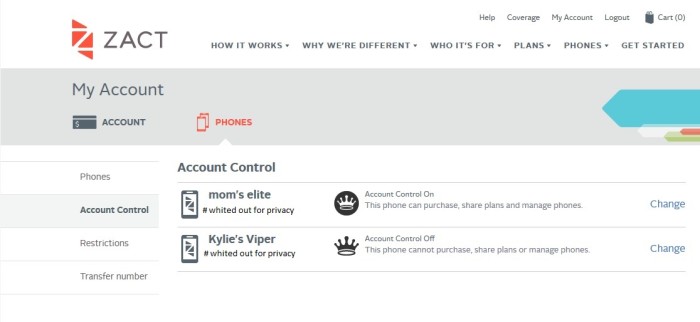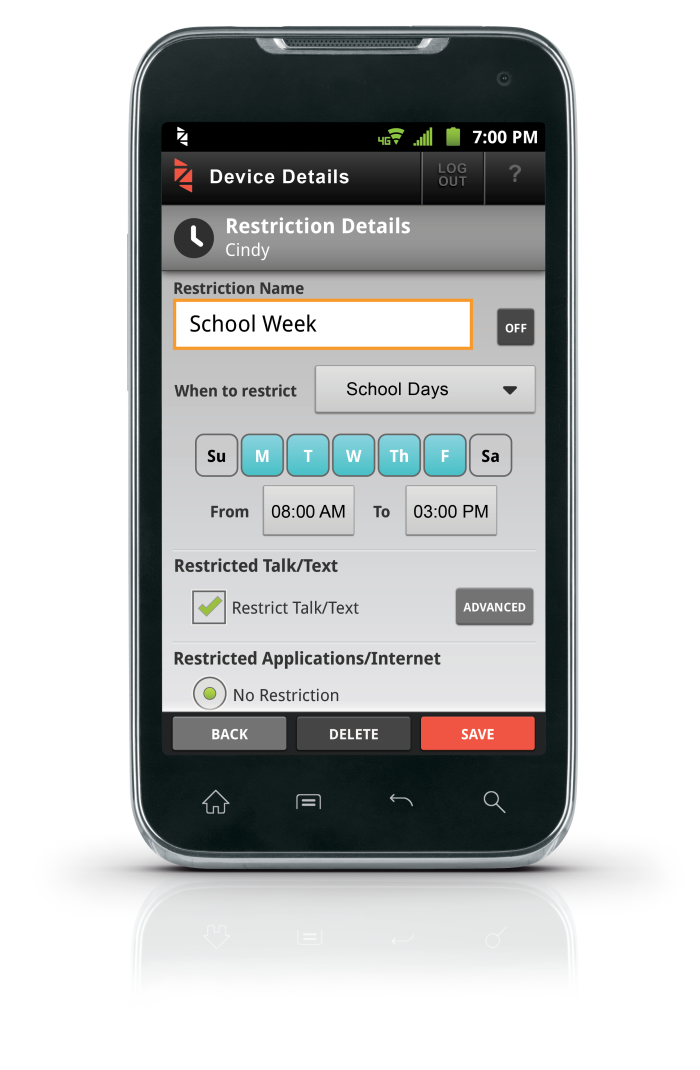 Zact makes it simple to monitor and set limits for a child's cell phone with their easy parental and group controls.  All which can be configured from the parent's phone itself or online.  A parent is able to set curfews, approve or block apps, permit or restrict contacts right from their own device!  For instance, maybe you are out to dinner and away from your computer, but know your teen has homework to get done before tomorrow.  You can easily restrict any talk and text, apps and Internet access starting at any time of the day you want.   You set the guidelines on your device and their phone will automatically enforce them. How cool is that! The great part is though you restrict calling, the controls are set to allow them to reach you during an emergency even if it is during curfew time.  Watch the video below to view an awesome demonstration on how the parental controls work.
As I said previously in my earlier posts, my daughter's boyfriend has returned to Italy.  The time difference there is six hours later than our time here in the United States.  So, if he is awake at 9am and wants to talk to her that means she would need to be on her phone at 3am, which is completely unacceptable in my book.  Zact gives me the control to shut down any communication on her phone after a given time I set to encourage sleep and discourage temptation of wee morning hour chatting.  Honestly, it ends any pleading or discussion over time and usage, because everything is done instantly from my device.  It allows the parent full control. I know there are third party apps out there that probably do something similar, but Zact makes it simple and straightforward without having to deal with downloading extra stuff to your phone or possible unwanted advertisements that come along with some applications.
Plans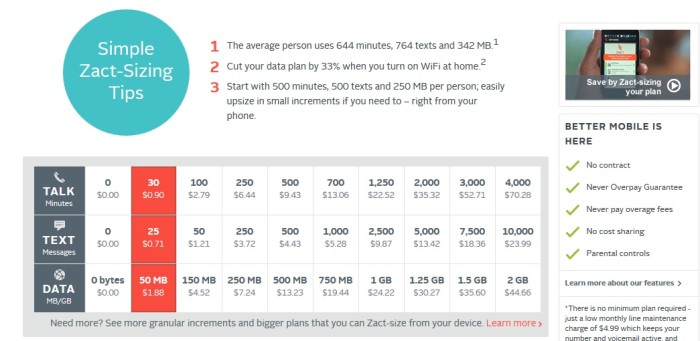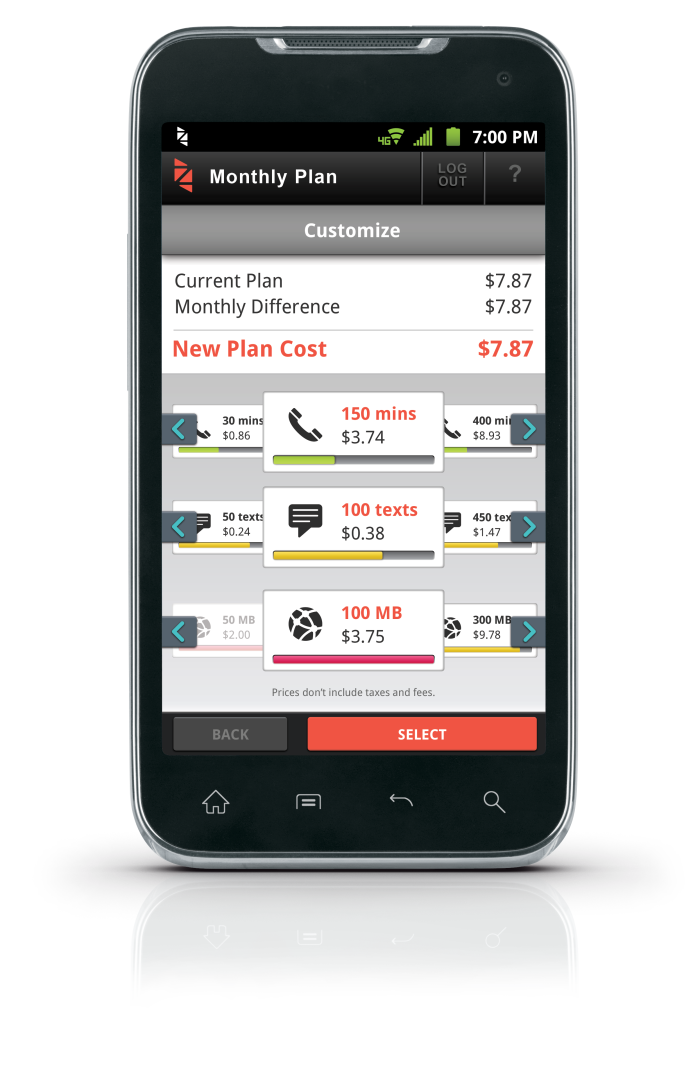 Zact offers several customizable cell phone plans perfect for families, tweens, teens, college students, seniors, small business users, and international callers.
The plan I was on was just to sample the service for 30 days.  I had a small plan of Monthly Talk 30, Monthly Text 25, and Monthly Data 50 ($3.49 per month).  I would need something much bigger to meet my whole family's needs. My daughter used the 25 texts in the matter of 10 minutes. There is an option to increase texts up to a maximum of 15,000 for the cost of $34.91 a month.  Data usage can be purchased up to 5GB for $104 and 5000 minutes at $86.97.  I believe this is the maximum.  The average person uses 644 minutes, 764 texts and 342 MB, which would cost approximately $24.33. Price does not include activation, taxes, or fees.
I'm hoping the company eventually will include an unlimited text, minutes, and data usage package as some of their no contract competitors offer.  It would place them at the top of the mobile phone carrier's chart in my opinion.
Conclusion
Zact phones make an awesome first time option for tweens, since they grow with the individual.  Parents are given full control over their child's device by setting account restrictions using the built-in parental controls Zact provides. Phones on family plans can be fixed to be able or restricted to make purchases, share plans or manage phones.
Zact's no annual contract or overage fees, customizable plans along with the company's Never Overpay Guarantee makes them an excellent carrier choice for individuals and small business seeking flexibility and usage control.  However, the limitations of only having two phone choices to select can be a disadvantage at this moment, but rumor has it that ItsOn has more device manufactures on board and plans on having at least 6 to 8 device options in the near future.  For example, exclusive information includes additional phones such as the Samsung Galaxy S3 will be available in late July! Keep watching!