"I participated in a campaign on behalf of Mom Central Consulting sponsored by Publishers Clearing House. I received a promotional item as a thank you for participating."
Publishers Clearing House, a long time trusted name in big prize sweepstakes and known for their famous Prize Patrol, has recently announced they are about to award another lucky individual  $5,000 a week for the rest of their life this August!    However, the real exciting part is the prize lets the winner leave a legacy for their loved ones by choosing someone to receive $5,000 a week for their life!
What would you do with the money?
Oh my goodness can you imagine?  $5,000 a week would dramatically change my life as I am sure it would yours as well!  What would you do with the money?  The first thing I would do is go on a belated honeymoon, since my hubby and I have never had the opportunity to do this in 21 years of our marriage.  Then I would pay off my home within the first year of receiving the money and make sure my children where set for life.  Doing this would help me sleep better at night!  However, I also believe in giving back so I would randomly choose one individual family (stranger) per week who desperately needed food, clothing, or other necessities and take them shopping.  I have always wanted to do something like that, but never had the means to.   Whoever wins the money will be truly blessed and I hope they spread some of their good fortune around!  The "Forever" prize would be split between my kiddos with some stipulation they would have to help one deserving person a week too.
Last years $5,000 A Week "Forever" Winner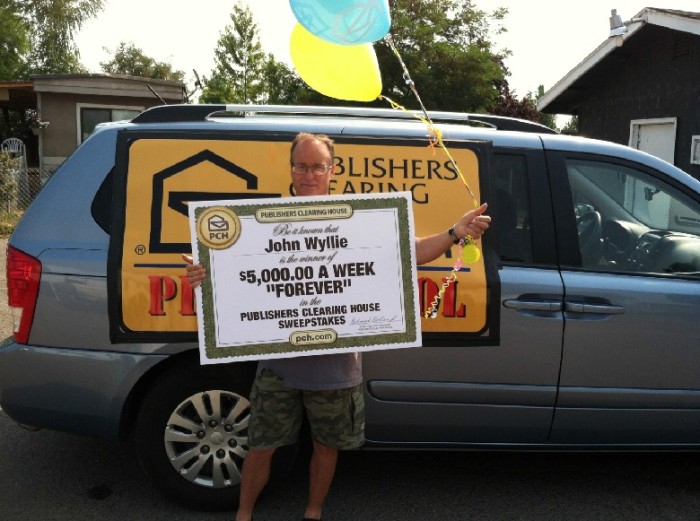 Publishers Clearing House already awarded a $5,000 A Week "Forever" Prize to John Wyllie of White City, Oregon last year on August 31, 2012!  I watched a video of John as the Prize Patrol surprised him with the life changing news.  He looked like he was going to pass out and couldn't stop shaking.  It was truly a touching moment to see.  John's plans where to buy his dad a new house and leave the "Forever" prize to his five kids.
Enter the $5,000 A Week "Forever" Prize Sweepstakes
Want to enter for the chance to win?  Sign up here http://bit.ly/179tj5p to be entered in the Publishers Clearing House $5,000 A Week "Forever" Prize Sweepstakes! Remember, this is an amazing opportunity to not only change your own life but the life of a loved one as well!  A winner is guaranteed to be picked this August!  Watch for the "Forever" prize winner announcement on August 29th on NBC! Good Luck!
"Special thanks to Publishers Clearing House for sponsoring today's discussion"