Everyone's favorite purple dinosaur is back in his new DVD "Barney Imagine with Barney," arriving on DVD, Digital Download and Video on Demand July 9, 2013 from Lionsgate Home Entertainment and HIT Entertainment. Delivering 76 minutes of whimsical adventures, the "Barney Imagine with Barney" DVD features four all-new episodes plus bonus features that include an exclusive all-new game "Imagination Vacation!" In this fun game kids get to imagine going on a super-de-duper vacation with Barney to places like a sunny beach, outer space, and The North Pole. Barney teaches children that their imaginations can take them anywhere! The new DVD will be available for the suggested retail price of $14.98.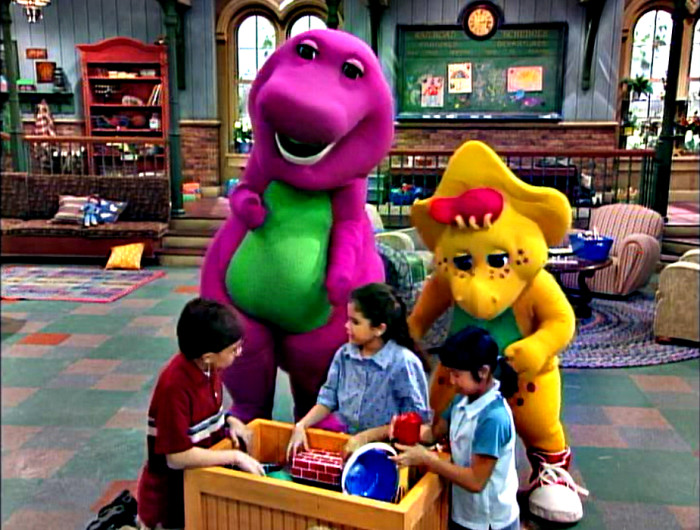 Episodes include:
· "Imagine That!"
· "Seeing"
· "Let Your Creativity Fly!"
· "Let's Go For A Ride!"
DVD BONUS FEATURES
· Exclusive ALL-NEW game – Imagination Vacation
· "If I Lived Under the Sea" karaoke music video
· "I Hear Music Everywhere" music video
SYNOPSIS
Come along for an imagination extravaganza! Join Barney and his friends as they use their imaginations to visit places near and far and explore their creativity through drawing, song and dance! The dinos explore a tropical island paradise when they bring a painting to life and go for a ride when they build their very own bus and airplane using imagination and teamwork! The dinos always know how to have a tee-rific time with creativity and good friends!
Buy It
Barney: Imagine With Barney DVD has a suggested retail price of $14.98, but is available for purchase at Amazon for just $10.99!
Stay Connected
Program Website: www.barney.com
Facebook: http://www.facebook.com/barney
Twitter: http://twitter.com/DinoMiteBarney
YouTube: www.youtube.com/HITBarney
Barney Imagine with Barney Giveaway!
Courtesy of Lionsgate And HIT Entertainment, one reader will win the new Barney: Imagine with Barney DVD! To enter the giveaway, please follow the instructions provided on the Rafflecopter form. Any comments are welcomed below, but won't count towards the giveaway. Only entries using the Rafflecopter form will be eligible for prize. Thank you!
Open To US Residents Only- age 18 + Ends July 21st, at 11:59 pm (eastern time)! Enter Daily!