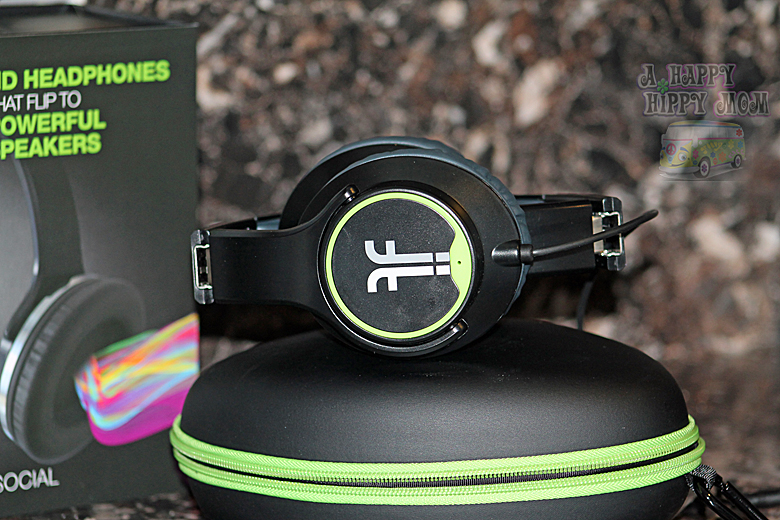 Music is powerful, evoking healthy emotions and feelings deep within the soul.  Its elements are pure magic and act as a universal language that intersects cultures, religions, and communities by breaking down barriers.   Personally, my daily events would be much more dismal without music and it inspires me in countless situations.  So, when I hear of a new music product arriving on the market like the FLIPs Audio HD Headphones that personally and socially enhances the listening experience…I have to try it!
[field name= iframe]
Solo 2 Social
What makes FlIPS so different?  FLIPS are the only headphones on the market today that allow the user to flip from a single user (solo) listening mode to an "amp'd up speaker" for a multi listener (social) experience! The "Solo 2 Social" unique feature is activated simply by rotating both ear cups outward (away from the head) for sharing your favorite tune with friends and back to Headphone Mode once the ear cups are flipped back to their original positions.
Design
Unlike cheesy headphones that have a flimsy plastic feel, FLIPS not only sport a very cool design, but are well constructed, comfortable, and produce a supreme, crisp high definition sound experience.  The headphones come equipped with an adjustable headband, custom vented ear cups, and plush memory foam padding giving them a comfy fit.  FLIPS currently are available in two color assortments; Satin black finish with electric lime and black chrome accents or satin white finish with racing red and polished chrome accents.  The company is planning on adding more colors down the road.
Rechargeable
Additionally, there is no need to purchase extra batteries which are expensive and wasteful; since the FLIPs are powered by a durable rechargeable Li Polymer battery that when fully charged delivers hours of extraordinary playtime.   Recharging is uncomplicated and takes approximately 2.5 hours for a full charge.  When the blue blinking LED signals it is time for a charge to continue use in speaker mode just flip out the speaker on the side with the audio cord to expose the USB port.  Next, plug in the supplied micro USB cable into this port, and the other end into a USB charger on your PC or any other USB powered device.  A red LED light will turn on during charging, and off when the headset is fully charged.  Another great feature I adore about FLIPS is the ability to keep using the unit even while it is charging in solo mode; supplying continues music, whenever you want it—wherever you want it!  Plus, there is a built in power saving mode that is activated automatically by flipping into Headphone mode, or collapsing for storage.  FLIPS also will auto shut off after 6 minutes without an audio signal from your device.  The battery last about
Storage
Included in the purchase of your FLIPS headphones comes a very awesome durable zippered storage case to help protect your unit.  There are two hinges on each side of the ear cups that fold in that collapse the headphones down to a neat compact size, so they are able to be stored in the hard shell case.  FLIPS are lightweight and great for taking to the gym, park, camping, or anywhere you want to!
Compatibility
FLIPS are compatible with any device that has a standard 3.5 millimeter audio jack, which is the universal audio jack size for most phones, tablets, iPods, MP3 players, ect.
Warranty
There is a 90 day full replacement warranty covering manufacturer defects only!  Meaning if you run your FLIPS over with a car, toss them off a tall building, or do something stupid like wash them…you are not covered.
Brains behind FLIPS
FLIPS where created by four brainiacs  who love music and technology– MIT guy, a Producer guy, a Designer guy, and an Entrepreneur guy.  The full interesting story behind FLIPS Audio can be read here.
What's In the Box
FLIPS HD Headphones, hard shell storage case, USB cable, and instruction pamphlet.
Geek SPECS
HD Sound
Speaker Type-Neodymium
Speaker Diameter-40mm
Impedance- 4Ω
Distortion- 2%
Connectivity-3.5mm Jack
Foam Type-Memory
Battery Type- 3.7V, 500mAH Li-Polymer Battery
Charging- Micro USB 5V 500 mA
LED Indications
Charging-LED is red
Charge is complete- red LED turns off
Playing in Speaker Mode- blue
Charge needed for Speaker Mode- blinking blue
Playing in Speaker Mode and Charging at the same time- Purple (blue and red)
Conclusion
I give FLIPS HD Headphones five out of five stars!
The sound quality is amazing
The design is extra cool
Comfortable
Lightweight
Fold to compact size
Compatible with all devices having a 3.5mm jack
Give the user a unique two in one listening experience
Rechargeable
Comes with a stellar storage case
USB cable included
And last but not least …. AFFORDABLE!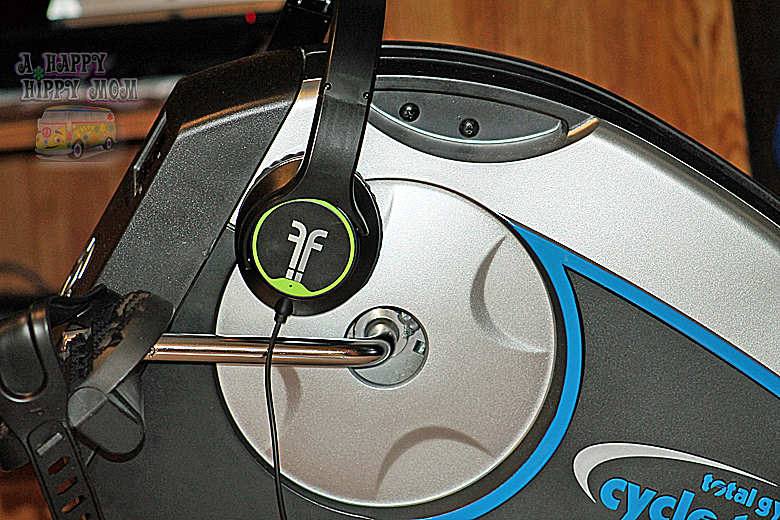 Most of my regular readers know I struggle with my weight!  I'm always striving to lose a few pounds.  What does that mean?   I put in a lot of hours of exercise per week!  The ONLY thing that gets me through my routine is music, so I depend on something comfortable that is going to stay on my head while exercising.  The FLIPS are an awesome workout companion and produce a high definition sound to get me through my next rep!  There is no worries of them popping out of my ears (I hate earbuds), because they are over-the-head and fit snug, easy to charge, and great for taking on the go!
Last Christmas I purchased my husband an expensive ($300) pair of a popular brand of headphones.  The FLIPS merely cost $120 and are just as good (if not better) than the headphones I bought my husband.  Basically, you get a quality built pair of headphones that produce stunning crystal clear sound that also flip into a pair of powerful speakers for the fraction of the cost!  With everything focusing on being social (sharing is caring)…these headphones are one of the hottest products on the market in my opinion!  I'm flipping for my FLIPS!
SAVE $10 OFF FLIPS Headphones
Save $10 off the online retail price ($120) when you purchase FLIPS HD Headphones  at www.flipsaudio.com now through July 16, 2003 by applying the discount code FA0010INT.  Plus, applying the code will "upgrade" your shipping from ground to Rush 3-Day at no additional cost to you. This Offer is unlimited in quantity and cannot be combined with any other offers.
Don't want to purchase FLIPS online?  The cool headphones are available for purchase at Wal-Mart stores nation-wide!
Disclosure: I received FLIPS HD Headphones via FuelMyBlog.com to facilitate this review. No compensation was received.