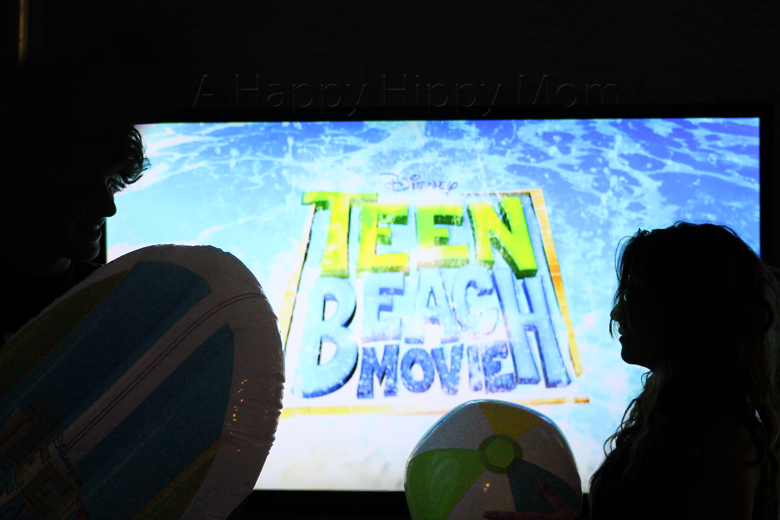 Looking for summer beach fun without having to leave the couch?  Nothing beats curling up together on a family movie staycation night to watch an entertaining beach-themed film that will have the whole family dancing and singing!  Bringing back "Family Movie Night", the Disney Channel will premiere its original "Teen Beach Movie" on July 19, 2013 (8:00 p.m. ET/PT)! Geared toward kids, tweens (ages 6-14), and their families, this breezy surf-rock musical comedy will even have the grandparents up and grooving with its modern twist on classics such as "Gidget," "Beach Blanket Bingo," "Grease," and  "West Side Story."
"Teen Beach Movie" is part of the blockbuster Disney Channel Original Movie franchise that has produced TV's #1 movie among tweens ages 9-14 for more than a decade (2002-12) and maintains to be the top cable TV movie in Total Viewers for the past 6 years (2007-2012).  The summer splash debuting next month is filled with a meaningful storyline showcasing positive themes like friendship, self-expression, and youth empowerment.  Along with its storytelling, the movie soundtrack features a dozen songs influenced by surf rock, Motown R&B, rockabilly, and pop that will highly entertain its viewers.
Teen Beach Movie Plot:
"Teen Beach Movie" follows teen surfing sweethearts Brady and McKenzie who together ride the last wave of summer, one that mysteriously takes them into a classic beach party movie, "Wet Side Story."  There, it's surfers versus bikers for control of the beach hangout.and everyone spontaneously breaks into song and dance.  Now, Brady and McKenzie must try to return to present day, but their lives may be changed forever when they inadvertently alter the movie's romantic storyline when handsome surfer Tanner falls for McKenzie and biker girl Lela starts swooning for Brady.
Cast:
Ross Lynch, star of Disney Channel's Austin & Ally & Hollywood Records' R5
Maia Mitchell, star of ABC Family's The Fosters (executive produced by Jennifer Lopez) and guest star on Disney Channel's Jessie
 Grace Phipps, star of ABC Family's The Nine Lives of Chloe King and the CW's Vampire Diaries
 Garrett Clayton, guest star of Disney Channel's Shake It Up and NBC's Days of our Lives
Beach-Themed Family Movie Staycation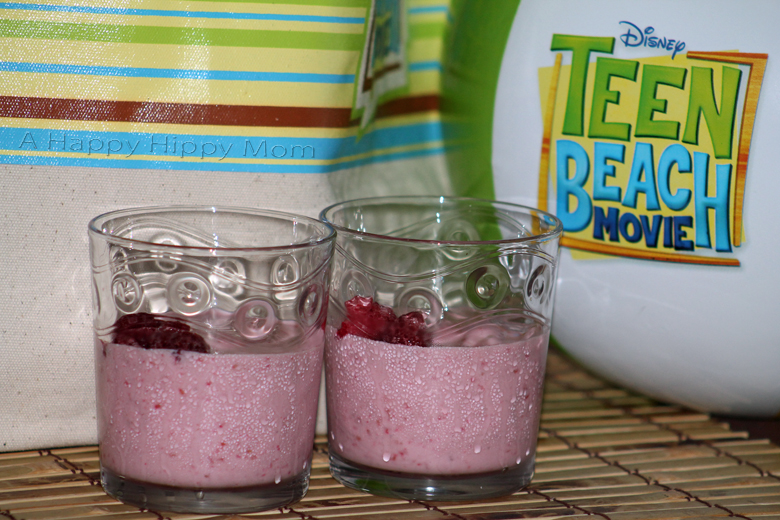 Turn family movie night into a fun beach-themed staycation by downloading a "Teen Beach Movie" party kit including recipes for yummy treats, themed games, activities, and music videos.
I whipped up a batch of Rockin' Raspberry Smoothies using the recipe below.  The smoothies were incredibly delicious!  The only alteration I made to the recipe was to substitute 1 teaspoon of Stevia for the honey to lower the calories.  The recipe results in  an extra creamy, refreshing, and thick smoothie that the entire family will enjoy!
Rockin' Raspberry Smoothies Recipe
Teen Beach Movie Licensed Products and Events
Keep watching for Teen Beach Movie merchandise and events coming to an area near you!  Starting Tuesday July 16th, a soundtrack from Walt Disney Records will be hitting shelves nationwide along with more licensed products including apparel, home décor, fashion dolls, bedding, lunch kits, stationary, school supplies and more offered at Walmart, Target, Toys R Us, Kohls, Kmart, Disney Stores, and other retailers.  Other items include a junior novel and ebook, themed stickers, frames, and filters in the new Disney Channel Photo Finish app!  There will also be seven foot "Teen Beach Movie" branded beach balls at One Direction and a DVD with exclusive video available July 19th exclusively at Walmart and July 30th at retailers nationwide.
Now through July 13th, events planned consist of a 10 city "Teen Beach Movie Beach Party" tour featuring interactive biker and surfer themed entertainment and prizes at Simon Malls in  New York, Los Angeles, Chicago, Philadelphia, Dallas, Cleveland, Charlotte, Kansas City, Milwaukee and San Antonio.  The Radio City Road Crews will be on location to help host the events.  Check out the Radio Disney Facebook page or Radio Disney iPhone and Andriod Apps for the schedule. Additionally, keep a look out for R5 concerts across the U.S.
On Saturday July 20th, during the encore telecast of "teen Beach Movie," Disney Channel will present an exciting Live Chat hosted by Radio Disney's Jake Whetter with the stars of the movie at DisneyChannel.com/LiveChat.  Throughout the experience, viewers will be also entertained with trivia, polls, photos, fun facts, and the opportunity to download a limited amount of ringtones.  You can start submitting questions beginning July 12 for the live chat.
Predicted To Be HUGE Hit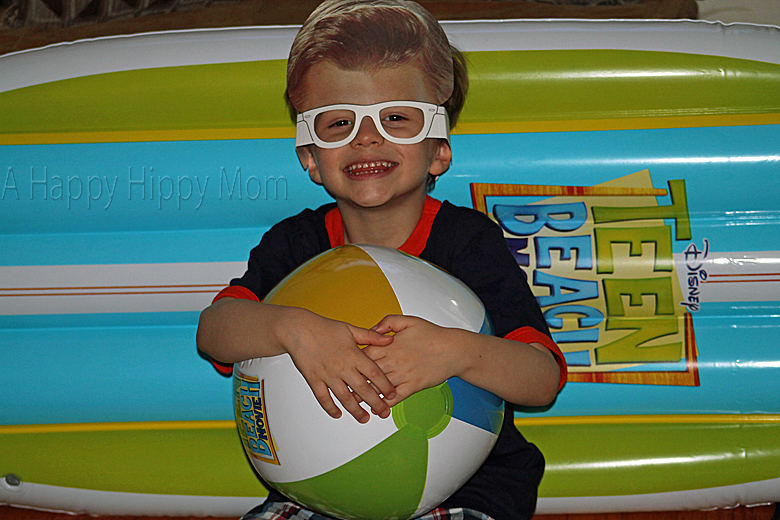 I predict Teen Beach Movie is going to be a huge hit!  Besides the fact we all know teenagers rule, the surf-rock musical is being sponsored by Honda and Best Western International.  Not to mention,  the cool flick will appeal to the young as well as the older audience with its vintage wardrobe, retro hairstyles, captivating music, and inspired 60's tone.
Some of my all-time favorite classic movies include the beach party films starring Frankie Avalon and Annette Funicello like "Beach Blanket Bingo" (1965).   The movie is so much fun with its wacky music, surfer dudes, and motorcycle gang scenes.  It takes you back to the 60's, giving you that forever summer beach vacation feeling. LOVE IT!
I'll be popping corn, throwing down a family size blanket, downloading Teen Beach Movie party kit, and tuning-in to watch "Teen Beach Movie" on July 19, 2013!  I don't want to miss the big hit when it first premieres!  Hope you will join me!
To learn more about Teen Beach Movie, visit http://DisneyChannel.com/TeenBeachMovie and be sure to follow @DisneyChannelPR on Twitter and Instagram, and TeenBeachMovie on Pinterest using #TeenBeachMovie.
Disclosure: I received Disney Channel "Teen Beach Movie" products in exchange for a post about the film. All thoughts and opinions are my own.