Only a few weeks left until teens will be walking across the stage in caps and gowns to collect their diplomas!  While they are preparing to enter the ceremonial hall, excitement dissipates,  falling victim to the concerns of all eyes being on them;  as family plus friends snapping pictures -one after the other-to scrapbook the mementos of an  academic achievement.   Of course, delighted moms strive to lessen their teen's trepidations by encouraging them to become more confident, so they are able to enjoy the magnificent day.  A large part of accomplishing that is making sure they have clear glowing skin!
Acting as one of this year's Clean & Clear Ambassadors and additionally coinciding as a proud mom of a teen, I have some graduation advice from experts "Youthologist", author Vanessa Van Petten,   and Dermatologist Dr. Whitney Bowe to share; along with suggested items every teen and mom should have handy to survive the big event!
Quotes from two Clean & Clear experts:
Expert Vanessa Van Petten
"Graduation day can be one of the most memorable, but also most stressful, days of a teen's life. Be sure to prepare early. Designate a family member to be in charge of the video camera so every special moment is captured. And, if teens want to be glowing in pictures, they should start taking care of their skin at least two weeks before the big day. Also remind them to break in their shoes—especially if they are new. Grads always end up walking way more than they would expect on the big day."
Dr. Whitney Bowe
FOR TEENS: "Keep cool by using a lightweight, oil free moisturizer with an SPF of 30 or above so the skin can breathe but it's still protected from the sun's rays. Stick to either a tinted BB cream or simply dust a bronzer over the forehead, nose and cheekbones to give skin a glow without the risk of foundation dripping down one's face mid-ceremony!"
FOR MOMS: "Pack cold water to sip and press the cool bottle against your wrists and behind your knees to help bring your core temperature down. Don't forget to pack a broad-brimmed hat and feel free to use the graduation program as a fan!"
Graduation Must-haves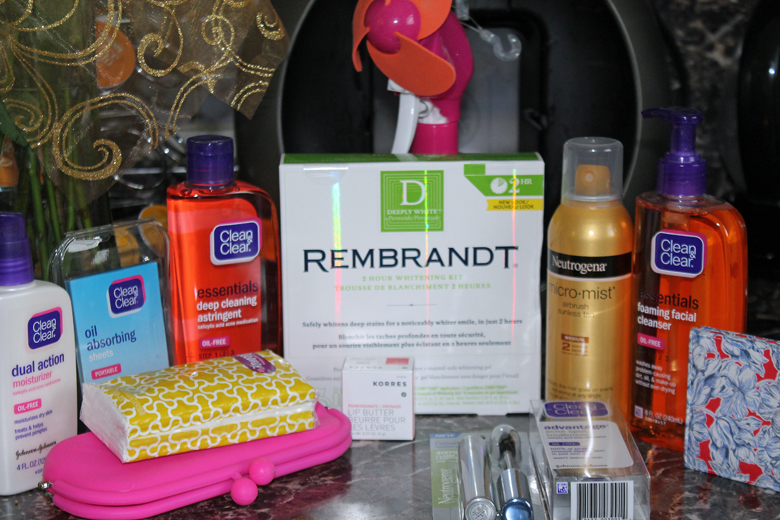 It's once again that time of year:

Commencement, diplomas, tassels, and cheers.

As a leg-up for your mom readers, of whom we hold so dear,

Here are a few graduation must-haves, courtesy of Clean & Clear:

Tissue to wipe away tears,

As moms watch teens end their grade-school years.

Water-proof Neutrogena will ensure mascara doesn't smear,

While the fan keeps moms cool when the sun is too near.

Graduates' skin will be photo-ready clear,

Because our Clean & Clear Essentials will make those pesky pimples disappear.

Lip Butter, Sunlass Tan, and Stain Dissolving Strips are also in here,

And will help make teens smile from ear to ear.
About the Products
Kleenex Pocket Packs

A new addition to our on-the-go packaging, Kleenex® Slim Packs are slim, stylish and easily fit in a backpack or back pocket. And they're soft, strong and absorbent, of course!

10 count

Neutrogena Healthy Volume Waterproof Mascara

Don't just coat your lashes – build them from the inside out! Neutrogena Healthy Volume Waterproof Mascara features a patent-pending waterproof formula with olive that penetrates and helps plump the core of each and every lash. From the outside, the Super-Sized Visible Volume Brush builds even the smallest lashes with rich, volume-building color. The result? 400% fuller, beautifully conditioned lashes!

Conditioning waterproof formula with a touch of olive plumps lashes from the inside out . Supersized Visible Volume brush quickly coats each lash with rich, volume-building color. No clumps, smudges or flakes. Dermatologist & Ophthalmologist tested.

O2 Cool Water Misting Fan

Instant relief from the hot summer heat: Activities, Sporting Events and at the Pool.

Clean & Clear Essentials Foaming Facial Cleanser-Oil Free

Washes away problem-causing dirt, oil, & makeup without over-drying.

Clean & Clear Clean & Clear Deep Cleaning Astringent Oil-Free

Treats & helps prevent pimples.

Clean & Clear Oil-Free Dual Action Moisturizer 4 fl oz

Moisturizes dry skin-Treats & helps prevent pimples.

Clean & Clear Clear Advantage Acne Spot Treatment- Oil-Free

100% of people showed clearer skin in just one day.

Clean & Clear Instant Oil-Absorbing Sheets 50 sheets

Instantly removes excess oil. Won't smudge makeup.

Korres Lip Butter

A rich, buttery lip balm that melts on the lips and offers a sheer shiny, tinted finish.

Leaves lips deeply moisturized, supple, and kissably soft.

Formulated with natural oils and extracts to soothe and condition lips.

Shea butter and rice wax provide lasting hydration and softness.

    Color: Pomegranate *Manufacturer Sealed – Not a Boxed Item*

Neutrogena Micromist Sunless Tanning Spray

The one touch continuous spray works at any angle to tan hard to reach places even your back.

 Neutrogena MicroMist Tanning Sunless Spray applies like a professional airbrush spray for an all over worry-free, just back from the beach tan.

This revolutionary, ultra-fine mist covers evenly, for easy, no rub application.

The one touch continuous spray works at any angle to tan hard to reach places even your back. It dries fast and won't clog pores.

Rembrandt 2-Hour Whitening Kit

 Visibly whitens teeth in just one 2-hour treatment

 Same enamel-safe whitening ingredient dentists use

 Exclusive Comfy tray applicators designed for a comfortable, customized whitening experience.

Be ready in a flash and feel confident about your white smile before important dates, interviews, or meetings.
*Product descriptions and claims quoted from manufacturer packaging or website.
Graduation Tip -Natural Way to Shiny Beautiful Hair
I'm no expert, but I do have a few natural ways of getting beautiful, healthy looking hair!  Teamed up with the items listed above for clean skin, this natural sun streaking rinse recipe will help your teen look like a million bucks for graduation day!  The chamomile tea mixed with the lemon juice brings out the beautiful highlights in the hair and adds softness plus shine.  Normally, you might have to pay over $30 at a salon to get such shiny locks.  Try this recipe first!
Sun Streaking Rinse Recipe
Juice of 1 lemon
2 teaspoons chamomile tea
In a small bowl, mix the lemon juice and tea.  To achieve highlights, use a small plastic cap and poke some small holes in it.   Or you could use an inexpensive straw hat with lots of holes.  Pull strands of hair you would like to lighten through the holes with a crochet hook.
Saturate the strands with the rinse.  Sit in the sun for 1 hour.
Stay Connected
Use these social media sites to stay connected to Clean & Clear to learn more about the products.
Visit CleanandClear.com Website
CleanandClear Facebook Page
Disclosure: Clean & Clear provided product information and samples to help facilitate this post.  However, all opinions are of my own. My teen and I personally use and enjoy these products!