Measuring at barely 5'2," you are probably able to agree I'm a bit vertically challenged.  Nonetheless, I'm the type of girl who almost always places comfort before style.  You normally won't see me in a pair of stilettos unless I have to appear at a special function like a wedding or funeral.  Even then, I still try and find footwear that won't hurt my tootsies from being on them for a long period of time, which means I usually sacrifice the extra height for coziness.  Plus, I don't want to look like a short girl trying to seem taller —if you know what I mean!  However, what if I tell you there is a shoe out there that offers a combination of the height of high-heels and the plushness of high-top sneakers all wrapped in a sexy and stylish design?  Meet Upere Wedge Sneakers!
Established in 2012, Upere is a new, bold fashion brand specializing in bringing women of all types of walks and different ages high-end and trendy wedge shoes plus sneakers.  The family business prides itself in offering wedges that can both show women's inner beauty while still being fundamentally conducive to the health of their feet.
Upere sent me a pair Aster Wedge Sneakers Suede Leather Navy Blue from their new 2013 line for review in size 37.  The Baylay vintage inspired wedge sneakers features premium leather suede upper, three Velcro straps, oval toe cap, anti-slip rubber sole, hidden 2" heel, and symbolic stars (one on each side).
The wedge sneakers fit like a dream and run true to their size!   Constructed with a hidden wedge, what I love most about these shoes is the way they secretly lengthen the look of your legs giving an overall sexy appearance to almost any outfit.  They pair wonderfully with skinny jeans, leggings, shorts, skirts and dresses!  The shoes are perfect for running errands, shopping trips, or wearing during a night out on the town.  Definitely, they make a positive fashion statement with their nostalgic oversized padded tongue and your feet won't pay the price for looking chic, since they are sooooo comfortable.  I had no problem walking, jumping, or even running in the shoes.  Try doing that in 2" high-heels without breaking your neck or killing your feet!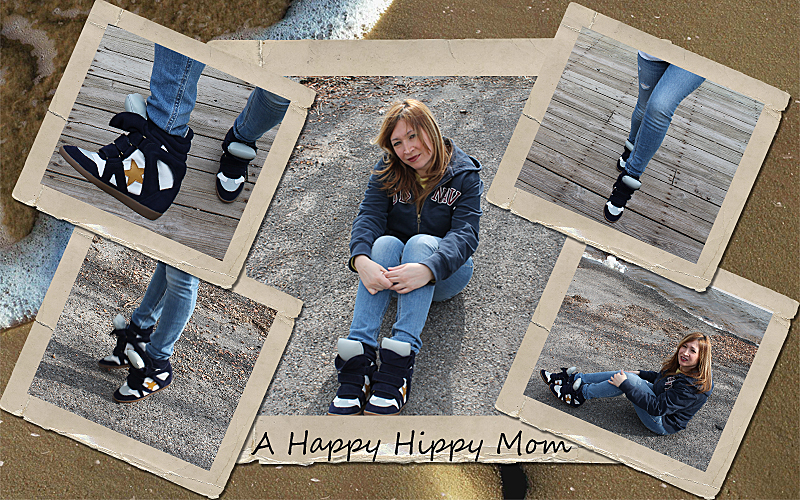 The only thing I did notice was upon arrival the shoes had to be aired out for a few days, due to the odor of the dyes used in making the wedge sneakers.  Other than that, I LOVE my new Upere trendy shoes and would like to add more styles the company has to offer to my shoe cabinet.   I should note the price of the Upere Aster Wedge Sneakers is currently $249.00 and though that might seem a tad costly—you get what you pay for!  The shoes are well constructed with quality materials and built to last!
SAVE 15% Off
As a special offer just for my readers, Upere would like to give you 15% off any of their sneakers when the code "UPERE" is applied at checkout!
Stay Connected
Like the Upere Facebook Page
Follow Upere on Twitter
Upere on Pinterest