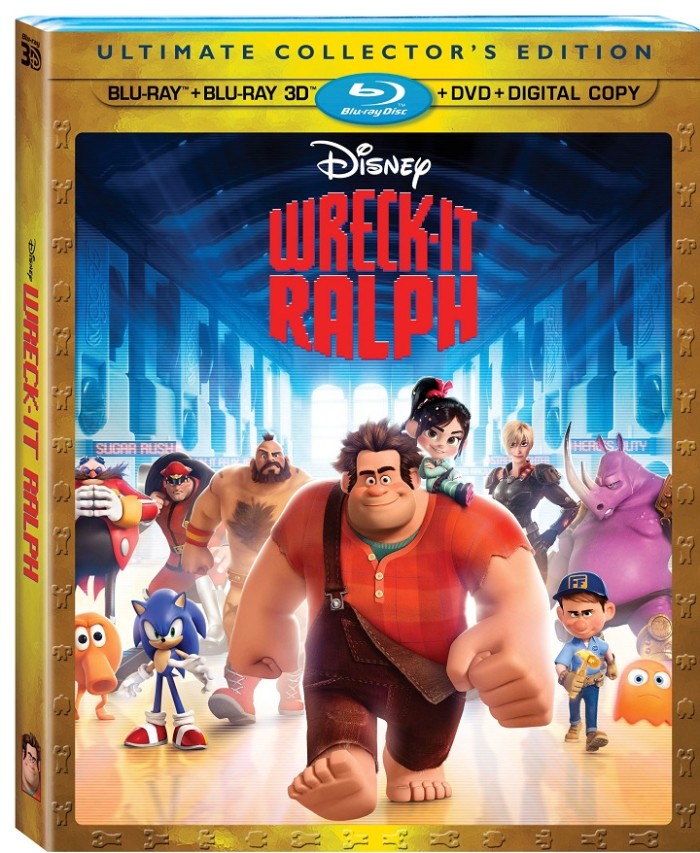 Get ready for the most "original film in years!"  Disney's Wreck-It Ralph pops onto shelves everywhere in stunning Blu-ray and Blu-ray 3D this Tuesday (March 5, 2013)! I received an advanced copy of the movie and let me tell you this…it was AWESOME!  The film follows Ralph (John C. Reilly), a character with colossal hands and a big heart who was programmed to be the bad guy for 30 years in a popular video game known as Fix-It Felix Jr.  Not getting any of the hero glory like "The Good Guy" Felix (the hammer wielding maintenance man who fixes Ralph's smashing messes),the ill-tempered Ralph sets out on a video game hopping adventure to move off his heap of bricks and prove  that just because he is a "Bad Guy" doesn't mean he is a bad guy!  During his search for a little appreciation he meets up with Vanellope von Schweetz (Sarah Silverman), a "glitch" from the candy-coated cart-racing game Sugar Rush who is also looking for some recognition.   However, his focus turns on trying to save the video game world from a deadly Cy-Bug invasion he unleashed while he was in Hero's Duty, a sci-fi battle game run by the "tough-as-nails "Sergeant Calhoun (voice of Jane Lynch).
Wreck-It Ralph is a spectacular eye-popping 3D journey across different video game worlds.  Twists, jumps, and turns through Sugar Rush will have you craving more and more!  Watch below as the animators share the original inspiration for Sugar Rush- the architecture of Antoni Gaudi and how concept models of the game's landscape were made out of actual candy and cookies!
[field name= iframe]
The land is truly an amazing work of animation and by the film's end you will want to grab yourself a sweet treat to eat!  Just make sure it isn't Mentos and Diet Coke!   We watched the movie over and over again, noticing different aspects and elements each time.  It is one of those movies you won't get sick and tired of watching after a few times.
[field name= iframe4]
Another feature of the film that is full of fun is noticing and pointing out popular characters from video games.  Sonic, Dr. Eggman, Q*bert, Pac-man, and Blanka from Street Fighter are familiar faces making an appearance in scenes in Game Central Station and the Bad-Anon: One Game at a Time support group.  I know there is a bunch more in the movie, but you can have your own exciting search seeking to find them!
[field name= iframe2]
[field name= iframe3]
Info, clips, and the Wreck-it Ralph Trailer provided by Disney.
Walt Disney Animation Studios announces the debut of the hit arcade-game-hopping adventure "Wreck-It Ralph" marking a Disney first with the early release of the HD Digital and HD Digital 3D on February 12, 2013, followed by the 4-Disc Blu-ray Combo Pack, 2-Disc Blu-ray Combo Pack, DVD, SD Digital and On-Demand release on March 5, 2013.

From Walt Disney Animation Studios, "Wreck-It Ralph" takes viewers on a hilarious journey.  For decades, Ralph (voice of John C. Reilly) has played the bad guy in his popular video game. In a bold move, he embarks on an action-packed adventure and sets out to prove to everyone that he is a true hero with a big heart. As he explores exciting new worlds, he teams up with some unlikely new friends including feisty misfit Vanellope von Schweetz (voice of Sarah Silverman).    The film is directed by Emmy®-winner Rich Moore.

Featuring an all-star voice cast including Jack McBrayer as the voice of Fix It Felix, Jr. and Jane Lynch as the voice of Sgt. Calhoun, plus breakthrough bonus features that take viewers even deeper into the world of video games, Disney's "Wreck-It Ralph" has something for every player. Over an hour of all-new bonus material is featured on the Digital and Blu-ray Combo Pack, including deleted and alternate scenes, the theatrical short "Paperman," plus much more.

The home entertainment debut of "Wreck-It Ralph" will be available in multiple ways, containing exciting all-new bonus features that extend the fun-filled movie experience.

Bonus Materials Overview for These Products:

HD Digital

SD Digital

4-Disc Blu-ray Combo Pack (Blu-ray 3D + Blu-ray +DVD + Digital Copy)

2-Disc Blu-ray Combo Pack  (Blu-ray +DVD)

 

Includes:

Bit by Bit: Creating the Worlds of "Wreck-It Ralph" – Fans of the film will get a look at five new worlds created for "Wreck-It Ralph." The short takes viewers into Game Central Station with the artists who brought Sugar Rush, Hero's Duty and Fix It Felix Jr. to life.

[field name= iframe1]

Alternate & Deleted Scenes – Four separate scenes are highlighted with an introduction and optional audio commentary from director Rich Moore.

Video Game Commercials – Viewers can check out the commercials created for the video games featured in the film – Fix It Felix Jr., Sugar Rush, Hero's Duty and Fix It Felix Hammer.


"Paperman" – This animated short film played in theaters before "Wreck It Ralph." It tells the story of a young man in an office who sees the girl of his dreams in a skyscraper window across the street. But how can he get her attention?

Blu-ray Exclusive Bonus Materials


Includes:

Disney Intermission: The Gamer's Guide to "Wreck-It-Ralph" – When the film is paused, host Chris Hardwick appears on screen to guide viewers through a series of 10 video segments offering an inside look at the many video game references, Disney references and other hidden surprises featured in the film.
Wreck-it Ralph Trailer
[field name= iframe5]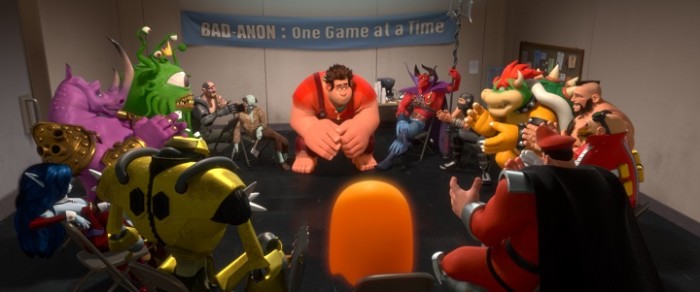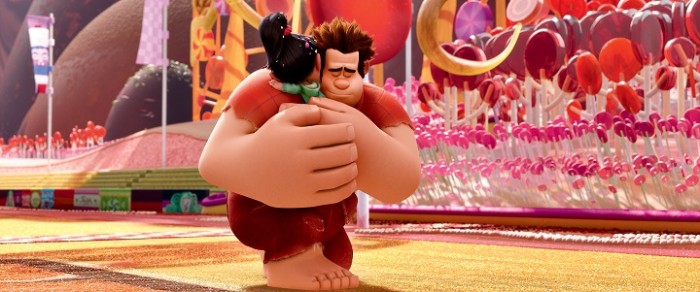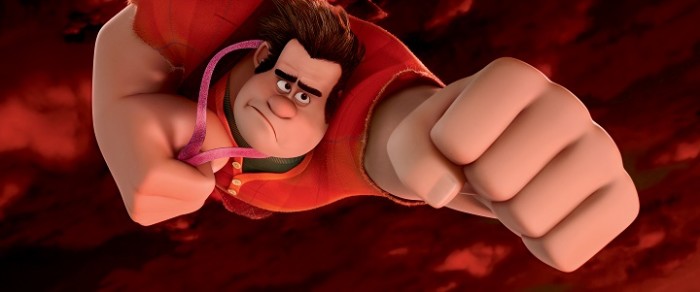 Wreck-it Ralph FREE Activities
In anticipation of Disney's WRECK-IT RALPH smashing on Blu-ray Combo Pack on Tuesday, March 5th, turn your world into a classic arcade game with these fun 8-Bit projects!
[field name= iframe6]
Download these free puzzles and coloring pages (courtesy of Disney) which are sure to excite your kiddos about the release of Wreck-it Ralph coming this Tuesday!
Stay Connected with Wreck-it Ralph!
Buy Wreck-it Ralph!
The Wreck-it Ralph 4-Disc Blu-ray Combo Pack (Blu-ray 3D + Blu-ray +DVD + Digital Copy) has a suggested listing price of $49.99! Buy it on Amazon.com for just $27.99 and SAVE 44%!