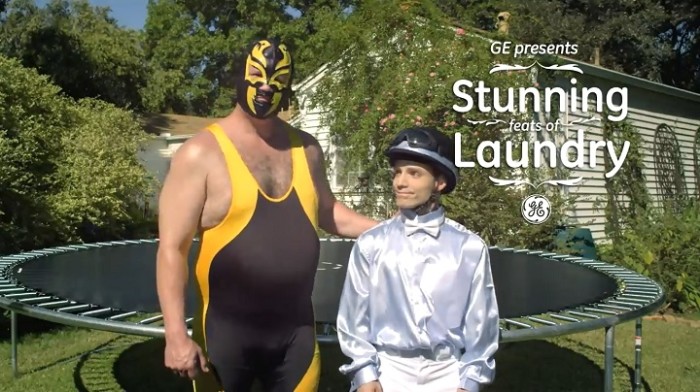 How much laundry do you wash a week?  Between my messy five year old, fashionista teen daughter, hardworking husband and my compulsive disorder of having to have everything smelling fresh and clean— I do about 14 loads a week.  Is that a lot?  It seems like I am always washing, drying, folding and putting away something DAILY!
Being we all do laundry, most of us have epic laundry disasters we can recall.  You know what I am talking about!  Whether it is the red sock that was hiding within the whites and turned an expensive men's dress shirt pink, or the fluffy angora sweater shrunken down to Barbie size, everyone has experienced a laundry mishap wanting to make them scream!  Not to mention, the disgusting messes you may encounter lurking amongst the dirty laundry basket,  which take your breath away and bring tears to your eyes!
However, I don't believe I have EVER had to deal with anything quite like the ghastly laundry staining scenarios demonstrated in GE's hilarious Stunning Feats of Laundry videos!  The series will make you chuckle and wonder how the marketing team ever came up with such a brilliant way of displaying the power of their appliances through unusual staining circumstances.   I have to admit though, after watching the jockey who jumps on a trampoline while making wheatgrass smoothies with a Mexican wrestler helping create an unforgettable mess, the thought of trying wheatgrass smoothies has left my mind!  I don't care how healthy they claim to be!  I am not trying the green sludge!  The other two videos are just as remarkable!  One features a tennis player eating a meatball sub on a mechanical bull controlled by a cowboy, and the other of a grandma eating a nacho fiesta behind an airboat.  Check them out!
[field name= iframe]
[field name= iframe1]
[field name= iframe2]
What did you think of the videos?  Pretty funny, yet a bit revolting at the same time?  I think so!  Did you get a good look at the appliance though?  WOW, the new GE high-efficiency (HE) topload washer looks amazing!  There is even a cool Stain Removal Guide that you press a button to get out four of the most common stains–tomato sauce, cooking oil, grass and dirt!  Plus, the topload washer is about 60 percent more water efficient than a traditional topload washer!  If you are looking to replace your old washer with something more eco-friendly, you might want to look into the GE high-efficiency (HE) topload washer!
Disclosure: This post is sponsored by GE.  However, all my opinions are of my own.