Need a natural uplift?  With warmer weather right around the corner, Lipton Tea wants to help you  "spring" ahead to help tackle everything that might arise in your busy schedules.   Whether it's taking on the spring cleaning list, mommy multi-tasking, or getting your body beach ready –inside and out- Lipton would like to give you that little bit of lift to get the job done.
Unlike coffee, which may make you jittery, a cup of delicious Lipton black tea naturally contains 55mg of caffeine (about half the caffeine as a cup of coffee).  The gentle "uplift" is shown to increase attention and alertness, increasing feelings of work productivity, decreasing feelings of tiredness, and helping you stay energized throughout the day.  Not to mention, Lipton Black Tea provides 175 mg of flavonoids per 8 fl oz serving!  The dietary compounds contribute to taste and color, and are associated with helping to maintain normal healthy heart function.  So, not only is a cup of tea a great way to get a natural boost and stay hydrated, but it is good for you too!
Personally, I like to sip on a delicious cup of hot Lipton tea for a soothing afternoon break.  For a tiny bit of sweetness I add a splash of honey. YUM!  It just melts my stress away!
Sustainability and Lipton Tea
What is sustainability? According to the United Nations Commission on Environment and Development, sustainable development "meets the needs of the present without compromising the ability of future generations to meet their own needs."

Lipton is proud of our Rainforest Alliance Certified tea estate in Kericho, Kenya and our commitment to world-wide sustainability for all our tea by 2015.

Discover what the Rainforest Alliance is and how your choice of tea makes a difference to the future.
Stay Connected
Like Lipton on Facebook
Follow Lipton on Twitter
Visit the Lipton website
Lipton Tea "Uplift" Prize Pack Giveaway!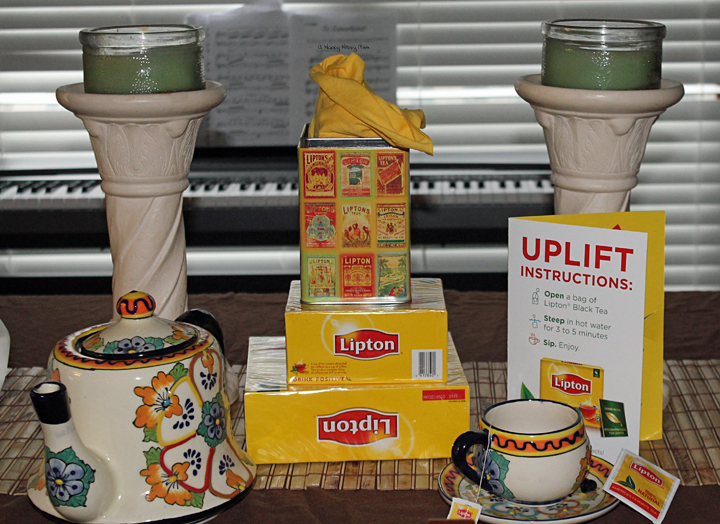 Lipton would like to give one lucky reader an  "Uplift Pack," containing everything needed  to get motivated and experience the perfect tea break in your day so you can take on whatever is ahead.  The prize pack includes:
Uplift Instructions Booklet – Easy as Open. Steep. Sip. Enjoy!
Lipton Black Tea – The 'co-star' of your tea break (starring alongside you, of course!)
Yellow Circle Scarf – To warm you up and help add brightness to your day!
To enter the giveaway, please follow the instructions provided on the Rafflecopter form. Any comments are welcomed below, but won't count towards the giveaway. Only entries using the Rafflecopter form will be eligible for prize. Thank you!
[field name= iframe]
Disclosure: Lipton Tea provided me with product samples and information for review purposes.  All opinions are of my own.  No compensation was received.