The calendar says it's spring, but old man winter won't loosen his cold, snowy grip!  Temperatures are only forecasted to go in the mid-thirties this week, so it is still necessary to dress in winter apparel to keep warm.  The funny thing is teenagers are peculiar creatures and would rather freeze than wear something they deem uncool like a bulky winter coat.  Though, I have to agree that I would much prefer to put on a flattering lightweight coat instead of a hulking jacket which makes me look 20 pounds heavier if it is able to provide adequate warmth.  This is why I like Free Country's designs!  Their line of products offer warmness without compromising individual style and ensure comfort at the same time.
Free Country Women's Slice Softshell Jacket
Free Country recently sent me their Women's Slice Softshell Jacket for review.  My daughter took one look at the coat and immediately claimed it for herself!  However, we are both around the same size and will be sharing the coat, which is just part of the perks of having a teenage daughter who is able to fit into your clothes.  Anyhow, the jacket is absolutely gorgeous and has a beautiful butter soft pile interior lining with a moisture shedding protective softshell exterior.  The longer silhouette style is slimming and contains side tabs letting you adjust the fit for a perfect countering appearance.  On the back is a removable (zippered) hood giving you protection against wind and water.  The jacket also features two inner (no zipper) and two outer deep set pockets with zippers great for keeping your smartphone secure or other pocket worthy items safe from falling out.  What I adore about this jacket is it is dressy enough to go with a nice skirt, but is additionally chic to pair well with  jeans too.  Extremely functionally no matter what you or your teen decides to wear!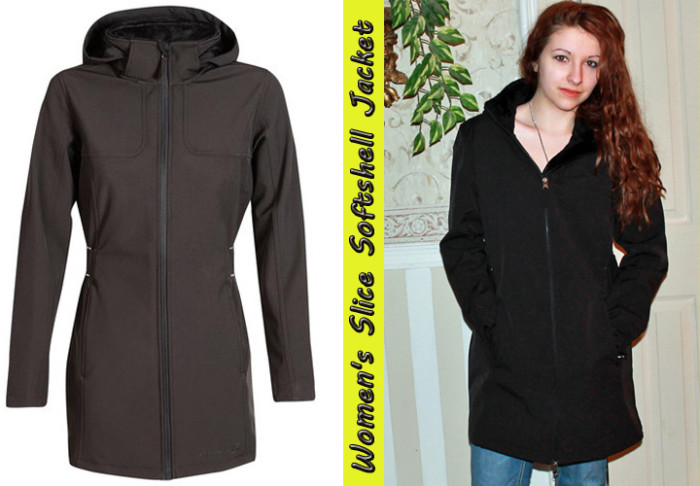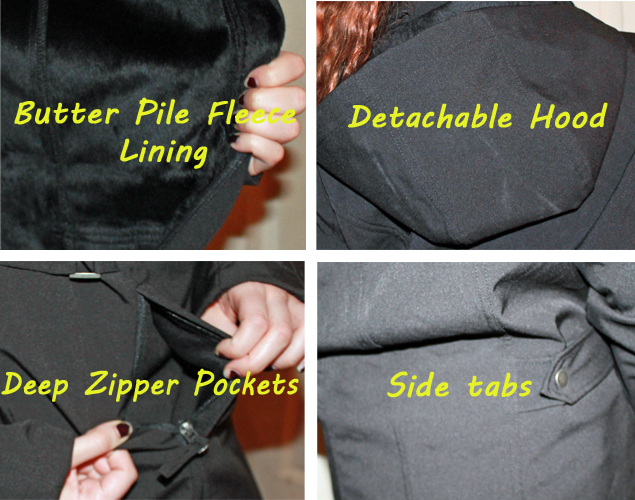 Materials and Care
The care instructions say the jacket is machine washable in cold water on the gentle cycle, meaning no dry cleaning necessary!  Materials used in making the coat are a combination of  93% Polyester and 7% Spandex for the outer shell.  The faux fur inner shell is comprised of 100% Polyester.   The jacket is extremely comfortable, soft, stylish, and warm.   It is even aesthetically pleasing to fussy teenagers! Nothing less than what you would expect from Free Country!  The coat is lightweight enough it can be used all year round, especially for those spring rainy colder days were you need something wind and water resistant.
Save Up To 60% Off!
Right now at Free Country EVERYTHING is up to 60% off including all their Softshell, Fleece, and System Jackets.  For instance, the Women's Slice Softshell Jacket featured in this review is regular priced at $120, but is available for purchase at only $60!  At that price the jacket is a steal!  Free Country has high-performance material coats for the whole family for sale, so if you are a savvy shopper this is the time to do some shopping and save!
Stay Connected with Free Country
Visit the Free Country website
Free Country on Pinterest
Like the Free Country Facebook Page
Free Country Giveaway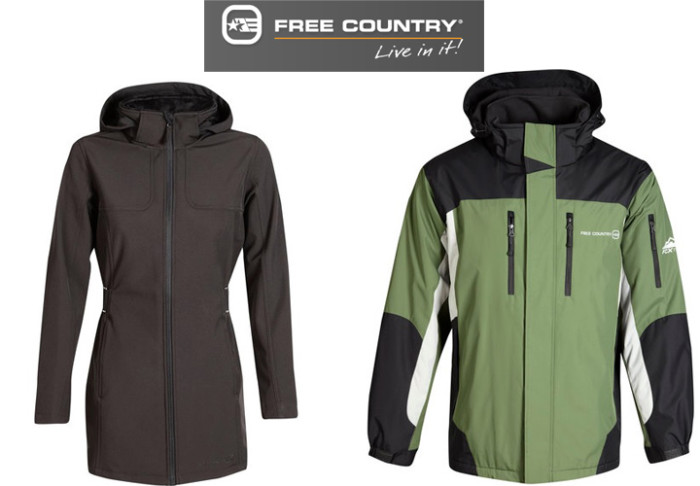 Courtesy of Free Country, one lucky reader will receive a Free Country Women's Slice Softshell Jacket (Black)  or Men's Boulder Midweight Jacket (Green Leaves color) in an available size. To enter the giveaway, please follow the instructions provided on the Rafflecopter form. Any comments are welcomed below, but won't count towards the giveaway. Only entries using the Rafflecopter form will be eligible for prize. Thank you!
[field name= iframe]