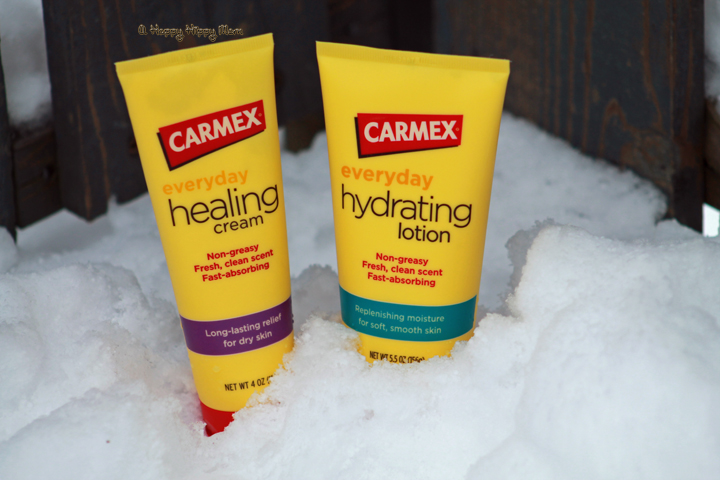 Most everyone knows Carmex for their awesome lip balms containing menthol and camphor that cool and relieve the discomfort of dry and chapped lips.  But did you know Carmex also makes skin care products as well?  The company currently offers two wonderful products from their skin care line to help protect your skin from the damage caused by dry winter weather.   Both the Carmex Healing Cream and Hydrating Lotion are specially formulated to heal and repair even the driest skin brought on by the harsh winter months.   As a member of the Carmex Blog Squad I was sent both products to try out and have been using them over the past week.  Here is more about the cream and lotion per the manufacturer.
Carmex Healing Lotion and Carmex Healing Cream
First skin care products from Carmex brand Uses a patent-pending process and rich healing ingredients to heal, moisturize and help repair dry, rough skin without leaving a greasy feel Both products available exclusively at all Walgreens stores and Walgreens.com Suggested retail price of $5.99

Carmex Healing Lotion

5.5-ounce lotion features aloe and vitamin E to moisturize, heal and protect skin from dryness Formulated for daily use with a light, pleasant scent.

Carmex Healing Cream

4-ounce cream is a thicker, more concentrated formula that penetrates deep into the skin to help repair extremely dry, cracked skin.  Features nine concentrated healing and moisturizing ingredients.  Particularly effective on hands, feet, elbows and knees.
My Thoughts
Living in NY the winter months seem to drag on causing extreme dry skin, especially on my legs, hands, and feet.  I have been using the Everyday Hydrating Lotion on my legs after getting out of the shower and love the way it makes my skin feel baby soft.  Plus it has the most pleasant light scent!  The lotion goes on easily, absorbing quickly without leaving the skin feeling weighed down or greasy.
The Everyday Healing Cream is much thicker and I use it to soothe my extreme dry skin.  What I love about this cream is even though it is thick it still absorbs quick.  The non-greasy formula brings relief to my overly dry hands and cracked heals.  I only have to apply it once in the morning and at night to keep my skin feeling soft.  It also has a marvelous fresh scent.  It kind of reminds me of the smell of baby powder but can't for the life of me identify the fragrance.  All I know is it smells great!
Half-Court Hero Mike D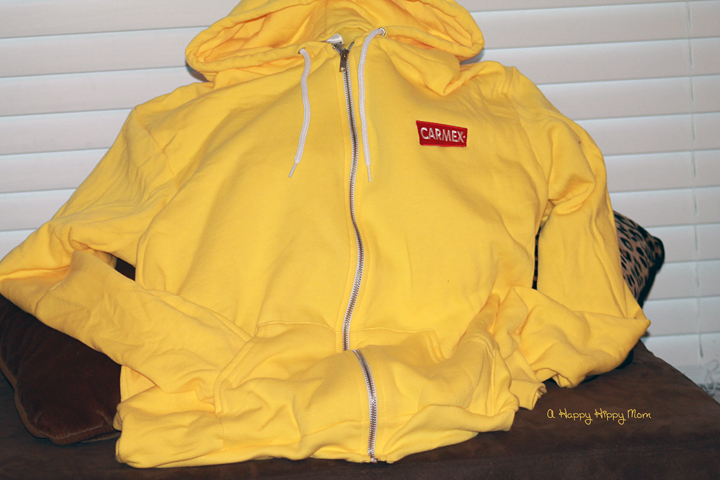 Carmex additionally sent me this really cheerful yellow hoodie as a special gift for being part of the Blog Squad. The hoodie is like the one Mike D. was wearing when he made his spectacular half-court shot and won $75,000 for the Boys and Girls Club of America and another $75,000 for himself. I watched the video over and over again, because it was AWESOME! The best part (besides the amazing hook shot) was when LeBron James from the Miami Heat tackles Michael Drysch, who collapsed to the ground underneath him, during the larger than life congratulations! You have to see this video! It is truly inspirational!
[field name= iframe]
Stay Connected With Carmex
Stay connected with Carmex using these social media sites:
Like Carmex Facebook Page
Follow Carmex on Twitter
Visit the Carmex website
Carmex Healing Cream and Hydrating Lotion Giveaway!
Courtesy of Carmex,  one lucky reader will win a set of Carmex Healing Cream and Hydrating Lotion!  To enter the giveaway please follow the instructions provided on the Rafflecopter form. Any comments are welcomed below, but won't count towards the giveaway. Only entries using the Rafflecopter form will be eligible for prize. Thank you!
[field name= iframe1]