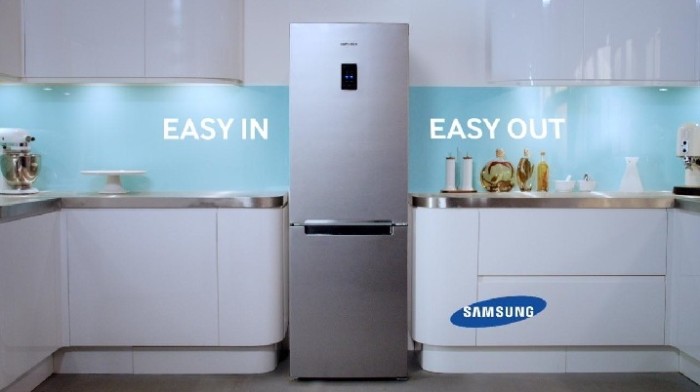 I'm definitely a Samsung girl!  From my cool tablet, smartphone, to other electronic gadgets, Samsung is a preferred name around our home!  Why?  Samsung makes high quality products that are built to perform for years without a glitch. However, I have never had the privilege of owning a Samsung Refrigerator!   After seeing this hilarious Samsung new viral "Easy In – Easy Out" video featuring the hot appliance being emptied out by a bunch of thieving monkeys — I want one!  Watch below as the mischievous monkey reads a magazine advertisement highlighting the new Samsung Refrigerator and scopes out the neighborhood to see if it is nearby.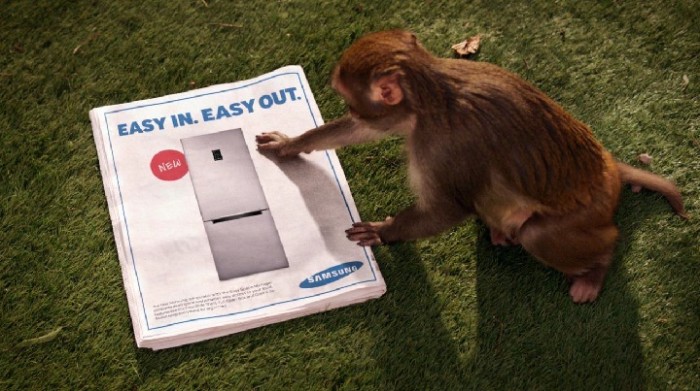 Next he signals his friends to help with the robbery job and they easily clear out an entire fridge, scurrying off with three pieces of pizza, milk, strawberries and other fresh goodies.
And when the owner gets back it is too late!  All she sees is bare shelves where the delicious treats use to be… easy in, easy out!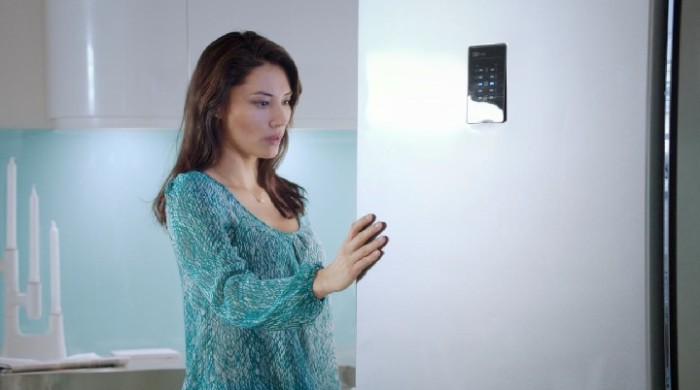 Samsung "Easy In – Easy Out" Monkey Thief Video
[field name= iframe]
So, what do you think?  AWESOME?  The video gives an entertaining look at the Samsung Refrigerator's Easy Slide shelf which effortlessly slides out letting you organize, store, and remove groceries more efficiently while eliminating the dead space you normally have with other fridges.  I can't begin to tell you how many times I have had to remove the contents off an entire shelf in a conventional refrigerator just to reach one tiny rear item, which is very annoying when you are on a time crunch to get dinner ready.  Also, the new Easy Slide feature will likely help put an end to food waste, since forgotten items in the back will be easily seen reminding you of their expiration date.   Another fantastic aspect of the appliance is the new Bottom Mounted Freezer can be pulled out fully so you can store and take out large food items easily corner to corner as well.
Other impressive characteristics include Samsung's superior digital inverter compressor that improves energy efficiency and cooling performance by automatically adjusting across five speeds of RPM and how the refrigerator ensures optimal freshness with its CoolSelect and MoistFresh Zone.  Fruits, veggies, and meat will stay fresh for longer ultimately saving you money!
Do any of my readers already own the new Samsung Refrigerator?  I would be interested in knowing how you like it and what you like or dislike about the appliance.
Disclosure: This post has been sponsored by Samsung, but all thoughts are our own.