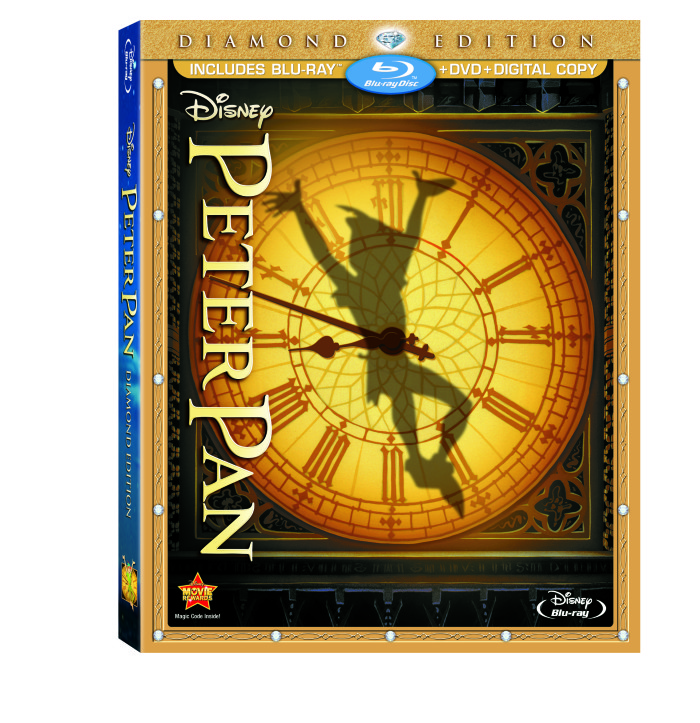 "On February 5, 2013, The Walt Disney Studios celebrates the 60th Anniversary release of Walt Disney's classic, "Peter Pan," as it soars to all-new heights – with a new digital restoration and high definition picture and sound – for the first time on Blu-ray. The classic tale that taught us all "to believe" and first introduced us to the Darling children – Wendy, John and Michael – as they flew with Peter Pan and Tinker Bell past the second star to the right and straight on 'till morning to the enchanted world of Never Land. Rediscover the magical adventure and relive childhood memories of this great bedtime story."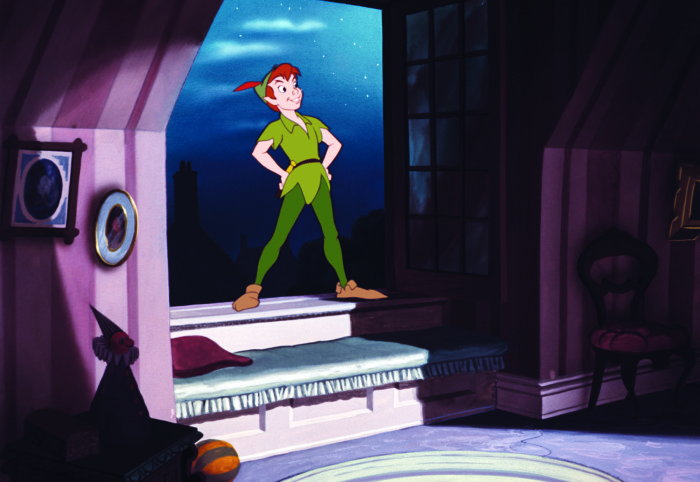 "The "Peter Pan" Diamond Edition Blu-ray Combo Pack (Blu-ray + DVD + Digital Copy & Storybook App) is a "must-own" addition to everyone's home entertainment collection, filled with high-flying bonus features for all ages that includes – the groundbreaking feature Disney Intermission, Growing up with Nine Old Men short film, never-before-seen Deleted Scenes and a never-before-heard Deleted Song."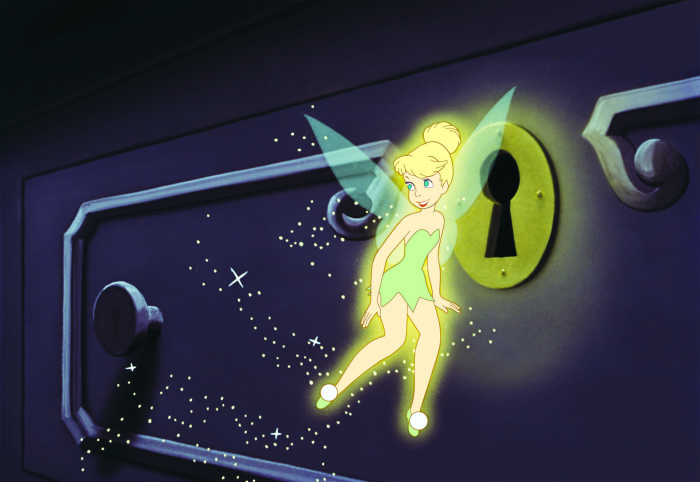 "Peter Pan" is a timeless classic from Disney's Golden Age of animation. The film is one of three to boast all nine of Walt's famous "Nine Old Men" as Directing Animators, and is a revered audience favorite. "Peter Pan" Diamond Edition 3-Disc Blu-ray Combo Pack will be available for a limited time only for the suggested retail price of $44.99 (US) and $51.99 (Canada) from Walt Disney Studios.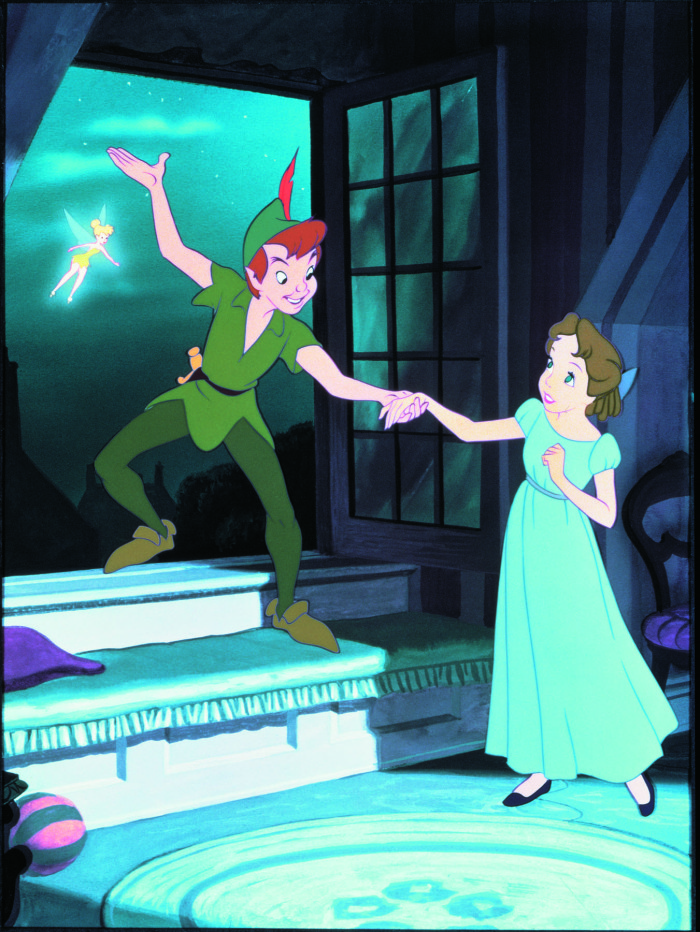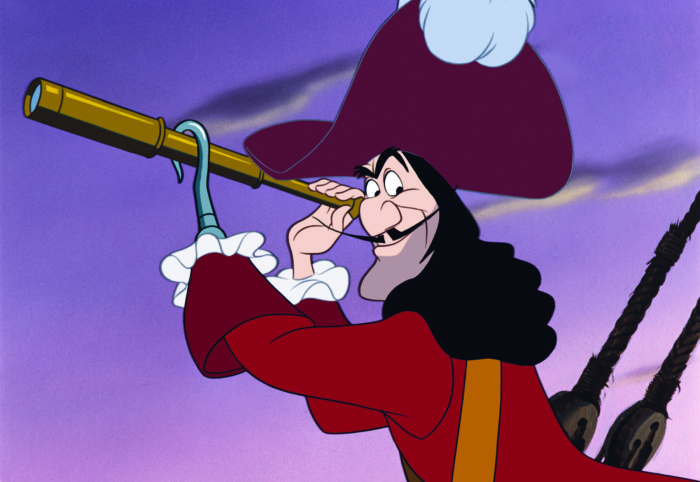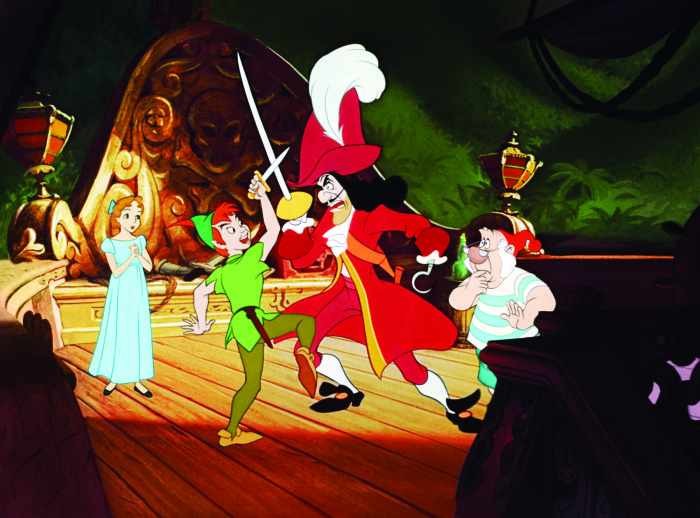 About "Peter Pan" Filmmakers & Cast:
"Peter Pan" was executive produced by Walt Disney (Sleeping Beauty, Snow White, Alice in Wonderland) and directed by Clyde Geronimi (101 Dalmatians, Sleeping Beauty, Lady and the Tramp), Wilfred Jackson (Lady and the Tramp, Alice in Wonderland, Cinderella) and Hamilton Luske (101 Dalmatians, Lady and the Tramp). The character were voiced by Bobby Driscoll (Treasure Island, Song of the South) as Peter Pan, Kathryn Beaumont (Alice in Wonderland, TV's "The Walt Disney Christmas Show") as Wendy Darling, Paul Collins (Evan Almighty, Mother) as John Darling, Tommy Luske (TV's "The Walt Disney Christmas Show") as Michael Darling, Hans Conried (TV's "The Hobbit," TV's "Horton Hears A Who!") as Captain Hook/Mr. Darling, Bill Thompson (Lady and the Tramp, Alice in Wonderland) Mr. Smee/Other Pirates, Heather Angel (Alice in Wonderland, Suspicion), Tom Conway (101 Dalmatians, Cat People) as the narrator.
[field name= iframe]
[field name= iframe1]
[field name= iframe2]
My Thoughts!
Probably much to your surprise, as well as mine, I have never seen Disney's animated film Peter Pan until I was sent the advanced Blu-ray copy for review. Sure, I have viewed other versions of the story like Hook—but not the classic film produced by Walt Disney. Originally released February 5, 1953, the movie was based on the play Peter Pan, or The Boy Who Wouldn't Grow Up by J. M. Barrie. Walt was infatuated with the fairy tale after playing Peter Pan in a school function, so I had a sneaky suspicion the company would not skimp on the new digital restoration and bonus features presented in the "Peter Pan" Diamond Edition Blu-ray Combo Pack, being that the mischievous boy who could fly was one of his all-time favorites (second to Snow White). Extras include a never-before-seen alternate ending, cool Storybook App for mobile Apple devices, a short film about "The Nine Old Men", deleted songs such as "Never Smile At A Crocodile", and much more! I personally loved the "Disney Intermission and found myself pressing the pause button during the movie just to watch the "Pirates In Training!" My five year old son got a real kick out of that too!
What I love about this movie is it takes you back to a time where people were not overwhelmed with worries of sinister behavior as much and the idea of a boy lurking outside a nursery window chasing his shadow was innocent in nature. Try placing that concept in a movie today without the feeling of it seeming overly creepy! Furthermore, individuals may think the age old classic might border on the line of being politically incorrect or offensive with stereotypical scenes such as "What Made the Red Man Red" and the use of the derogatory terms paleface and redskins in the script. Nevertheless, Disney left it completely untouched and fans are able to enjoy the movie, without it being over thought, in its original format. However, what has changed is the story is told in stunning detail with brilliant color, which breathes the life back into Peter Pan and Never Land!
The movie has several charming moments and you will find yourself chuckling throughout. One of my favorite scenes is when Mr. Smee, Captain Hook's trusted assistant, tries to sooth Hook who is frazzled from chasing Peter pan all day and by the appearance of Tick-Tock with a little bit of grooming. Thinking a straight razor shave is what the doctor ordered, Smee gets carried away and instead of shaving Hook's face ends up shaving a bird's behind. Once the feather friend flies away from the sting of the aftershave applied to his bare butt, the clumsy pirate believes he gave to close of a shave and took Hook's head off!
Sit back, relax, and try watching the movie through the eyes of a child! Don't over think it! Just enjoy it for what it is…pure entertainment!
FREE Peter Pan Activities
"In anticipation of the February 5th release of Peter Pan Diamond Edition on Blu-ray Combo Pack, we are pleased to share Peter Pan's Never Grown Up Games! Printable Pirate Puzzles, Connect the Dots Darling Star Gazer and Never Land Fun & Games complement Magical Bookmarks featuring your favorite characters!
Enjoy a moment of play with your kids and let yourself be reminded of how their perspective on life helps keep you young! And while you're at it check out the below fun clips to get yourself in a Never Land state of mind!"
[field name= iframe3]
Stay Connected
To learn more and keep informed on this release:
Buy It
Disney's Peter Pan Diamond Edition on Blu-ray Combo Pack is available for (pre-order)  purchase at Amazon.com for only  $27.99!  That is a 38% savings off the suggested listing price!