I do not know how you feel about music, but to me it is an essential part of my daily life.  Rocking out to my favorite tunes gets me up and going when I am feeling low and helps pass along a normally tiresome day.  So, I am always looking to enrich my listening experience with the latest advancements in music technology.  This is why I am pleased to be able to feature BassBoomz, the newest hottest High Performance Portable Bluetooth Speaker from BassBuds.  The portable and pocket-sized audio gem is made by the same manufacturer that creates the stylish headphones with the Advanced Crystaltronics High Performance Sound Technology you see stars such as Ben 'Doc' Brown (The 4 O'clock club) exhibiting.
[field name= iframe]
Available in eight vibrant colors (I was sent the stunning pink), BassBoomz is compatible with all wireless devices with a Bluetooth connection and will play music from older gadgets that have a 3.5mm audio jack output.  The tiny wireless audio speaker with the BIG sound paired wonderfully with my smartphone, laptop, iPod Touch, and tablet.  I was able to get it to even play songs off my old Zune and other MP3 players using the audio cable provided along with the speaker.  Plus, it works wonderful for using with my tablet to watch movies on Netflix.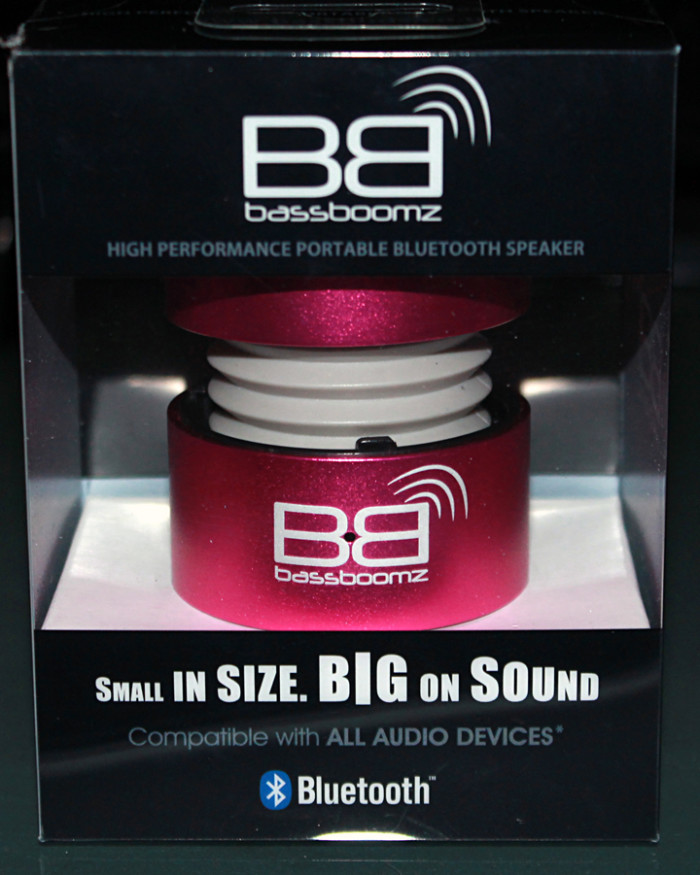 Upon first appearance of the BassBoomz portable speaker you ponder how something so small could put out such an amazing sound. But don't let its small size mislead you, because the innovative Bass Expansion System provides an immense sound quality with intense, deep bass tones.  I tested the travel speaker on my favorite songs featuring a large amount of bass like Big Log by Robert Plant.  The unit would bounce a bit around when on the highest volume and does best on a 70% percent volume level, anything above that I noticed some distortion in clarity.  The manufacturer recommends if you are using a Bluetooth device you stay within a distance of 20-30 feet to get the best quality, which I did.   Additionally, BassBoomz plays better on clean, smooth surfaces rather than textured, so a hard table or shelf probably would be most suitable to avoid diminished sound quality.  Overall, the sound is impressive and one of the best I have seen for a wireless on the go speaker!  Not too bad for a unit only measuring 6.7 cm when it is fully opened!
[field name= iframe1]
BazzBooms comes equipped with a built-in Li-ion rechargeable battery putting out 5-6 hours of playtime at 70% volume.  To charge the battery you need to use the included USB Charging cable, plug one end into the DC 5V jack situated at the bottom of the unit, and the other end into a USB powered port on a device such as your computer.  The battery fully charges in about 1.5 hours.  When the battery gets low you start noticing the sound begins to distort and the green LED light starts flashing.   The red LED light indicates the battery is charging and not full.
The speaker is extremely easy to use.  Basically, you just make sure it is fully charged, twist and release The Bass Expansion System, pair it (PIN included in manual) or plug it into your audio device, and you are ready to play music on the go!  The outer shell of the unit is made out of hard durable material, so placing it in your pocket or purse when it is closed should be perfectly fine.
Here is what you get out of the box!
Box Contents
BassBoomz portable Bluetooth Speaker
USB charging cable
AUX cable
User Manual
Highlights
Explosive sound quality – twist and release the Bass Expansion system

Ideal for your smartphone, MP3 players, tablets and laptops

Compatible with all wireless devices with a Bluetooth connection

Compatiable with any audio device that has a 3.5mm audio jack output

Dual connectivity available – connect 2 BassBoomz together for double the sound

Portable and pocket-sized for your music on-the-go!
Compatibility Information
    Compatible with all Bluetooth enabled devices such as laptops, smartphones and tablets
    Compatible with non Bluetooth devices, such as MP3 players, via AUX input
 Buy BassBoomz! Save $46.00 Off The Price!
Save $46 off the price of BassBoomz when using code BBZ017544 at checkout!