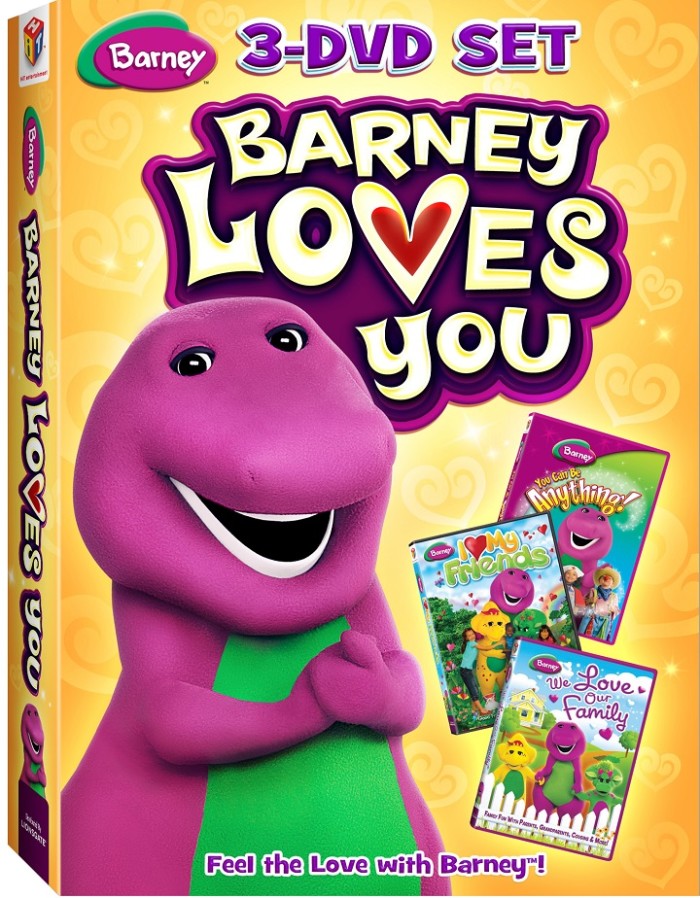 Need a hug? Come join Barney and his playground friends in the new Barney Loves You 3-DVD Set from Lionsgate and HIT Entertainment recently released on February 19, 2013. In this heartwarming collection, the huggable purple dinosaur with the big heart teaches about the joys of friendship and family through imagination, song and dance. Packed with bonus features including a cute Dino Dress-Up Game, an adorable Books of Hugs Read-Along and more, the new DVD set will keep your preschooler entertained for 144 minutes with lots of loveable fun! The uplifting collection features Barney: We Love Our Family, Barney: You Can Be Anything and Barney: I Love My Friends.
Here is more about Barney Loves You 3-DVD Set
Barney: We Love Our Family Synopsis (40 minutes)

All we need is love from our family and friends – and of course Barney! Discover the joys and laughter that moms, grandparents and cousins can bring in this unforgettable and heartwarming collection that the whole family will cherish!
DVD Bonus Features:
"Dino Dress-Up Interactive" Game
"Welcome, Cousin RiffR" featurette
Barney: I Love My Friends Synopsis (58 minutes)

Come join in the fun as Barney takes his friends on a super-dee-duper adventure that shows just what it means to be a friend. Princess Baby Bop has a royally good time when she sees that a key to being a friend is keeping promises. Riff goes to great lengths to make up for a big mistake and prove he's a friend who sees things through to the end. BJR feels left out when he's not included in a drawing, and learns the importance of being honest and expressing his feelings. With singing, dancing and lots of monkey-ing around, Barney brings kids on a friend-tastic adventure and shows that everything is more fun with friends!
DVD Bonus Features:
 "Book of Hugs" Read-Along"
"If You Are Happy And You Know It" Sing-Along"
Barney: You Can Be Anything Synopsis (46 minutes)

What do you want to be when you grow up? Join Barney and his friends as they look through Barney's costume shop and try on a few jobs for size. Just imagine and you can be ANYTHING!
Conclusion
My favorite DVD out of the set was You Can Be Anything. Youngsters are encouraged they can become anything they want such as a pilot, firefighter, librarian, and doctor through pretending, song and Barney's Costume Shop.  Children also learn a little about the responsibilities of being a farmer, mail carrier, veterinarian, and more.  It is so important to inspire our children at an early age through imagination and this DVD collection does just that!
Buy It!
BARNEY: BARNEY LOVES YOU 3-DVD SET has a suggested listing price of $19.98, but is available for purchase at Amazon.con for just $14.99!
Stay Connected
Program Website: www.barney.com
Facebook: http://www.facebook.com/barney
Twitter: http://twitter.com/DinoMiteBarney
YouTube: www.youtube.com/HITBarney
Barney Loves You 3-DVD Set Giveaway!
Courtesy of Lionsgate And HIT Entertainment, one reader will win the new Barney Loves You 3-DVD Set! To enter the giveaway please follow the instructions provided on the Rafflecopter form. Any comments are welcomed below, but won't count towards the giveaway. Only entries using the Rafflecopter form will be eligible for prize. Thank you!
[field name= iframe]