All aboard for action-packed messy adventures with preschool favorite Thomas the Tank Engine and his engine friends in Thomas & Friends: Muddy Matters!  Released on January 15, 2013 from Lionsgate and HIT Entertainment, the DVD includes five action-packed sticky episodes from season sixteen along with three fun bonus features to keep your preschooler entertained for approximately 58 minutes. Kids learn the value of cooperation and friendship as they watch the engines get down and dirty – in a good way – as they accomplish their daily tasks around the Island of Sodor using teamwork. Thomas & Friends: Muddy Matters has a suggested retail price of $14.98 and is now available on DVD, Digital Download and On Demand.
Episodes Include:
"Muddy Matters" (fifteenth episode of the sixteenth season)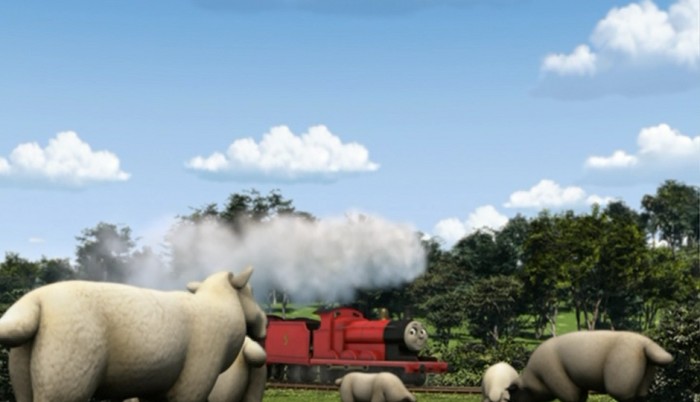 Farmer McColl asks James to take his sheepdog, Katie, and his sheep to the fair using the flattest and fastest track in effort not to upset the sheep.  Also, he asks James to make sure his sheep are kept clean, so they will be featured in the newspaper. However, unforeseen circumstances result in the sheep becoming dirty and James has to deliver them to the fair in muddy conditions.
"Thomas and the Garbage Train" (seventh episode of the sixteenth season)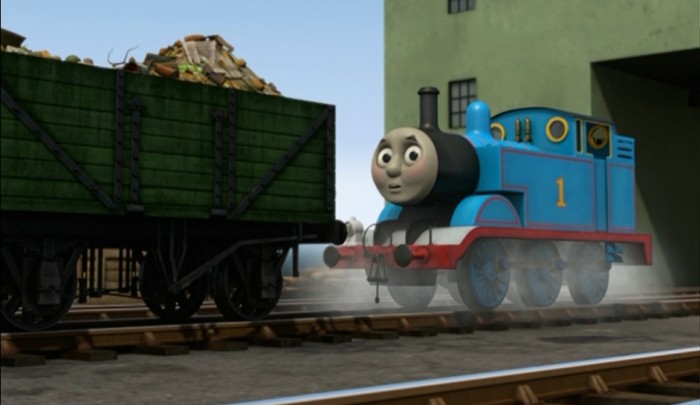 To avoid becoming additionally stinky, Thomas diverts himself onto a different track to get away from the rubbish. However, he ends up colliding with the rubbish trucks making them fall off the tracks and sends the smelly contents everywhere.
 "Don't Bother Victor" (eighteenth episode of the sixteenth season)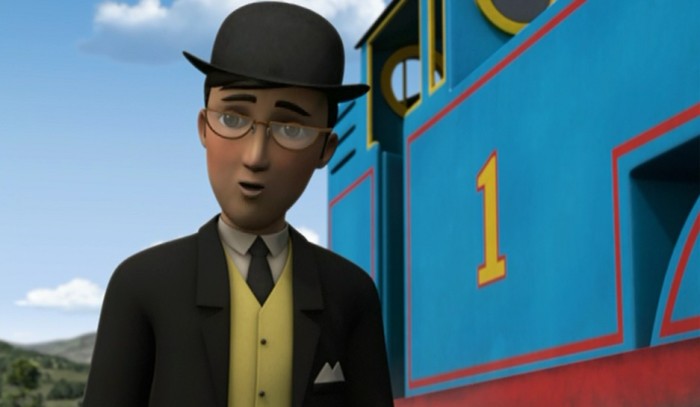 Peter Sam tries to obey the Thin Controller instructions not to bother Victor with trivial matters and attempts fixing sticky situations himself.
"Whiff's Wish" (sixteenth episode of the sixteenth season)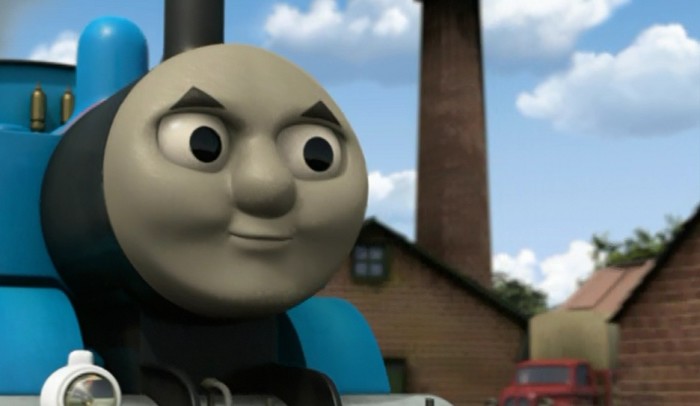 Whiff, wishing he could be grand like Spencer, avoids moving the lot of rubbish trucks which causes Percy to worry about delivering his mail on time.
"Thomas Toots the Crows" (eighth episode of the sixteenth season)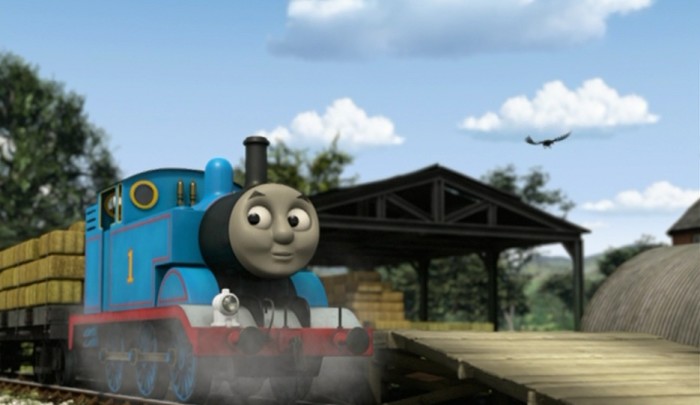 Farmer McColl asks Thomas to stay and help him keep the crows away from eating his seeds until he is able to get his scarecrow fixed.  Thomas agrees and blows his whistle to scare the crows away.  However, when two crows fly down the track Thomas chases them leaving the farm unattended for loads more crows to invade the field.
 Bonus Features
Go Go Thomas! Karaoke Music Video
Guess Who? Puzzles
Muddy Sheep Roundup Game
Digital Bonus features
Bonus Episode "Buzzy Bees"
DVD Synopsis
Through mud, garbage and muck, Thomas and his engine friends show that being Really Useful can be a dirty job! See James turn into the Really Muddy Engine and Thomas get showered with garbage. Watch Peter Sam make a big mess trying to keep things on track as Thomas creates chaos with the crows and much, much more. Join Thomas and the Steam Team as they make the best of the mess in these exciting muddy and mucky adventures!
Buy It
Thomas & Friends: Muddy Matters DVD has a suggested retail price of $14.98, but is available for purchase at Amazon.com for just $9.99!
Stay Connected
Website: www.lionsgate.com/thomasandfriends
Facebook: http://www.facebook.com/thomasandfriends
Thomas & Friends: Muddy Matters DVD Giveaway
Courtesy of Lionsgate and Hit Entertainment, one lucky reader will win the new Thomas & Friends: Muddy Matters DVD! To enter the giveaway, please follow the instructions provided on the Rafflecopter form. Any comments are welcomed below, but won't count towards the giveaway. Only entries using the Rafflecopter form will be eligible for prize. Thank you!
[field name= iframe]