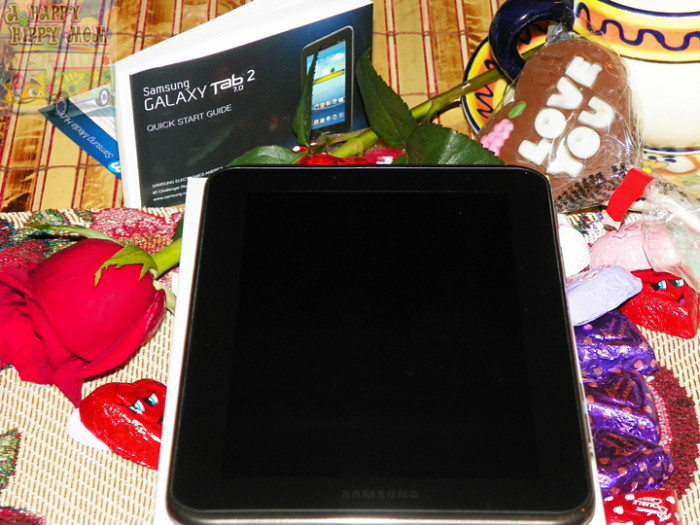 Are both you and your checkbook still recouping from the holiday festivities? Well, I hate to be the one to break the news to you, but Valentine's Day is officially less than a month away. You might want to run and hide, but ignoring the fact isn't going to make the day disappear. However, I have a suggestion on what to give this February 14th if your cash flow is low and you want to still charm that special someone without having to max out your credit card or push your account to the limit. How about a Samsung Galaxy Tab 2?
Staples generously sent me the Samsung Galaxy Tab 2 7.0 (Wi-Fi) 8GB for review and I have been evaluating its features the past week. For what I have experienced thus far, the compact tablet offers all the perks and more of an expensive tablet, but does it for half the cost. Priced at only $199.99— it is a steal!
Design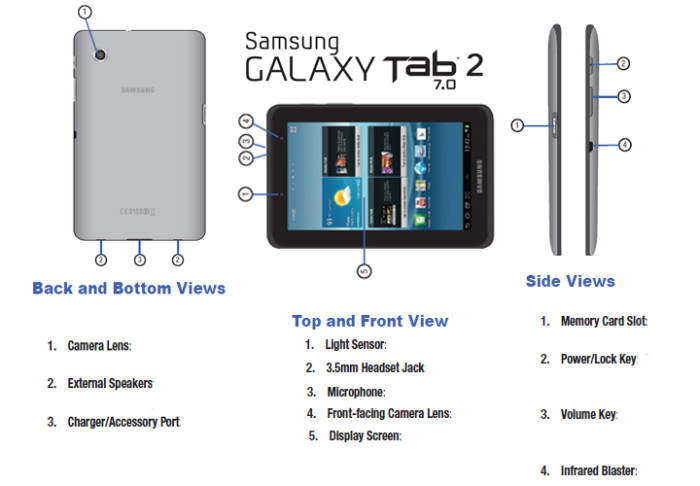 The Samsung Galaxy Tab 2 7″ is enclosed in a plastic frame and built sturdy for its lightweight, slim, sleek design with rounded corners. Measuring 4.8″ x 7.6″ x .41″ and weighing in at .76 lbs, this easy to handle gadget puts a world of endless on the go entertainment in the palm of your hand.
On the right side, toward the top of the tablet, contains the Power/Lock Key, which is pronounced, easy to find, and use. Directly beneath the power button is the volume control. Also, on the same side you will find the Infrared Blaster used to emit infrared signals required for controlling external devices such as your TV utilizing the Smart Remote app. The left side of the device sports a memory card slot allowing you to install a memory card expanding total storage to 32gb.
The front of the tablet features a 1024×600 pixel touch screen display with auto-rotate (can be turned off), light sensor (control screen brightness automatically), 3.5mm headset jack, microphone, and front-facing camera lens.
Backside consists of rear facing camera lens for taking photos or recording videos. The bottom has external speakers and charger/accessory port where you plug in a USB cable for charging or to sync music and files.
Software
Right out of the box the Samsung Galaxy Tab 2 comes preloaded with a multitude of fan-favorite apps. to get you up and going. Running Android 4. OS (aka, Ice Cream Sandwich) along with access to Google Play and Samsung Apps. you have a powerful force of multimedia available that many comparable devices can't match. I was completely blown away with all this tablet has to offer! For instance, the Samsung Media Hub delivers the latest blockbuster and family movies, thrillers, and comedies instantly to your tablet. Missed a favorite TV show? More than likely you can find it available on Samsung Media Hub the day after it airs! You can preview, rent or own movie content and share it with up to 5 devices.
Additionally installed and ready at your fingertips is a plethora of other software including Contacts, Alarm/Clock, S Planner, Camera, Gallery, Photo Editor, Video Maker, Web Browser, My Files, Email, Calculator, World Clock, Task Manager, Music Player, Video Player, Navigation , Google Search, Google Talk, Gmail, YouTube, Latitude, Places, Google Maps, Google +, Google + Messenger, Play Store, Google Play Books, Google Play Music, Google Play Videos, AllShare, ChatON, S-Memo, Smart Remote, Game Hub, Music Hub, Readers Hub, Amazon Kindle, Polaris Office, Dropbox (50GB free for the first year), and Netflix.
Specs
Here are the specs for my tech savvy readers.
OS: Android 4., Ice Cream Sandwich
Processor: 1.0GHz, dual-core
Memory Capacity: 8GB • microSD Card Slot (Up to 32GB)
Display Screen: 7.0″
Display Resolution: WSVGA (1024×600)
Display Type: TFT (PLS)
Battery Type: Li-Polymer
Battery Capacity: 4,000mAh
Color: Titanium Silver
Wireless Internet WiFi 802.11 b/g/n, WiFi Direct
Camera: 3MP rear-facing, VGA front-facing
GPS
Bluetooth V3.
USB 2. Host
Stereo Speakers
Antenna
Ear Jack: 3.5mm (Line-in Mic)
IF Connector: 30Pin
 What's In The Box
Samsung Galaxy Tab 2 7.0, USB cable, charger, and operating instructions.
Performance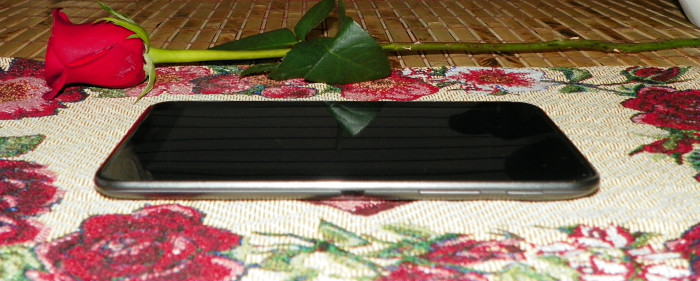 Samsung Galaxy II 7″ 8GB, WiFi tablet's battery comes partially charged, so you are able to setup your device immediately and check out all the features. Setting up was a piece of cake and required just a couple minutes following the screens instructions, connecting to my WiFi network, setting date and time, and signing into my Samsung account to use the Samsung services. Very easy and self explanatory.
I am accustomed to my iPad, that features a larger sized display screen. I assumed I would battle with the smaller sized display. However, I discovered the Samsung to be essentially simpler to navigate and the virtual QWERTY keyboard just as easy to use. Not to mention the graphics were extremely bright and crisp.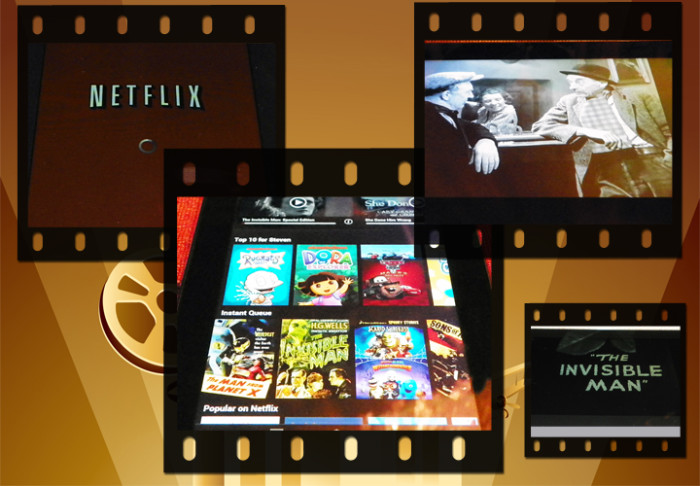 The duel-core 1.0GHz Processor gives a snappy response allowing multitasking without the annoyance of lag time and freezing. I had no problem jumping from one app, to another! Netflix movies streamed without delay, which is important considering I pay for the subscription. Checking mail, browsing, gaming, and opening up webpages with the Samsung Galaxy Tab 2 I found to be effortless!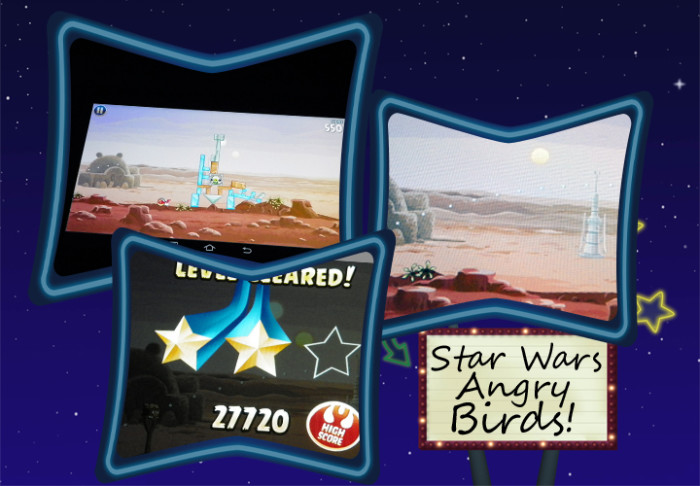 The battery once fully charged lasted approximately a little over 9 hours with constant gaming, movies, and browsing being applied.
I took the tablet on a trip to my local Dunkin' Donuts to test the WiFi hot spot connectivity. The device worked wonderfully by picking up the signal once it was in range and connected within a few seconds. Just a quick note -even though the tablet is able to connect to a hot spot is does not have the capability of creating its own like a mobile phone with internet enabled. It does not support a SIM card or cellular wireless data.
The tiny speakers produce a reasonable level of sound great for playing movies and tunes.
Pros
Compact without sacrificing full tablet entertainment.
Upgrading memory is painless and cheap. Expandable up to 32GB using MicroSD card slot.
Bluetooth V3. paired with my Soundfreaq.
Has 3MP rear-facing and a VGA front-facing camera.
Supports Adobe Flash player.
Virtually endless amount of apps. available.
Comes loaded with quality apps.
Has Wi-Fi Direct.
Priced under $200 ($199.99)
Cons
Cannot play songs from Apple iTunes.
Does not provide own hot spots.
Does not support external keyboards.
 Conclusion
The Samsung Galaxy II 7″ 8GB, WiFi Tablet presents an enormous amount of entertainment for a more than reasonable price tag. The sleek and stylish design is excellent for traveling and will fit fantastically in a purse or briefcase. If you want to be connected to the online world while you are away from your home and don't mind locating a WiFi hot spot to do it—this is your gadget! All of the enjoyment supplied in sharp detail with none of the fuss. Would make an excellent Valentine's Day gift for the blogger, movie/music lover, internet freak, Facebook junky, social media nut on your gift list!
Buy It
Samsung Galaxy Tab 2 7.0 (Wi-Fi) 8GB is available for purchase at Staples.com for $199.99!
Disclosure:  Staples provided me with this Samsung Galaxy Tab 2 7.0 (Wi-Fi) 8GB for review purposes. The words opinions express in this review are strictly my own. To see the full line of tablets visit Staples.com.