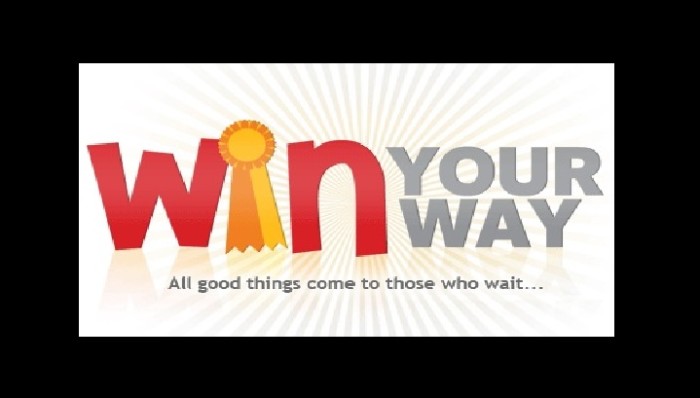 Are you a savvy shopper?  If you are you probably already know how to make your dollars stretch by taking advantage of Shop Your Way Rewards program where you can earn 10 points or more on every $1 you spend on qualified Sears, Kmart, and other Point Site partner purchases online or in-store.   For every 1000 points earned equals a dollar that may be used to save on eligible purchases.  The great thing is there is no minimum amount of Points to redeem, so you are completely in control of how many you want to use at any given time.  With the holiday shopping season well under way, the points can rack up quickly saving you a lot of loot!
If getting cash back on all your top brand purchases at your favorite stores is not reason enough to join ShopYourWay.com, how about the chance to win some awesome prizes?  Recently, the company added Win Your Way, a new addictive feature to their social shopping experience giving members the opportunity to enter to win tons of points and other quality prizes, such as cool exclusive merchandise, trips, digital awards and products.   The sweepstakes are extremely easy to enter and there is no purchase necessary to enter, meaning you have nothing to lose and everything to gain.
What a like about the new platform is each sweepstake is clearly detailed on the prize being offered, how many days left to enter, and the steps you need to do to be eligible for the prize.  There is no guessing on what you need to do, because each sweep contains instructions.  Some giveaways may ask you to answer a simple question, download the free SHOP YOUR WAY app for your Smartphone, entering a code (obtainable by email) or create a new "public" catalog.  Whatever the task is it normally only takes a few minutes to complete and you'll automatically be entered in the sweepstakes.  Plus, near the bottom of the sweep it tells how many members have entered giving you some idea what your chances are for winning the prize.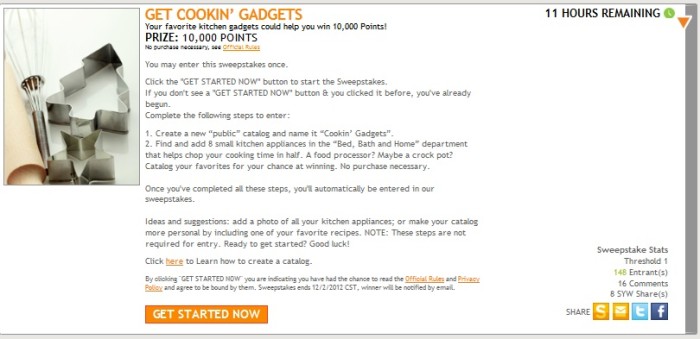 For instance, the "Get Cookin' Gadgets " giveaway is for 10,000 points, ends tonight (December 2, 2012 at 11:59:59 pm CT), and has just 148 entrants thus far!  All you need to do to enter is create a new "public" catalog and name it "Cookin' Gadgets," add 8 small kitchen appliances in the "Bed, Bath and Home" department that helps reduce your cooking time, and you are officially entered!  VERY EASY to do! I included the Ninja Euro-Pro Master Prep, Marie Potato Ricer, Bebe Hand Blender, IRC Manual Food Processor, Presto Salad Shooter Slicer and Shredder, Hamilton Beach Set n Forget 6 qt. Programmable Slow Cooker, Black & Decker 12 Cup Rice Cooker, and Heaven Fresh Food Digital Steamer in my catalog.  However, you can choose any product you believe cuts your time in the kitchen.  Once you complete the catalog the sweepstakes will show you are entered.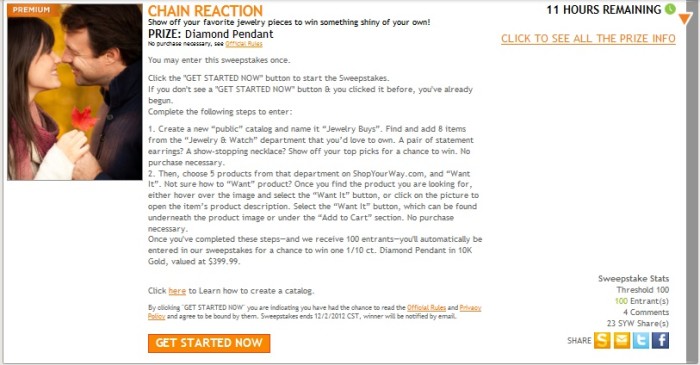 Another giveaway that ends in 11 hours I just entered was the Chain Reaction.  This sweepstakes is for a one 1/10 ct. Diamond Pendant in 10K Gold, valued at $399.99. There is ONLY 101 members entered!  Just like the "Get Cookin' Gadgets" sweep you need to create a catalog, name it "Jewelry Buys," and add 8 items from the "Jewelry & Watch" department that you'd love to own.  Next choose 5 products from that department and select "Want It".  Once you complete those simple steps you are entered for the chance to win the beautiful pendant!

There are some sweepstakes that are marked with "VIP", requiring you to be a VIP member to be eligible to win those prizes.  This program is for members who spend a minimum of $2,500 annually.  However, most the giveaways are for regular members and there are plenty of prizes to be won!
What I love is that there are big and small prizes, something offered to appeal to everyone, and very little entries!  Additionally, you can win more than one sweepstakes. Enter them all!  If you enjoy dreaming and entering for prizes without the worries of having to purchase anything…try Win Your Way! It is fun to enter the giveaways and who knows you might just be the next big winner!
About Win Your Way:
Win Your Way is an app that is part of the ShopYourWay social shopping platform. Members will find a constant stream of new and unique sweepstakes with prizes including: ShopYourWay Rewards points, trips to locations around the country, jewelry, clothing, appliances, tools, and gadgets.
"No purchase necessary. See http://bit.ly/RdfB8K for details."
FTC Disclosure: "This is a sponsored post with http://brandfluential.com, I am a Win Your Way blogger, though all opinions are my own."