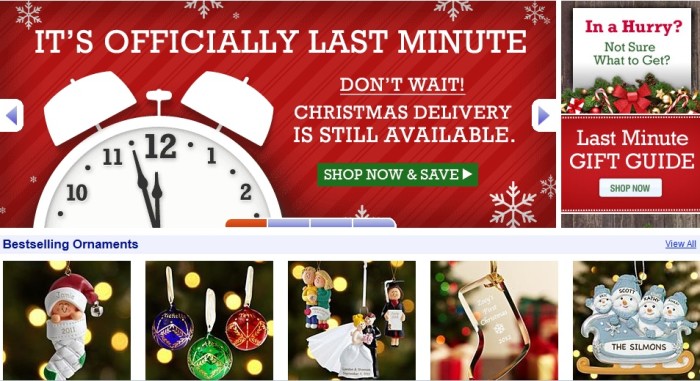 There is only 7 shopping days left until Christmas!  Most of you probably have almost all your holiday shopping wrapped up.  Or perhaps you still have one person on your list that you might need a bit of help finding the perfect gift for?  My suggestion is to keep it personal this holiday season, avoid the last minute crazy shopping crowds, and get an affordable unique gift at Personalcreations.com!
For ten years Personal Creations has presented customers with one-of-a-kind personalized gifts for just about any occasion you are able to imagine.  There are thousands of beautiful gifts including personalized stockings, ornaments, Christmas décor, and other cool holiday gifts ready to delight him, her, baby, uncle, auntie, client,  boss, or whoever is on your gift giving list!
I was excited to be given the opportunity to go shopping at Personal Creations!  You can get lost in all the wonderful products the store has to offer!  However, I always wanted a personalized stocking for my son so it was the first item I decided to place in my cart.
They have several adorable styles of stockings to choose from,  such as Vintage Handcrafted Needlepoint Stockings, Velvet Argyle Stockings, Knit Argyle  Snowflake Stockings, Christmas Sleigh Stocking, 3-D Snow Family Stockings, cute Tangled in Lights Stockings and more!   But the Personal Creations exclusive Winter Wonderland Stockings just screamed my son's name!  There is the option to choose from six beloved winter characters including Santa, Mrs. Claus, Snowman, Moose, Bear or Penguin.  Each felt stocking has a green-and-red striped toe with a matching cuff draped in snow and can be personalized with any name up to 12 characters.  The stockings measure 19 ¼" L, 10 ½" W, made from polyester fleece, and are fully lined.  I decided to get the Winter Wonderland Stocking with the Moose character for my son.  The embroidery of his name was superb and easy to read.  The stocking will be a cherished item for many Christmases to come!
One of my fondest memories as a child during the Christmas season was sitting down with my family and watching the original Christmas classic Rudolph the Red-Nosed Reindeer with Sam the Snowman (Burl Ives) telling the story.  You can just imagine how thrilled I was to see this awesome Rudolph and Santa Throw at Personal Creations!  The throw contains Santa, Rudolph, the misfit toys, and can be personalized with any message on 2 lines, up to 14 characters, and you are able to add up to 12 names, up to 10 characters each, to Santa's list.  The fringed throw measures 54″L x 38″W, made from a 50% polyester -50% cotton blend, and machine washable and dry.  It is absolutely amazing with unbelievable detail.  I had the throw personalized with our last name (blocked out on photo for privacy), first names, and all the pet's names.  The throw is too spectacular to just have bunched up on my couch or chair, so I decided to hang it up on the wall in my kitchen.  It adds such a wonderful warm feeling to the room!
I just want to quickly mention the company packed the gifts extremely good to avoid any shipping damage.  Each product was individually wrapped and surrounded by packing peanuts.  You can tell the individual care that went in to ensuring the products were protected and would arrive in pristine condition.
I could go on for hours sharing all the wonderful gifts the Personal Creations store has to offer!  Being that you are on a time limit,  I will let you get going to browse the site for yourself.  If you are really pressed for time, they have a great Last Minute Holiday Gift Guide to help you find the perfect gift.  There is still time to order and get your personalized heartfelt gift to its destination for Christmas!
Save 20% Off Your Order
Save 20% off your entire order through December 31, 2012 with the Personal Creations coupon code GDTS12!
Stay Connected
Stay connected with Personal Creations using these social media sites.
Like the Personal Creations Facebook page
Follow Personal Creations on Twitter
Visit the Personal Creations blog
Visit the Personal Creations Website
Disclosure: "I was given the chance to review a complimentary products from Personalcreations.com"