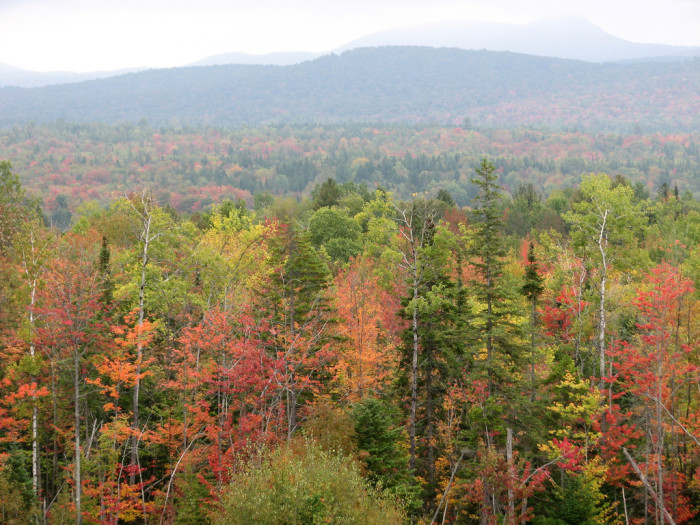 As cool weather approaches and the warm winds dissipate, vacation trail plans begin to heat up.  Late October is often described as the most beautiful time of the year here in New York State.   The combination of the sweet fragrance of apple orchards at their peak, warm days giving out to cooler nights, and the spectacular beauty of the fall foliage makes this region a peerless force of breathtaking cycling paths.
Pack up the family along with your biking gear and journey to the magnificent Adirondacks!  During the autumn months the ski and snowshoe trail system converts into a hiking and mountain biking utopia.  Created in 1892 by the State of New York, the Adirondack Park comprises the largest protected wilderness area east of the Mississippi.  Grander than several states in New England, it is even bigger than the Grand Canyon, Yosemite, Yellowstone, Glacier, and the Great Smokies National Parks combined!  The vast park is made up of seven distinct geographical districts consisting of the Adirondack Wild, Lake Placid Region, Lake George Region, Adirondack Coast, Adirondack Lakes Region, Adirondacks-Tughill and the Adirondack Seaway.   Each area presents a distinctive and invigorating "forever wild" experience to its guests.
Offering more than 2,000 miles of complex and beautiful New York hiking trails, hikers and cyclists will enjoy the gorgeous different species of color changing trees along the preserved paths as they witness waterfalls flowing in all their glory.  Not every hiking trail allows bikes, but the ones that do are notorious for being a great place to learn, explore, and train, since they cater to all skill levels.  For instance, the Old Forge Mountain Bike Trail System located between Old Forge & Eagle Bay provides 100 miles of multiple length loops.  Ideal for the beginner to intermediate skilled biker, these simple to access trails consists of mostly easy and flat lands with some small rolling hills.  However, there are a few steep climbs to challenge the more accomplished rider.  Additionally, there a various single-track trails to explore that branch off the main trail system.  This trail system delivers great outdoor fun for the whole family.
If you are planning on adventuring to the Adirondacks and exploring the eye-popping autumn scenery this might be the perfect excuse to update your biking arsenal.  Leisure Lakes Bikes, a well-known online and instore biking authority, offers a comprehensive assortment of bikes, mountain bikes, frames, clothing, helmets, and accessories.  Established in 1981 by the four "Noy" brothers, the family business operates seven shops nationwide and carries well-known brands such as Specailized, Cannondale, Scott, Norco, Orange, Marin, Trek, Whyte, GT, Santa Cruz, 24seven, Yeti, Identti, Intense, Pace and Cove.   The company additionally offers a "Ship To Store" service making it convenient for you to get your item at a nearer store location.  At Leisure Lakes Bikes there is something for everyone no matter what your skill level or biking needs are. Check them out!
*Adirondack photo credited to bobistraveling