October is a busy month for celebrations and special occasions!  There are oodles of gift giving reasons in October, such as supporting those affected by breast cancer, autumn birthdays, Halloween, and little known holiday called Sweetest Day.  At this point, I know what you are thinking!  You are all thinking that Sweetest Day is just a made up day fabricated by the greeting card and candy industry to increase their sales.  Yes, that is partly true, but it is also a great opportunity for us to take time out and recognize the sick, elderly, adored friends and relatives, as well as those who have showed extreme kindness and helpfulness.
Now that we have established Sweetest Day (third Saturday in October) as an actual holiday to celebrate all the people who make our life special, what do we give?  Well,  I can't think of anything more deserving to honor my sweetie with than sweet, delicious hand-dipped strawberries from Shari's Berries.
Shari's Berries was founded in 1989 and in 2006 acquired by Provide Commerce, a leading online provider of high quality personalized gifts backed by exceptional customer service.  Offering a wide array of delectable items–everything from fresh gourmet hand-dipped berries, gift baskets, adorable cake pops, to yummy cookie bouquets, Shari's Berries will "wow" you with their budget friendly assortments and mouthwatering memorable gifts.
Recently, I had a chance to test out Shari's Berries service and sample their products.  Let me tell you, I was fully impressed with the whole experience.  I wanted to order a romantic gift to give my hubby, so I decided on the Cheesecake Trio & Full Dozen Gourmet Dipped Fancy Berries.  Ok, there were a few (actually 3) selfish motives behind what I purchased.  I am not proud of it, but I figured I would give him the fancy chocolate hand-dipped berries, which is an awesome gift all on its own, and I would hide the mini cheesecakes for myself in the vegetable crisper where he never goes.   The scrumptious duo would make a wonderful thoughtful gift for him for Sweetest Day plus a small reward for me for being his wife.  Did that sound bad? Anyways, the gift included:
4 Berries Dipped in Milk with Chopped Almonds
4 Berries Dipped in Dark with Dark Chocolate Chips
4 Berries Dipped in White with Dark Swizzles
3 Mini Chocolate Cheesecakes (Classic New York cheesecake, a decadent and smooth white chocolate cheesecake and a lip smacking chocolate Rocky Road cheesecake)
The ordering process was as simple as choosing an item, selecting a delivery date (Tuesday through Saturday), adding any optional gift items, filling out the card message, delivery info, and paying for the item.  Shari's Berries accepts all major credit cards and Paypal payments making it a convenient place to shop online.  Also, I loved how I could select the exact day I wanted the gift to arrive and if I desired it to be delivered before noon (additional $14.99 charge) or anytime between 9am and 8pm.  This is a fantastic service, since it takes the guess work out of the day of shipment and you are able to make sure someone will be home to place the perishables in the refrigerator when the package arrives.
I would like to give you a complete breakdown on what to expect when your order arrives.  The Shari's Berries gifts are shipped in a sturdy box with humorous sayings on the outside like "Once opened, contents may disappear immediately," and "Instructions:  Close and lock door. Hide behind large piece of furniture. Quietly open box. Savor and enjoy!"  I thought the cute notes add a nice funny touch and help bring a smile to whoever is unpacking the gift.
Upon opening the outer box you will notice right off to the bat the company takes every precaution to assuring your gift will arrive in pristine condition.  Inside is lined with a thick padding to insulate the contents along with two "Stay Fresh Chill Packs" (might vary with order) to keep the perishable goods cold and fresh.  You do pay extra for the chill packs, which are included in the handling charge.  However, if you want you may save and refreeze them to use at a later date to keep other items cold on the go.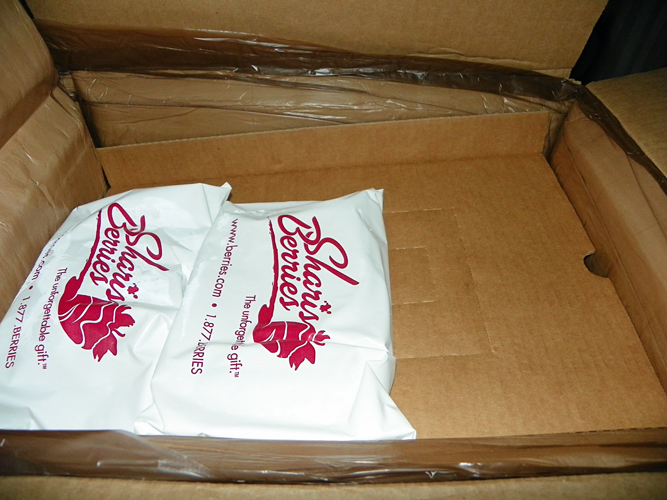 The mouthwatering gourmet dipped strawberries come in a brownish box with an attached pretty white bow.  Inside lays 12 giant sized gorgeous strawberries, each displayed nicely in their own slot.  The strawberries are not uniform in size, since they are real and fresh.  Yet, they are beautiful and make a stunning impression.  These berries not only look scrumptious they taste amazing too!  Each one is perfectly dipped in milk, white, or dark chocolate and topped with almonds, chocolate chips, or dark swizzles.  My hubby said they were juicy and tasted incredible!  And by the look on his face, I believed him!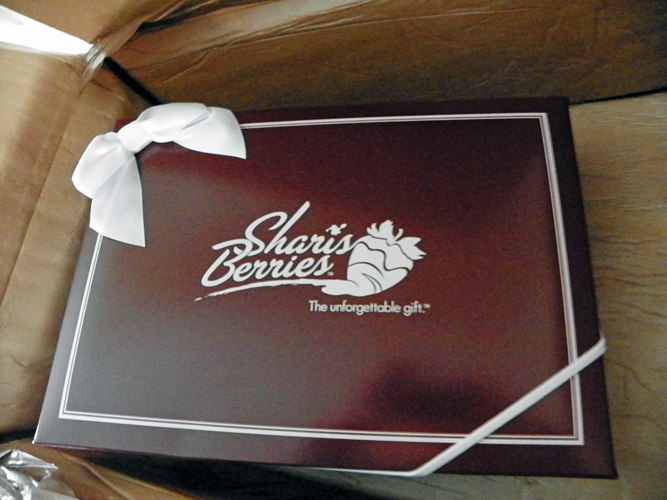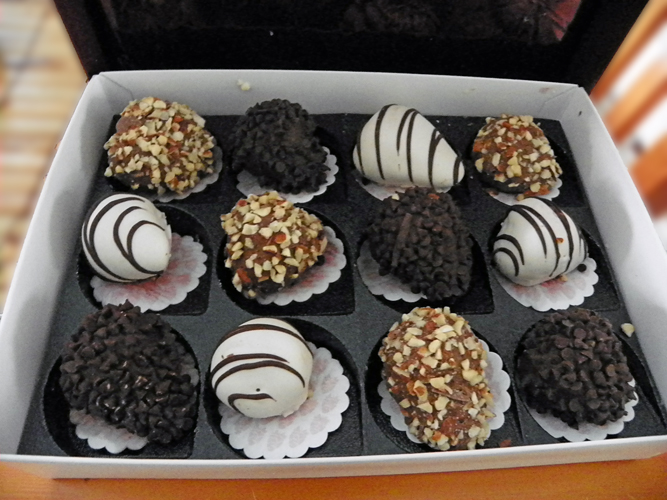 The three mini cheesecakes come in a similar box as the hand-dipped strawberries, but much smaller and without the tray.  Each divine cake is separated by a plastic collar to protect them.  They are decorated to perfection with delicious toppings of rich smooth chocolate and finished by a small layer of chocolate graham cracker crust.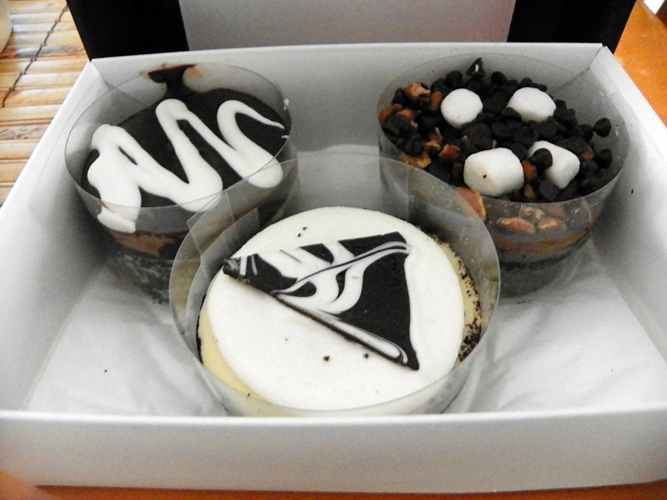 I am not sure how my teen does this, but she sniffs out anything new that is in the fridge.  It is almost as if my daughter and her best friend have a weird extrasensory ability to know when I am hiding something I don't want to be discovered, find it, and then attack full force.  Well, that is what happened to my cheesecakes!  At least they were kind enough to leave me a bite or two of the chocolate Rocky Road cheesecake and I was in cheese heaven for a couple of minutes!  The cheesecake was rich, thick, and sinfully delicious!
Shari's Berries provides quality products for almost every imaginable occasion, including Sweetest Day! Yet, once you taste the yummy goodness you might just make everyday a special celebration!  Give them a try and let me know what you think!
Disclosure: "I was given the chance to review a complimentary product from Berries.com."