You are only as old as you feel.  How many times have you heard that saying over the years?  I believe there is some truth to the famous saying.  My tastes haven't changed much over the past twenty years and my mindset remains young.  In fact, if you happen to ask my teen daughter to describe me in a few words she would tell you I am a big kid.   Maybe this is in part the reason for my fascination with Heelys, you know the footwear with the wheels in the bottom.  I first saw Heelys in action back in 2007 when a tween skater dude coasted by me in the mall and he looked like he was having a blast!  However, I assumed they just catered to children and only made youth sizes, so I never bothered trying to find a pair to fit my adult (young at heart) feet.
Back in July of this year, a Heelys Rep. contacted me to let me know about their new product line of shoes coming out this fall.  For the first time ever, the company designed shoes specifically with girls in mind and included several attractive styles that would coordinate perfectly with skirts, shorts or jeans.  The new fashion-forward designs including the Socialites, Hipster, and Jogger are tailored to females and even provide the wearer a bit of extra height they desire.  Then imagine my surprise when I learned Heelys offered an assortment of "wheel-in-the-heel" shoes in larger sizes as well!  The thrilling thoughts of cruising through the mall came back to me and I was begging to have a pair to test out!  Not to mention, the cool shoes would be great for getting me out and about for a bit of exercise and fresh air to burn some calories.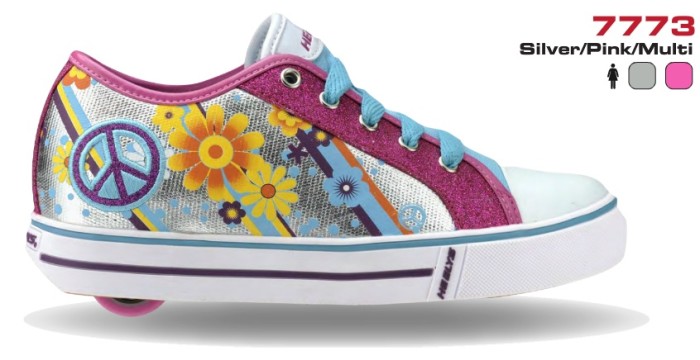 The search was on for my ideal Heelys shoes and it wasn't long before a noticed the Harmony style!  What better to fit my personality than these colorful shoes sporting the peace sign right?  However, the shoes were extremely popular and out of stock at the time, so I had to choose another pair.  Eventually, I will hunt them down and make them mine!
I decided upon a pair of classic design Heelys Wave (style #7783) skate shoes in black and white.  The shoes feature contrast piping, embroidered logo, synthetic nubuck upper, and FATS low profile wheel with ABEC 1 bearings.  What I like about these shoes is the style is sporty and goes wonderfully with a pair of jeans or shorts.  I am a firm believer of comfort first and on most days you can find me relaxing in my favorite jeans and t-shirt.  The Wave shoes make a nice addition to my relaxed wardrobe.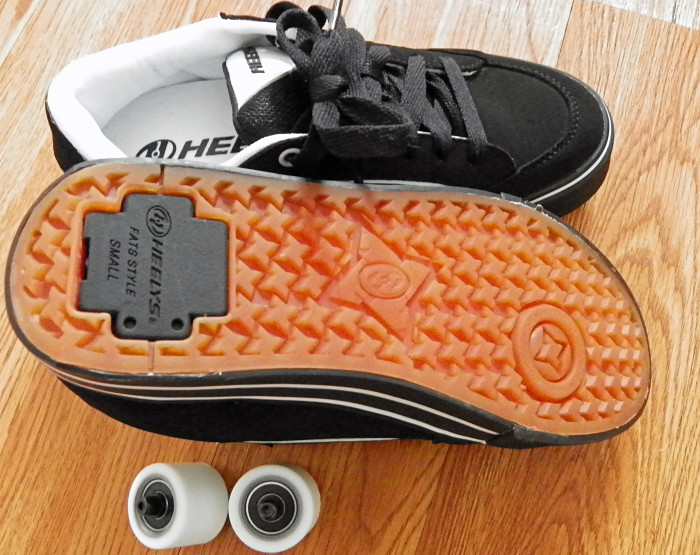 Ok,  now down to the nitty gritty!  The shoes come without the wheels in the heels installed.  I tried them on before placing the wheels within the shoes and found them to be comfortable, much like other sneakers I have worn previously.  Maybe they have a tad more of a stiff feeling to them, but nothing overly noticeable or bothersome.  Or it could be just that the shoes are new and need to be broken in.  Anyhow, they are fully functionally without the wheels and you may wear them as an everyday sneaker if you wish.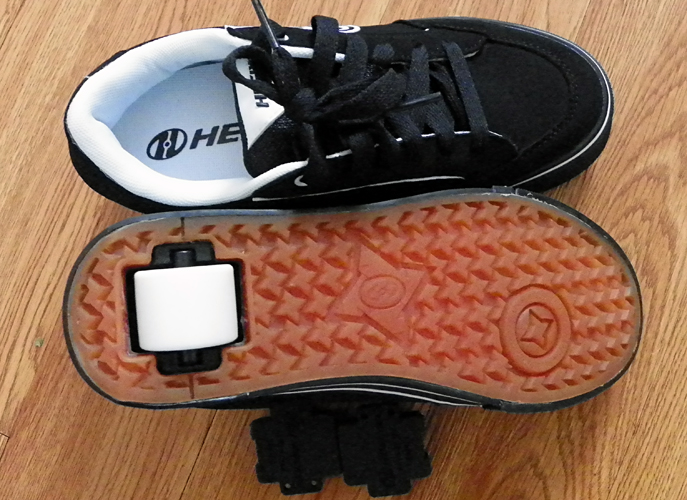 Installing the wheels is as simple as removing the plugs from the bottom of the shoes and tapping them securely into the brackets.  It only takes a couple of seconds and you are ready for heeling action. Once the wheels are in the shoes it feels similar to walking in low high heel shoes.  I think if you were not planning on actually skating, any long periods of walking with the wheels installed would become tiresome.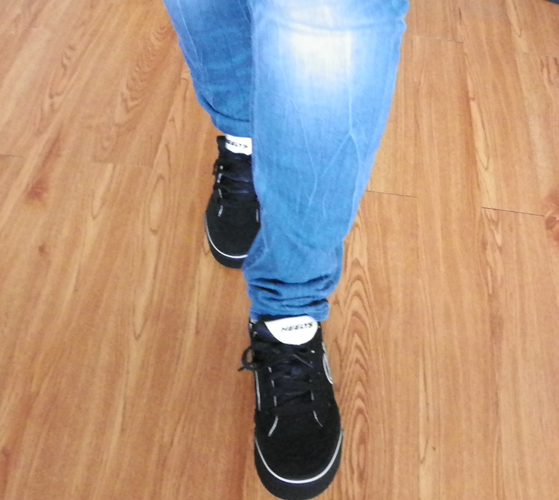 When I was younger (in my teens) I was able to roller skate and would zip around the block with ease.  I had no fear of falling and seemed to catch on to the skating concept without any problem.  Here is when that asinine " You are only as old as you feel"  saying needs to be flushed out of your brain!  You are fearless when you are younger and as age creeps on you become more sensible about the dangers of being breakable.  Unlike roller skating where you have sets of wheels, the regular Heelys (not the HX2) have one wheel in the sole, which means you better already have a good sense of balance.  I thought I did until Heelys proved me wrong!  You need to be able to place one foot in front of the other while keeping your dominate leg in the back for support and lift your front toes.  The entire skating process takes skill and practice.  I am sure it is like riding a bike and when you find your balance point it becomes second nature.  I wanted to do a video to show you how I was cruising along, but I thought I would spare you the scene of me face planting on my hardwood floors.  Kids make it look simple and let me tell you…those little whipper snappers are deceiving.
Overall, I really love my new Heelys shoes and it will be only a matter of time before I master the skill of heeling!  Once I do, you will find me zooming around the grocery stores and the mall like a big kid with a brand new set of wheels! Eventually, my goal is to get my teenaged daughter to join me in the fun and we can spend quality time together rolling around town getting some healthy exercise.
Stay Connected
Shop for Heelys
Connect with Heelys on Facebook
Follow Heelys on Twitter
Watch Heelys on Youtube