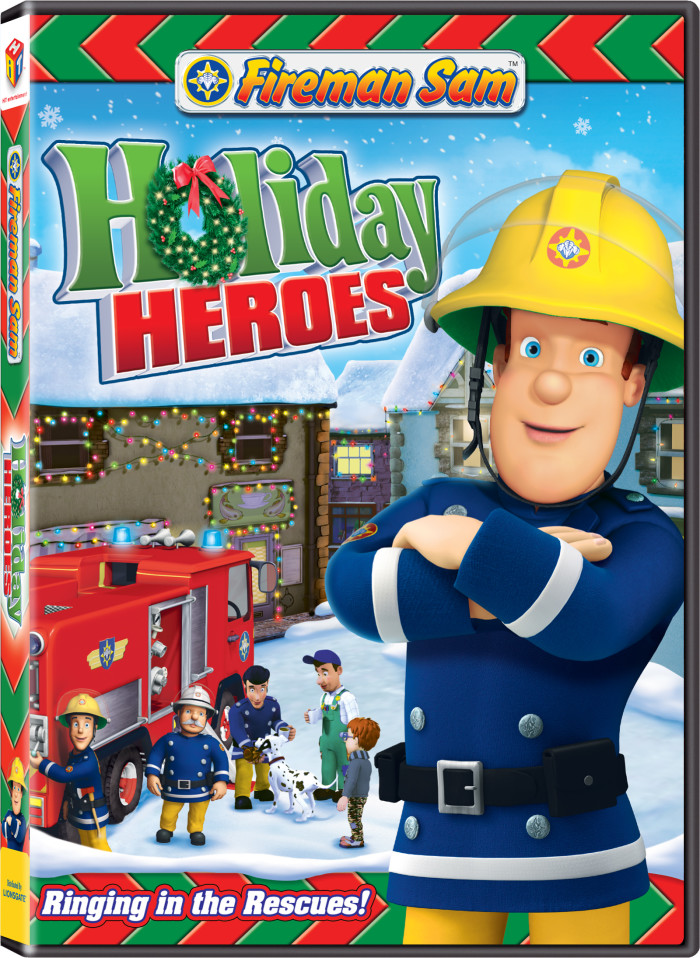 Deck the halls with your favorite firefighter, Fireman Sam, in his first ever holiday DVD! Pontypandy's beloved hero and his brave crew are back for all new rescues in Fireman Sam: Holiday Heroes, now available on DVD, Digital Download and On Demand from Lionsgate and HIT Entertainment. Containing approximately 55 minutes of running time, preschoolers will enjoy 5 winter themed episodes including:
"The Big Chill"
"The Pontypandy Polar Bear"
"Ice-Cold in Pontypandy"
"Snowball of Doom"
"Floodlights"
DVD Special Features
"All-New Bonus Christmas music video "Merry Christmas Everybody!"
DVD Synopsis
It's the holiday season and Fireman Sam's adventures are heating up! Norman causes trouble baking more than holiday cookies and Sarah and James' search for a polar bear turns into a snowy rescue! Trevor and his passengers find themselves on thin ice and Norman's snowboarding antics leave Mike in a mountain of trouble. Sam shows his firefighting talent when Pontypandy's holiday lighting competition goes haywire. With jingle bells and fire alarms, Fireman Sam is well prepared for the season's best saves!
Sam is back to save the day and give plenty of safety tips in Fireman Sam: Holiday Heroes!  This DVD is filled with exciting snowy rescues to get your little kiddo geared up for the upcoming holiday season.  Our favorite episode was "The Pontypandy Polar Bear" where James and Sarah set out in the snow to capture a picture of a polar bear to win a Pontypandy Post photo competition, but instead get trapped in a cave when an avalanche happens.  Sam uses a new heat seeking camera called Saturn to locate and rescue them.
Buy It
Fireman Sam: Holiday Heroes is available for the suggest retail price of $9.98.  The DVD would make an excellent stocking stuffer!
Stay Connected
Visit the Fireman Sam Website
Like Fireman Sam on Facebook
Fireman Sam: Holiday Heroes DVD Giveaway!
A lucky reader will win a new copy of Fireman Sam: Holiday Heroes!  To enter the giveaway, please follow the instructions on the Rafflecopter form.  Any comments are welcomed below, but won't count towards the giveaway. Only entries using the Rafflecopter form will be eligible for prize. Thank you!
[field name= iframe]