In celebration of Universal Studios 100th anniversary, one of the most beloved motion pictures off all time comes to spectacular Blu-ray for the first time ever!  On October 9th, Steven Spielberg's magical masterpiece, E.T. The Extra-Terrestrial, will be debuting in a digitally remastered 30th Anniversary Edition Blu-ray Combo Pack with Blu-ray, DVD, Digital Copy, and Ultraviolet!
[field name=iframe]
Strange lights, odd shaped objects speeding across the sky, and stories of alien abductions have invaded the minds and imaginations of mankind for hundreds of years.  Most of the encounters are portrayed in movies as being sinister, such as a higher intelligent life form wanting to use humans as a food source or slave race.  Then in 1982 Steven Spielberg changed the way we perceived alien intrusions with his heartwarming story about a Reese's Pieces loving extra-terrestrial who was inadvertently left on earth by his family and tries to make it back home before he becomes the victim of a government dissection project.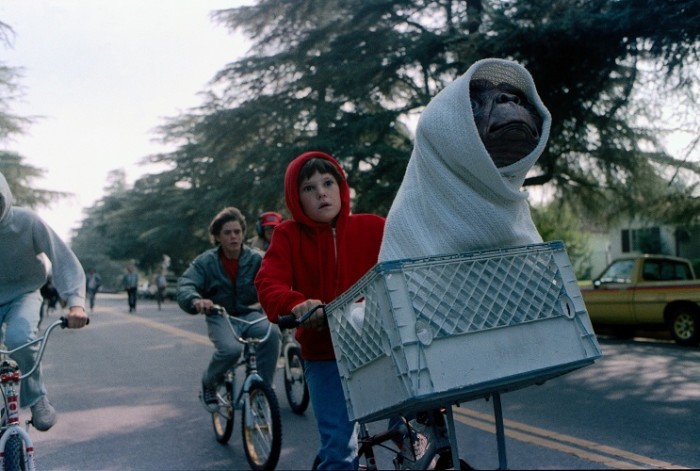 The 120 minute movie featuring, the now infamous scene, of a ten-year old boy (Elliot played by Henry Thomas) riding a bike through the air with an alien hiding underneath a blanket in the bike's front basket across the giant moon background,  became the biggest blockbuster of the year back in 1982!   E.T. The Extra-Terrestrial ranked number one over sixteen different weekends and still today remains the fourth most successful movie of all-time in the United States.  It even surpassed Lucas' epic Star Wars, hitting the charts as the highest-grossing film of all time, a notable record it maintained for a decade.  The iconic movie was nominated for nine Academy Awards including Best Picture, Best Director, Best Cinematography, Best Writing and Best Screenplay, the film took home four statuettes for Best Visual Effects, Best Sound Effects Editing, Best Sound and Best Music for John Williams' (Jaws) memorable score.  A large part of E.T.'s success is contributed to the unforgettable cast including the adorable Drew Barrymore (He's Just Not That Into You, Charlie's Angels), Henry Thomas (Dear John, Legends of the Fall), Dee Wallace (10, "Sons and Daughters") and Peter Coyote ("Law & Order: LA," Jagged Edge).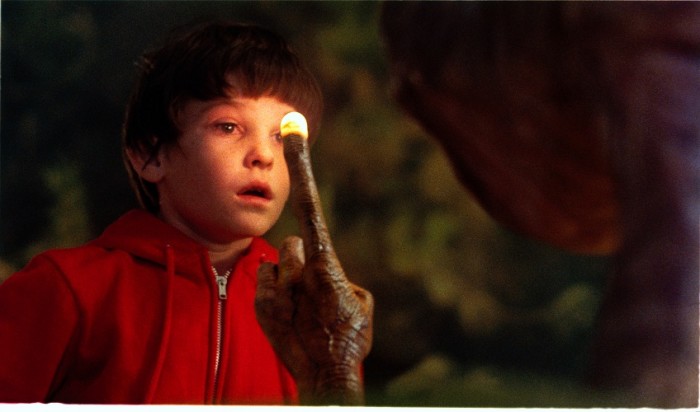 I first saw E.T. when I was twelve years old and the movie captured my heart 20 years ago, but it recently did again after watching the spectacular Blu-ray Anniversary Edition.  I popped some corn, snuggled with my 4 year old son, and we enjoyed E.T. in stunning detail that displayed six times the resolution of regular DVD and crystal clear 7.1 surround sound.  Watching my son's reaction to the movie was priceless! Seeing his eyes pop during the special E.T. magic touch and the Halloween scene where E.T. tries to heal the fake knife ouchie on Michael's head with his magical finger was too funny!
It is rather humorous how you notice details you normally wouldn't the first time that have a small contribution within the storyline, but are important to the film such as all the product placement and mentioning which appears naturally within the content.  I swear E.T. The Extra-Terrestrial should go down in history Movie Hall Of Fame for the most creative product inclusions!   Hershey's Reese's Pieces, Coors, Pez, Star Wars, Skippy, Yoplait, Coca Cola, Heinz, V8, Tomohiro Nishikado's Space Invaders, and Texas Instruments' Speak-and Spell are some of the products that make an appearance in the blockbuster movie.  I think every kid, including myself, ran out and grabbed a bag of Reese's Pieces after exiting the movie theaters!  I still crave the delicious peanut butter flavored candy every time I see E.T!
What is your favorite E.T. moment?
Synopsis
When an imaginative boy meets a lost alien, it is the beginning of one of cinema's most endearing friendships, as Elliot (Henry Thomas) helps the marvelous creature he calls E.T. find his way back home before government agents can capture him.
Blu-ray Bonus Features
The E.T. Journals: In this all-new bonus feature, retrace the day-to-day experience of creating E.T from never-before-seen, behind-the-scenes footage shot by Academy Award-winning cinematographer John Toll. This piece will give viewers a unique feeling of being on the set and living the excitement of what it was like to make E.T.

Steven Spielberg & E.T.: Watch an all-new interview with Steven Spielberg, as he reflects back on the film and discusses his experience working with the actors, as well as his overall and current perspective on E.T.

· Deleted Scenes: Two scenes from 2002 version of the film.

· A Look Back: A special insider's look into the making of E.T. featuring interviews with Steven Spielberg, the cast, and others intimately involved with the film.

· The E.T. Reunion: The cast and filmmaker reunite to discuss their thoughts on the impact of the film.

· The Evolution and Creation of E.T.: From idea to screenplay, throughcasting and making the film.

· The Music of E.T.: A Discussion with John Williams: Interviews and footage focused on the long-standing relationship between John Williams and Steven Spielberg.

· The 20th Anniversary Premiere: Composer John Williams played the score of E.T. live at the Shrine Auditorium for the re-release premiere of E.T. This featurette gives us a behind the scenes look at this presentation.

· Original Theatrical Trailer

· Special Olympics TV spot

· Designs, Photographs and Marketing

E.T. Designs by Production Illustrator Ed Verreaux

E.T. Designs by Carlo Rambaldi

Spaceship Designs by Ralph McQuarrie

Designs by Production Illustrator Ed Verreaux

Production Photographs

Marketing E.T.

· UltraViolet: The revolutionary new way for consumers to collect movies and TV shows, store them in the cloud, and instantly stream and download to computers, tablets and smartphones. Consumers can now truly enjoy their movies anytime, anywhere on the platform of their choice. Currently available in the United States only.

· Digital Copy: The Blu-ray Combo Pack includes a digital copy of the film compatible with iTunes, iPad, iPhone, iPod, iPod touch, Android or online retail partners.

· pocket BLU App: The popular free pocket BLU app for smartphones is now even better with newly updated versions for iPad, Android tablets, PC and Macintosh computers, with features made especially to take advantage of thedevices' larger screens and high resolution displays.

Advanced Remote Control: A sleek, elegant new way to operate your Blu-ray player. Users can navigate through menus, playback and BD-Live functions with ease.

Video Timeline: Users can easily bring up the video timeline, allowing them to instantly access any point in the film.

Mobile-To-Go: Users can unlock a selection of bonus content with their Blu-ray discs to save to their device or to stream from anywhere there is a Wi-Fi network, enabling them to enjoy content on the go, anytime, anywhere.

Browse Titles: Users will have access to a complete list of pocket BLU-enabled titles available and coming to Blu-ray. They can view free previews and see what additional content is available to unlock on their device.

Keyboard: Entering data is fast and easy with your device's intuitive keyboard.

BD-LIVE: Access the BD-Live Center through your Internet-connected player to access the latest trailers, exclusive content and more!
Bonus Features On The DVD
Steven Spielberg & E.T.
· Deleted Scenes

· A Look Back

· The E.T. Reunion
E.T.: THE GREEN PLANET
Universal is also partnering with leading independent games publisher Chillingo to publish E.T.: The Green Planet for the iTunes App Store. Inspired by a novel based on a story by Steven Spielberg, players travel with E.T. to his home planet, explore and build extraordinary intergalactic botanical gardens, and share their experiences with friends.
Free Extra-Terrestrial Activities
[field name= iframe1]
Out Of This World Snack Recipes
[field name= iframe2]
Stay Connected