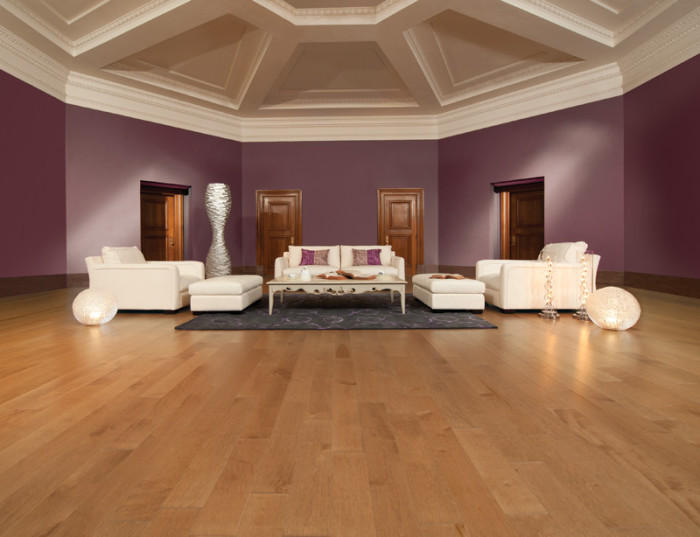 Distilled vinegar is an incredible, economical and environmentally friendly effective cleaning product.  Having hundreds of diverse uses, mainly entailing cleaning, white vinegar dissolves filthy grime, soap scum, and cuts through tough grease.   It also acts as an amazing deodorizer neutralizing unpleasant smells associated with burnt foods and even takes care of Fluffy's indiscretions of nasty cat pee odor on most surfaces.  Additionally, it is a safe non-toxic product to have around as a good alternative to having to use harsh disinfectant cleaners, since it kills mold, germs and bacteria.  With all that being said, the one thing vinegar should never be used for is cleaning hardwood floors.  Why?  Vinegar may actually damage your hardwood floors.  You have to remember you are cleaning the chemical finish on the hardwood floors and not the wood itself.  Vinegar is an acid, it may break down the finish on the surface leaving your once shiny hardwood floors looking dull, dried out, and unprotected.  Not something you want to happen to your beautiful, sustainable home investment!  So what should you use?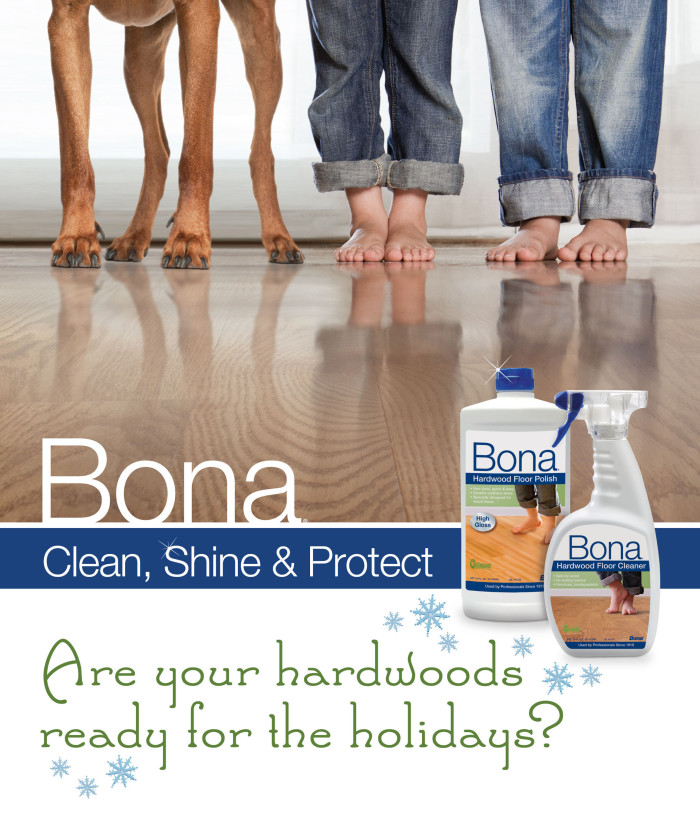 With the holidays quickly approaching, you are going to want to impress guests with shiny, stunning hardwood floors without gassing them out of your home, due to nauseating fumes from toxic high luster cleaners.  Bona, a worldwide leader and innovator in hardwood flooring products with an aesthetic sense for health and the environment, offers an easy full suite of floor care solutions that will clean, shine and protect floors.  Featuring low VOC's and free of harmful toxic fumes,  Bona's products are healthier for your family, pets, and the environment than traditional hardwood cleaners.  In fact, the company was the first manufacturer in the industry to offer a complete hardwood floor finishing and care system that is GREENGUARD Indoor Air Quality Certified.   GREENGUARD is a non-profit, third party organization that tests indoor products for their environmental impact in an effort to improve the air quality consumers breathe.  Additionally, many of Bona's products meet GREENGUARD's stricter certification criteria for the Children and Schools Program, meaning the products are deemed suitable for use in schools, daycares or other environments where children and workers spend significant periods of time.
Not only are Bona's cleaners ideal for applying before the holidays, but additionally are perfect solutions to use to cleanup those post-holiday messes!
Clean: Bona's cleaning solutions are non-toxic, biodegradable and GREENGUARD certified. In addition to being highly effective Bona helps keep floors healthy for homes and families (pets too!) with no odor.

Shine: First clean with Bona's Hardwood Floor Cleaner and then add an extra layer of shine with Bona's Hardwood Floor Polish. This durable, urethane acrylic blend with exceptionally fast dry time and no waxy build-up adds a protective layer and fills in microscratches, evening out the appearance of floors. Available in high and low gloss.

Protect: Bona's Hardwood Floor Cleaners and Polishes will help prevent scratches and add a protective layer to floors. However, some floors may have had a tough year or been neglected too long so may need more of an upgrade. Bona's full line of retail and professional finishes will make floors beautiful for the holiday and last well beyond 2013.
To prep for the holidays and ring in the New Year with beautiful hardwood floors, visit www.mybonahome.com for more information about Bona's full line of cleaners, polish, mops and accessories.  Bona products are available for purchase at many retailers including Home Depot!  Don't forget to save this holiday season by applying a free shipping coupon code for Home Depot at checkout!
*Top photo credited to Mirage Floors