Have you seen what has recently hatched in the toy aisle?  Kids are getting all revved and roared up about VTech's new Switch & Go Dinos!  Bringing what they do best in technology and toys to the vehicle aisle for the very first time, VTech combines two of boys' most favorite playthings – dinosaurs and vehicles – to create a unique 2-in-1 play experience.  Unlike most transformers which can be frustrating for young hands to convert, Switch & Go Dinos morph back and forth from dinosaur to vehicle in a few simple steps!  The "dino-mite" toys, geared towards boys ages 3 to 8, feature an LCD screen for customized animation, dinosaur and vehicle sound effects and educational dinosaur facts. Currently there are seven durable, unique and collectable dinosaur toys including Sliver the T-Rex, T-Don the Pteranodon, Tonn the Stegosaurus and Horns the Triceratops (SRP: $15.99), and Brok the Brachiosaurus (SRP: $49.99), Span the Spinosaurus (SRP: $29.99) and Attila the Ankylosaurus (SRP: $24.99).
[field name= iframe]
VTech Switch & Go Dinos Review
VTech, via Mom Central, sent my 4 year old son and I Attila the Ankylosaurus and Brok the Brachiosaurus for evaluation.
Attila the Ankylosaurus


Attila the Ankylosaurus is the toughest dino of them all!  The yellow 2-in-1 toy transforms a hefty-duty construction vehicle into a cool Ankylosaurus with a knockem, sockem mighty tail that swings back and forth with a press of the Action Button.  Featuring a 1.5 LCD screen, boys are able to customize Attila by selecting between four animated dinosaur faces.  Mixing fun with education, Attila says 30 interesting dino phrases such as "I'm an herbivore. I chow down on plants,"  "I'm pretty short for a dinosaur, but that doesn't mean I'm a wimp" and "The name Ankylosaurus means stiff lizard."
In less than 6 easy steps, Attila transforms into a construction vehicle complete with a movable crane.  Ankylosaurus also comes with a Hook to tow other Switch and Go Dino's and a Wrecking Ball for some demolition fun!  Additionally, there is Dump Trailer provided, which doubles as spikes and armor in dinosaur mode.  Just like in the dino mode, once transformed into a vehicle boys have the choice of customizing the driver from four different animated faces by pressing the Style Button.  Press the Talk Button and hear up to 30 phrases and sounds like "Start your engines. Here we go" and "Yo hey this is a construction zone!"
On the very front of the toy is a Volume Button to adjust the level of sound desired.  Powering up Attila is as simple as sliding the On/Off Switch on. The Switch & Go Dino can be turned off by either switching the On/Off button off or holding down the Talk Button/Sound Button for a few seconds.
Brok the Brachiosaurus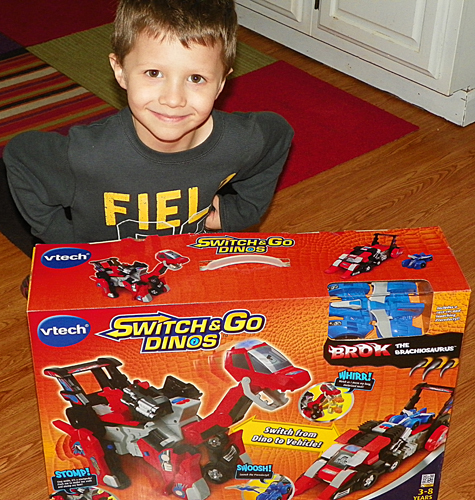 Brok the Brachiosaurus is one of the biggest dinosaurs that ever lived, so nobody is pushing this big boy around!  With an easy going and rugged personality, Brok is the ultimate dinosaur vehicle!
This Switch & Go Dino comes equipped with all the bells and whistles including a super cool motorized neck, flashing lights,  and legs that move up and down while rolling across the floor!  Press the Sound Button to hear Brok roar or the Talk Button to listen to more than 40 phrases like, "I'm large and in charge!" and educational facts such as "I'm a quadruped. I walk on four legs."  Boys have the option selecting from six animated dinosaur faces on the LCD screen to customize their playing experience.
The two-in-one toy easily transforms from a gentle, giant dino to a massive car carrier!  Brok interacts with other Switch & Go dinosaurs, as he is equipped with an exciting spoiler that sends vehicles flying when pushed.  Additionally, he comes with a smaller race car that launches a flying pterodactyl when sent down his ramp. So much to do and say, Brok makes cool vehicle sounds and shouts up to 30 expressions like, "Keep on truckin'," "Saddle up partner," and interesting dino facts.  There are six animated driver faces available as well.
VTech Switch & Go Dinos  Playtime!
My son and hubby got down on the floor and played with the awesome VTech Switch & Go Dinos!  They had a blast transforming them back and forth from dinosaur to vehicle (done without difficulty) and launching the smaller dino car off Brok's back.  Another really fantastic feature I noticed while they were playing,  is when the toys are in vehicle mode and pushed along the LCD screens display motion behind the driver,  like the background scenery whizzing past as the car speeds ahead.  These toys are so much fun and provide hours of entertainment while combining a bit of education.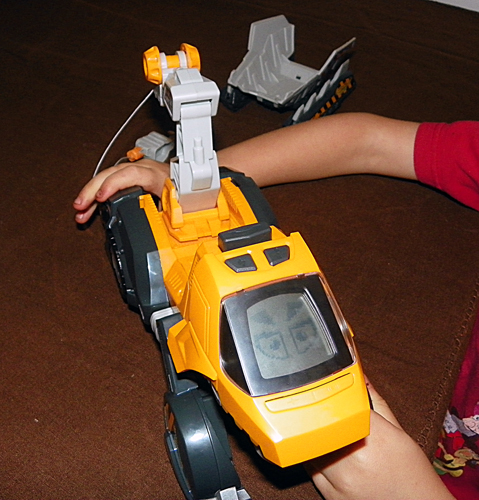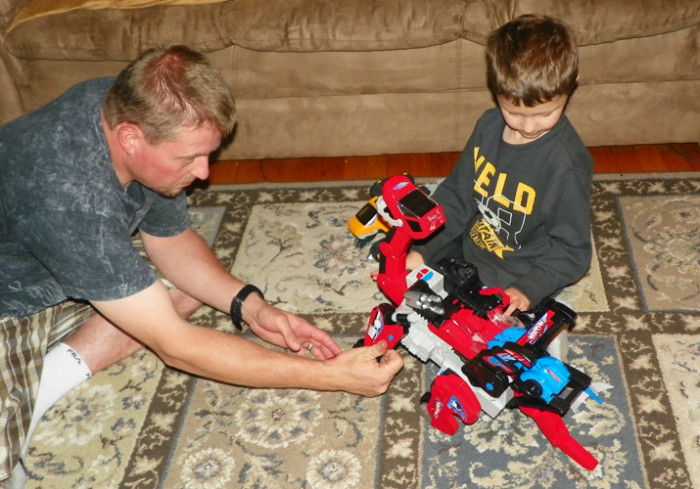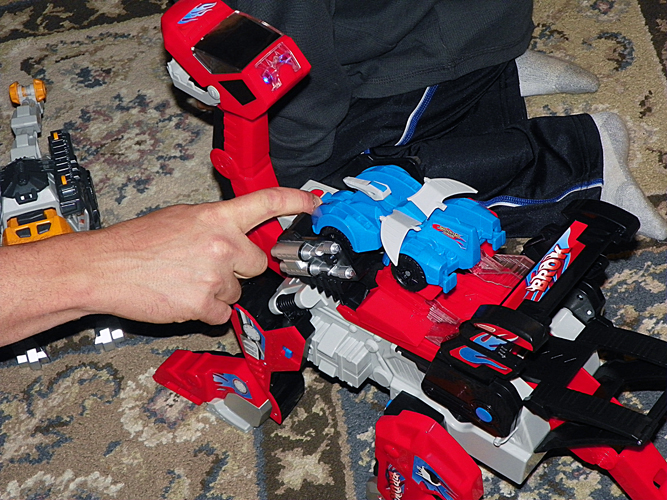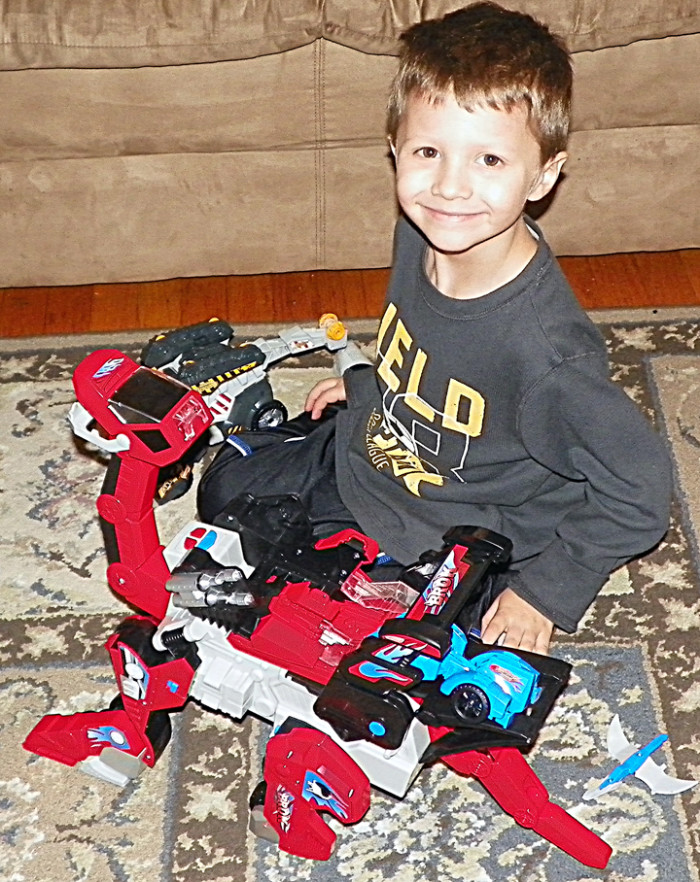 Both Switch & Go Dino's come with batteries, but I noticed on the packaging that it said they were not long lasting and meant for demo use only.  It would be best to pick up some extra AA batteries to avoid any disappointment.  Also, the toys have auto shutoff after several minutes without use which helps save on batteries!
Basically, you are getting two toys for the price of one and your kids (big and small) are going to have a ton of fun playing with the VTech Switch & Go Dinos!  Even though they are clearly geared towards the male population, girls will love these extremely unique and engaging toys as well.  The entire Switch & Go Dinos line is now available at www.VTechKids.com and on-shelf at all major retailers ready to be adopted in plenty of time for the holidays!
Show & Tell with Switch & Go Contest
Switch & Go Dinos are all about transforming kid's imaginations, and VTech is excited to give kids the opportunity with the Show & Tell with Switch & Go Video Contest! They want your kids to use their imaginations to see what cars and dinosaurs they would combine!  I know my boy would mix a viscous Velociraptor and a mean, green, speed machine!   Your kid can win a kids' lifetime supply of toys, your video on Nickelodeon and a viewing party with your friends and family!
From August 22 through October 1, visit https://www.facebook.com/vtechtoys/ to enter.
Simply upload a 30 second video of your child's home-made Dino creation. They can show us their new Dino by drawing, building or customizing their existing Switch & Go Dino. We want to hear about the cool things your child's dino does!
View and share your favorite video entries with your friends and family!
 From October 8 through October 19 check out the top 10 to cast your vote for the coolest, most creative and fiercest video! Everyone who votes may be entered into a sweepstakes for the chance to win one of 25 sets of Sliver, T-Don, Horns and Tonn.
 One grand prize winner will get a kid's lifetime supply of VTech toys, plus a chance to see your video air in a VTech commercial on Nickelodeon, which you can watch at your very own viewing party with friends and family.
VTech will also transform your living room into the ultimate Dino den! · Everyone who votes on the top ten starting in mid-October and submits their email address will be entered into a sweepstakes to win one of 25 sets of Sliver, T-Don, Horns and Tonn
Remember: You don't need to own a VTech Switch & Go Dino to enter, your child can draw or build one!
Learn more about Show & Tell with Switch & Go here: http://www.vtechkids.com/switch_go_dinos *official contest rules link included on VTechKids.com page.
Stay Connected With VTech
Stay connected with VTech using these social media site:
Like the VTech Facebook page
Follow VTech on Twitter
"I participated in a campaign on behalf of Mom Central Consulting for VTech. I received VTech Switch & Go Dinos product samples to facilitate my review."