There is a little over 100 days until Christmas 2012! What? The talk of Christmas already? The clever shopper is always thinking about the greatest holiday gift giving day of the year and prepares way in advance in order to avoid the stressing struggle and rush of finding those most sought after playthings of the Christmas season!
Last year I got caught with my Santa pants down, metaphorically speaking, and was too late on purchasing my son the VTech InnoTab , which was nearly impossible to find last December. The multi-function educational tablet for children ages 3 through 9 was released in October 2011 and featured a 5″ brilliant color touch screen LCD, a tilt-sensor for motion game control, USB interface, SD card slot for memory expansion, along with a stylus and a headphone jack. Furthermore, it was fully functionally straight out of the box offering a rich suite of applications including an interactive, animated e-book, motion games, creative activities, MP3 music player, photo viewer, video player, alarm clock, calculator, calendar and an address book. Plus, the game cartridges included kids' favorite characters such as Toy Story, Dora the Explorer, SpongeBob Squarepants, and Disney/Pixar's Cars 2. All this fantastic fun was contained in a durable compact design made specifically for easy portability and was priced to sell at $79.99. It was the king of hot educational gadgets and was at the top of children's Christmas lists. Regrettably, by the time I managed to get around to realizing how fantastic it was,  I couldn't locate one online or in stores anywhere.
VTech InnoTab 2
[field name= iframe]
Continuing to stay at the forefront of technology, VTech last month refreshed its toy line and released the InnoTab 2. My parenting intuition tells me the portable toy is going to be hot hot hot this Christmas! Why? The InnoTab 2 is being sold at the same great price as the original model, just $79.99, but displays a new rotatable camera and video recorder, allowing your kids to keep track of everything they do! It is awesome! It also enables kids ( up to four users) to personalize their InnoTab 2 by creating their own user name and avatar, a voice greeting, typed greeting and photo wallpaper.
Additionally, the InnoTab 2 contains a 2GB onboard memory and expandable SD card slot available to accommodate SD cards up to 32 GB, enabling to simultaneously download and store a lot more e-books and games. Currently, there are more than 200 additional apps, including games, e-books and much more that teach kids reading, reasoning and creativity ready to be downloaded via the VTech Learning Lodge Navigator.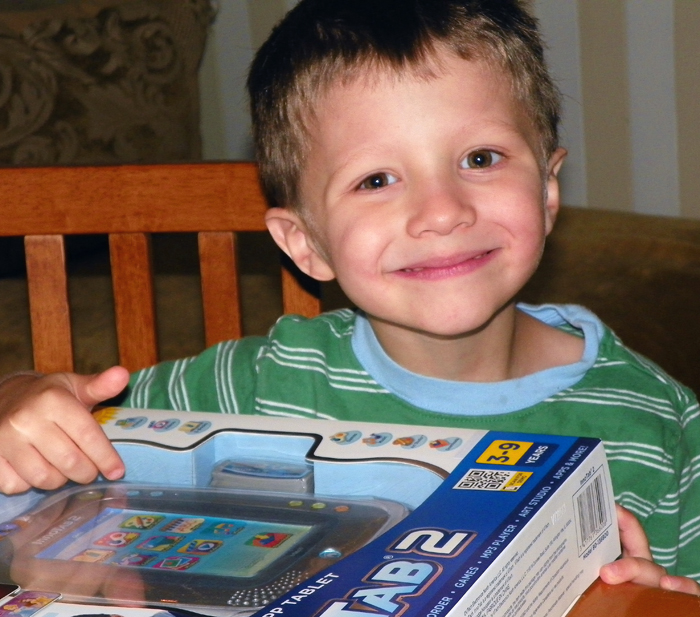 I'm uncertain if my son was more thrilled or if I was to receive the VTech InnoTab 2! I got myself an apple ipad tablet approximately five months ago and my sweet preschooler has been gravitated to it for months. He begs to use it and every time he goes to grab my iPad I hold my breath just anticipating the unthinkable to happen.  The iPad is a lot of things, but one thing it is far from is durable. The screen can be very easily scratched or cracked and a single slip of the hand producing a drop means  hundreds of dollars flushed down the commode. Unfortunately, the word gentle does not  appear in my son's play dictionary yet and it would be only a matter of  time before something awful would occur if he was allowed  to play with it.  Thankfully,  the VTech InnoTab 2 takes the attention away from wanting to play on my iPad, since he now has his own tablet.
Tap, flick, and drag-and-drop, the compact touch screen tablet provides my son the excitement  of developing his application skills much like my iPad without the dangers of him inadvertently stumbling upon grownup sites like Youtube.  The InnoTab 2 Learning App Tablet only connects to the Learning Lodge Navigator enabling kids to play, learn, and explore, but in a controlled and safe environment.
The two new features of the rotatable digital camera and video recorder are in my opinion just what the original version was lacking.  My son had a BLAST personalizing his tablet using a picture taken of himself with the camera!  The game "Face Race" included on the tablet at time of purchase lets kids replace the character in the game with their own face, which is extremely fun!  Plus, the great thing about the rotatable camera is kids don't have to be precise in their actions, making it especially easy to capture pictures and videos anywhere and everywhere!  Furthermore, the camera software permits children to edit their pictures with wacky graphics, such as placing their head on a cartoon rock star, Vtech Super Hero, vampire or adding other cool graphics like hats and more. This feature alone provides hours of entertainment on the go when kids are in the car!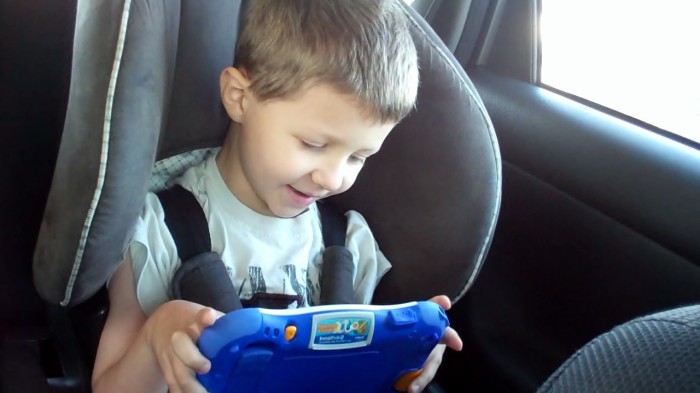 Much like the MobiGo 2, the InnoTab 2 offers two (not three) free downloads when you connect the device to the Learning Lodge Navigator  and register the product.  I decided to download the Eco-Explorers Island Adventure e-book and Ice Escape game for my son.  However, there are hundreds of other educational activities to choose from depending upon your child's needs and wants.  You can also track their progress through the Learning Lodge Navigator  to see what academic skills they need to focus on more.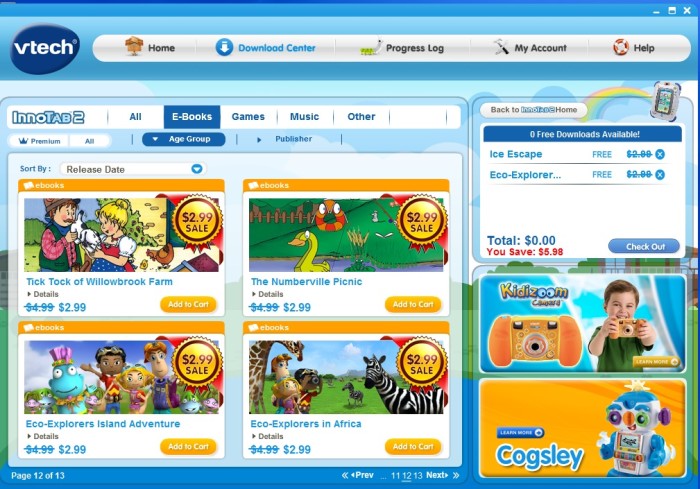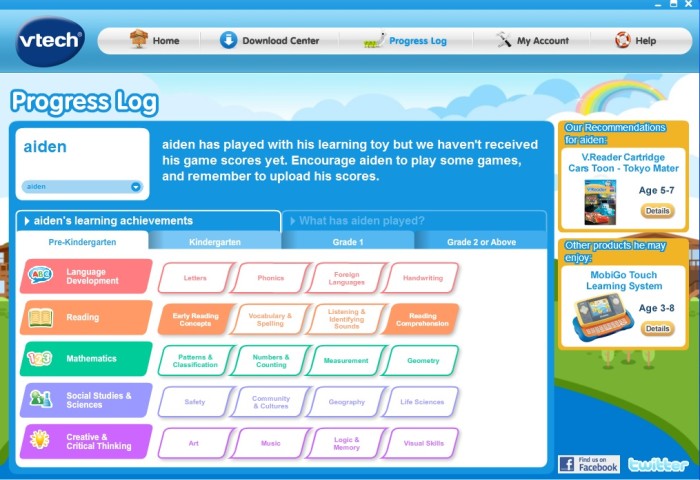 Straight out of the box
The durable educational toy comes equipped with tilt sensor, photo viewer, video player, MP3 music player, e-reader, art studio, microphone and more — all for the same price of the original version at $79.99. You also receive built-in value with your InnoTab 2 purchase including one tilt sensor game, one augmented reality game, one e-book, art studio app, notes app, friends list, calendar and calculator to get started.
What you need!
You will need one fully functional ready to learn kid, 4 AA batteries or an AC Adaptor in order to work. Here is what I recommend—INVEST IN A RECHARGEABLE BATTERY KIT!  This thing will go through batteries extremely fast with moderate use.  The AC Adaptor is a good idea, but depending upon if your child is always on the go it can be impractical.  At least with rechargeable batteries they will get the excitement of being able to take their high-tech kid gadget all over and you won't be bleeding your wallet having to buy batteries every other day.  Moreover, I noticed on the product packaging VTech will be offering Gel Skins for the InnoTab 2.  I've searched all over and can't find the protective skins yet, but as soon as I do I'm getting one.  The tablet is durable, but I still believe the screen and housing unit can be damaged without the proper care. Mishaps happen, and more often when a preschooler is involved!  At least the Gel Skin would give some added protection to your investment.
Get it NOW Before The Holiday Rush!
Like I said earlier, I have an inkling this toy will be on the hot list for Christmas 2012.  If you want to make sure it is under the tree for your little darling Christmas day I would get it now, wrap it up, and put it away!
For ages 3-9 years old, the Vtech InnoTab 2 is available now at vtechkids.com, Amazon.com, Kmart, Target, Toys "R" Us and Walmart.
Stay Connected With VTech
Stay connected with VTech using these social media site:
Like the VTech Facebook page
Follow VTech on Twitter
"I participated in a campaign on behalf of Mom Central Consulting for VTech. I received product samples to facilitate my review."