Whether it is jamming out to Hagar's "I Can't Drive 55" while driving down the road, pedaling to "Lose Yourself" by Eminem" during exercise, or listening to the soothing melody of Toni Braxton's "Un-Break My Heart" to ease the agony of a breakup, music plays a vital role in our day-to-day lives. Thanks to the advances of music technology, we are able to enjoy our favorite bands on the go with smartphones, mp3 players, and other wireless gadgets. Yet, the traditional use of ear buds often makes listening to music still seem primitive, awkward, and even possibly hazardous. We have all been there! The buds popping out during a fast passed jog or tangling around workout equipment just at the climax of the song and causing a interruptive burst of frustration. Not only do ear buds wreak havoc on the enjoyment of the listening experience, but having to leave your smartphone docked to a sound system to stream music is a freedom restrictor and an annoyance as well.
Soundfreaq SFQ-02 Sound Step Recharge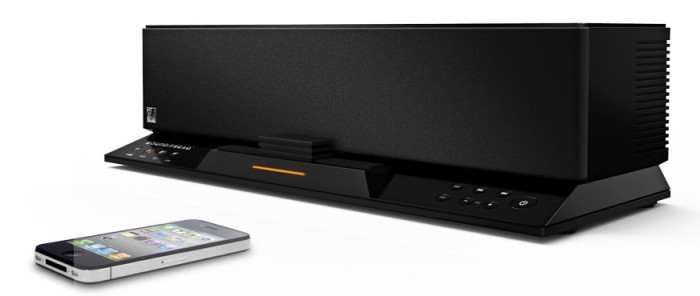 Soundfreaq recently introduced the Soundfreaq SFQ-02 Sound Step Recharge.  The new wireless speaker dock brings music to life, letting you keep your device exactly where you want it- in your hand.  With built-in Bluetooth capability, you can stream audio directly to the Soundfreaq SFQ-02 Sound Step Recharge from your smart mobile devices, iPod, and iPad without missing a beat.
Sound Step's low profile design and rechargeable Lithium battery easily allows full on the move music in any room enhancing the music experience.  It fits conveniently on a desk, under a computer or TV, kitchen counter, on a shelf or fundamentally any place you crave a crystal clear audio entertainment for movies, TV shows, videos, games, Internet radio and apps.  Delivering premium sound, the new speaker dock features superb vocal clarity and stereo separation with a 2.1 speaker configuration and dedicated sub-woofer offering remarkable audio for a compact speaker.
Additionally, the sleek Sound Step Recharge 30-Pin Connector gives you the option to play and charge Apple iPhone and iPod devices including iPad and iPad2. The system features a removable spacer to accommodate most iPad cases and covers, so you won't need to remove your iPad from its case to dock, keeping your expensive tablet fully protected. In addition to being able to charge an iPad, iPhone or iPod device on the dock, Sound Step contains a cool USB power jack in the back to charge any compatible USB device including iPhone, iPod, Android devices, Bluetooth headsets, mobile phones and smartphones. This multi-tasking capability gives you the option to simultaneously charge your smartphone and still stream audio, while keeping your iPad docked—all at the same time!
Gushing Over My New Soundfreaq!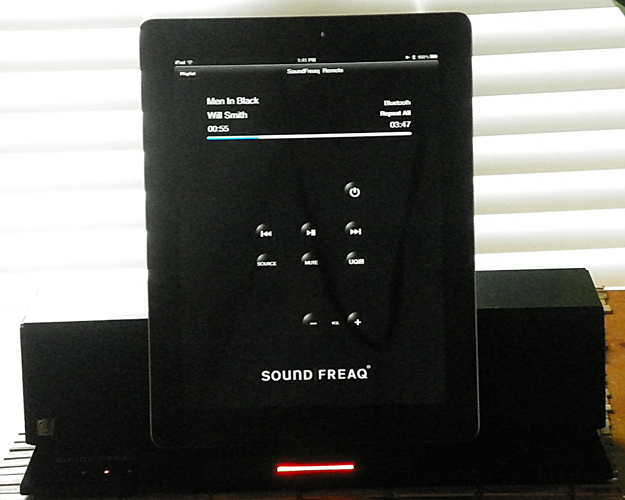 I have to tell you I am gushing over my new Soundfreaq SFQ-02 Sound Step Recharge! The compact speaker system puts out a powerful boom boom sound at a modest volume level!  Even though Sound Step has a relatively short distance between the left and right speakers, pressing the"U-Cubed" (UQ3) button activates an ultra-wide stereo sound giving a rich, multi-dimensional audio experience!
Being a tad technologically challenged I encountered difficulty pairing my iPad with the Sound Step at first.  The problem was resolved once I reset the iPad settings back to default, installed the Soundfreaq Remote App., and pressed the PAIR button.  The unit was detected and the name Sound Step appeared underneath the Bluetooth connected devices.  After that, it was sweet listening without limitations of docking and the nuisance of ear buds!
Besides producing high fidelity sound, the feature I adore most about the compact system is it contains a rechargeable Lithium Ion battery offering approximately 8 hours of play back time when it is fully charged.  Meaning you have plenty of tune time without having to plug the unit into an outlet and freedom to place it anywhere you desire.  Measuring merely 13 inches wide, 3.75 inches tall, and 5 inches deep, the lightweight and wireless design lets the Sound Step to be able to be effortlessly relocated from room to room, making it easy to share in a multi-device, multiuser household.
The unit additionally comes equipped with a built in FM tuner, which is controlled through the free Soundfreaq Remote app., so you can listen to all your favorite local stations.  Other slick features include a handy remote control that can be stored in the compartment on the bottom of the unit, touch control buttons on the front, power adapter, FM antenna, aux input, USB charging port, and video output perfect for streaming video from your docked Apple device out to a TV.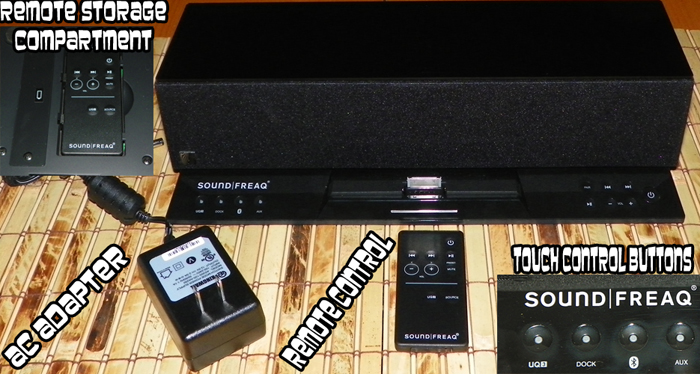 Conclusion
Priced at $149 the Soundfreaq SFQ-02 Sound Step Recharge gives the listener multi-functional use at an affordable price.  The sound quality is impressive for a compact speaker unit, sports an attractive design, and makes streaming audio from compatible Bluetooth devices a cinch.  Not requiring to have to dock the wireless gadgets gives the user full control over their listening experience. Personally, I find it to be an excellent exercise companion!  I am able to ditch the restricting ear buds and control the tunes with the light remote,  instead of having to strap my expensive iPod touch to my body and risking it becoming damaged during my workout.
Save 10%!
Visit the Soundfreaq e-store and enter the discount code "momblog" to receive a 10% discount on the Sound Step Recharge and all other products in the store.
"I wrote this review while participating in a blog tour by Mom Central Consulting on behalf of Soundfreaq and received a product sample to facilitate my review."