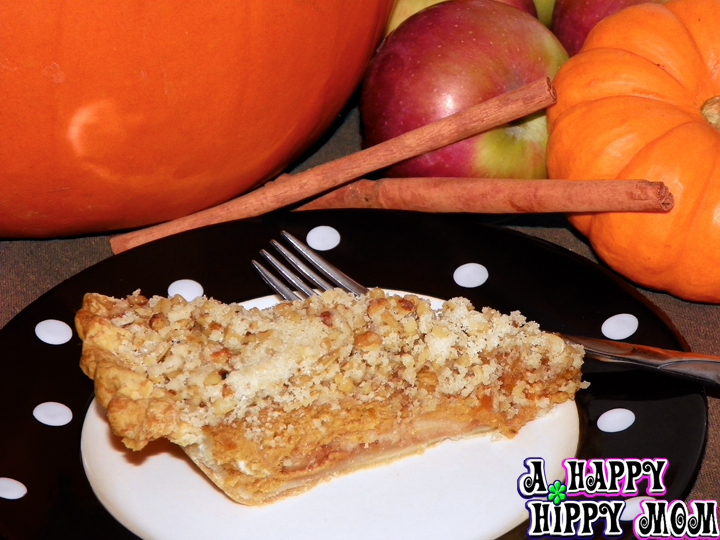 Who doesn't love a warm crisp apple and an inviting pumpkin pie? Why not have both, with this Pumpkin Dutch Apple Pie! Each bite of this unlikely duo will send your taste buds on a delicious and luxuriant ride of perfection. These swirls of outrageous layers will be sure to grant everyone a happy tummy after the holiday meal.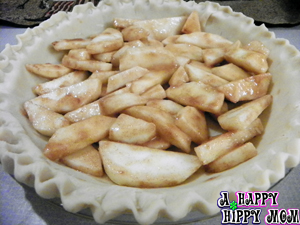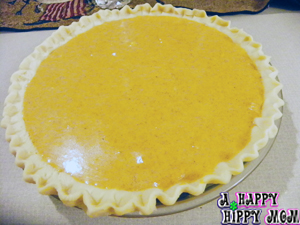 Pumpkin Dutch Apple Pie Recipe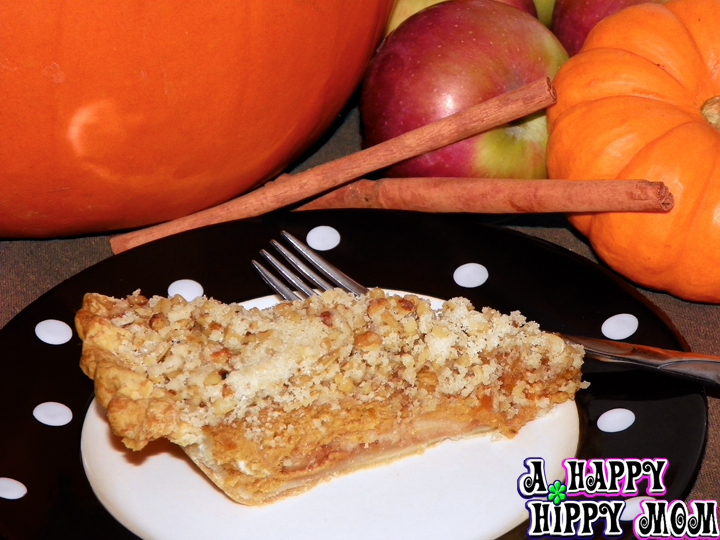 Prep time:
Cook time:
Total time:
Ingredients
APPLE LAYER
2 cups peeled, cored, thinly sliced green apples
¼ cup granulated sugar
2 teaspoons all-purpose flour
1 teaspoon lemon juice
¼ teaspoon ground cinnamon
1 unbaked 9-inch (4-cup volume) deep-dish pie shell
PUMPKIN LAYER
1½ cups LIBBY'S® 100% Pure Pumpkin
1 cup NESTLÉ® CARNATION® Evaporated Milk
½ cup granulated sugar
2 large eggs, lightly beaten
2 tablespoons butter or margarine, melted
¾ teaspoon ground cinnamon
¼ teaspoon salt
⅛ teaspoon ground nutmeg
CRUMBLE TOPPING
½ cup all-purpose flour
⅓ cup chopped walnuts
5 tablespoons granulated sugar
3 tablespoons butter
Directions
PREHEAT oven to 375° F.
FOR APPLE LAYER:
Combine apples, sugar, flour, lemon juice and cinnamon in large bowl. Pour apple mixture into pie shell.
FOR PUMPKIN LAYER:
Blend pumpkin, evaporated milk, sugar, eggs, butter, cinnamon, salt and nutmeg together in medium bowl. Pour the pumpkin mixture over apple layer.
BAKE for 30 minutes. Remove from oven and sprinkle with Crumble Topping. Return to oven. Bake for an additional 20 minutes or until filling is set. Cool completely on wire rack.
CRUMB TOPPING:
COMBINE flour, nuts and sugar in medium bowl. Cut in butter with pastry blender or 2 knives until mixtures resembles coarse crumbs.
Nutrition Information
Serving size:
⅛ servings of recipe
Calories:
410
Fat:
170
*Recipe credited to Nestle USA