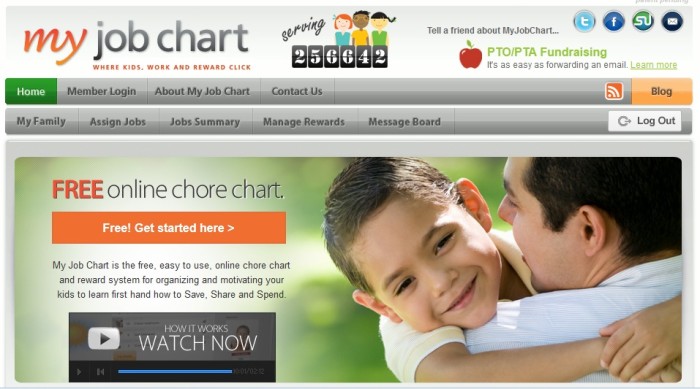 "Money doesn't grow on trees!"  How many times have you tried to explain this to children who want and think they need the newest, trendiest products on the market?  They believe your pocket is a direct line to the National Reserve Bank!  The talk of money is one of those topics that ranks right up there with the uncomfortable subject of sex and makes parents writhe with just the thought of having to sit down and explain the "birds and the bees" of financial responsibility.  Take a deep breath, exhale, and relax!  Even though the money discussion seems taboo, it doesn't need to bring on parental panic attacks.  Free resources like MyJopChart.com allows parents to easily teach kids online the ABC's of prosperity including Saving, Sharing and Spending!
My Job Chart's free online chore chart helps parents with kids ages 5-16 implant strong work ethics without the struggle.  Kids learn the value of a dollar by completing jobs assigned by mom and dad and earn points for tasks done correctly.  Each point is worth a penny which may be banked in a savings account at a desired banking institute such as ING Direct, Bank of America, Citigroup, etc.  Or, the accumulative points are able to be spent on family rewards, custom rewards, and retail rewards powered by Amazon.  Another point exchange option is for children to Share points by donating to a worthwhile charity of their choice.  Being able to contribute to their favorite cause teaches children the importance of sharing and also employs financial discernment.  The whole process is simple to set up and extremely rewarding for parents and children.
How it Works
[field name= iframe]
Unfortunately, personal accountability and financial responsibility is not inherited and must be taught for children to grow into productive adults.  My Job Chart is a fun way for parents to help teach children the valuable life skills they need to establish a positive work ethic.  It motivates kids to be responsible and shows them the pleasure of being compensated for work well done.
Teaching The Fundamentals With My Job Chart
I set up a job chart for my son and daughter.  My daughter is 15 and I blew it 10 years ago by not making her do any chores.  My parents were very strict on me while I was a child and I vowed I would not impose the same type of stress on my children.  I reckoned school alone was demanding enough and wanted her to concentrate on the importance of achieving good grades. However, what I did was create a kid who is academically a genius, but not able to withstand the responsibility of daily physical chores. This is a mistake a lot of parents make due to overcompensating for not wanting to fall into the same parenting steps of their mother and father.  Indisputably, there needs to be a balance between allowing a child to be a kid, education, and teaching the fundamentals of becoming a highly motivated, self-sufficient individual who is able to work successfully at tasks demanded upon them.  Yet, all is not lost and I discussed with my daughter about receiving money for chores completed on her chart. Once I told her she was no longer able to shake the money tree (meaning my husband) she wholeheartedly agreed, since there are oodles of items on Amazon she wants and now will earn.  Nonetheless, I am not making the same mistake twice and my 4 year old son is being made to clean up his room, put away his toys after he is done using them, and getting an allowance for a job well done!  Teaching a child about being financially responsible at an early age is much easier than waiting until they are a teen, but it is never too late!  Thanks to My Job Chart's easy to use, online chore chart and reward system, both my kids are learning to Save, Share and Spend  responsibly!
It WORKS!
Maybe you have tried a chore system in the past and it failed miserably?  Try giving My Job Chart a chance!  The innovative program is very practical, customizable, kid-friendly, and it WORKS!
Stay Connected
Stay connected with My Job Chart using these social media sites.
Visit the My Job Chart website
Like My Job Chart on Facebook
Follow My Job Chart on Twitter