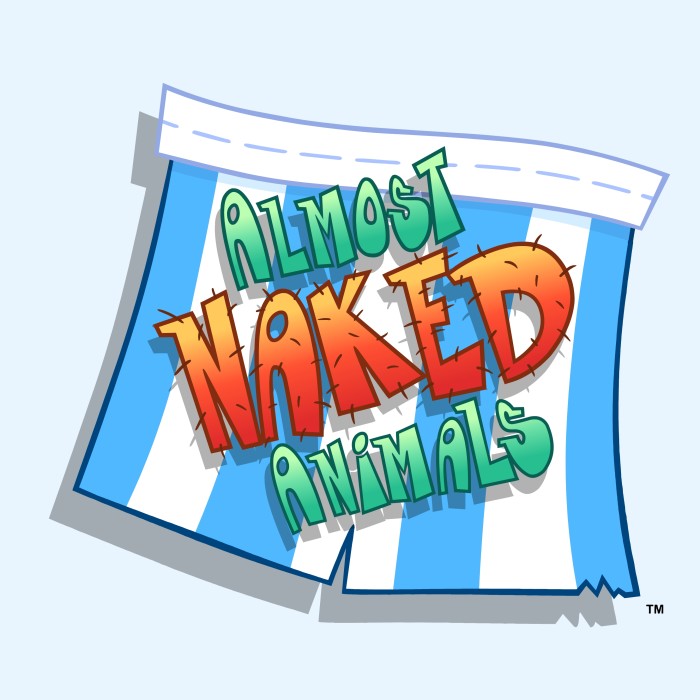 Summer vacation might be over, but the fun at the Banana Cabana is just beginning! On September 25, 2012 Volume 1 of "Almost Naked Animals", Cartoon Network's top-rated animated series for kids aged 6-11, will be available on DVD!  If you are not familiar with the cartoon, it is based on the quirky designs of Noah Z. Jones (creator of Fish Hooks) and is about a bunch of crazy animals who shaved off all their fur and wear underwear instead.  The cartoon is absolutely hilarious and not only is it entertaining for kids, but it also appeals to fun-loving adults as well.
About The Characters
The Banana Cabana is a beachfront hotel run by the hyperactive, fun-loving, hospitality challenged canine manager named Howie (voiced by Robert Tinkler).
Additional characters include, Octo (voiced by Howard Jerome), a blue octopus who is Howie's best friend and a highly strung front desk clerk; Bunny (voiced by Emilie-Claire Barlow), a hyperactive, hyper-enthused, yellow rabbit  and activity planner;  Narwhal  (voiced by Seán Cullen), an egotistical toothed periwinkle whale that loves to sing and rules the hotel lounge;  Sloth (voiced by Linda Kash), the world's slowest moving bellhop who is sweet on Howie; Duck (voiced by David Berni), an eccentric peach-colored duck who is blissfully-oblivious and does random jobs; and Piggy (also voiced by Seán Cullen), a highly passionate ninja-trained mess cook- and swine you don't want to mess with.
Howie's older and very snooty sister Poodle (voiced by Alyson Court), runs the nearby, ultra-ritzy Chateau Chattoo with an iron, manicured paw.  The prissy control freak is often trying to sabotage her brother's hotel.  Her loyal sidekick bat Batty, (voiced by Julie Lemieux), helps her carry out her schemes and dreams.
About Almost Naked Animals: It's My Party DVD
"Almost Naked Animals: It's My Party DVD,"  releasing on September 25th,  features six fun loving episodes of Season One with a total running time of 70 minutes.  Episodes include:
"Almost Naked Animals:  It's My Party!" DVD Episode Synopsis:
It's My Party – Episode 101
While getting the hotel ready for a big party, everyone gets trapped in the basement – with only Duck to save them.  Then, the Banana Cabana needs to be awarded at least one star by a reviewer in order to keep the hotel out of Poodle's clutches.
[field name= iframe]
Saliva Drive – Episode 102
Dirk Danger is holding a contest to find a sidekick for his new movie. Howie desperately wants the part, but when Octo wins, Howie has to help his friend make it through the stunts. Then, Howie finds a lost toy that – when you add water to it – becomes a monster truck!
One Star Hotel – Episode 103
Howie quits the hotel biz to try to lure his hero Dirk Danger out of retirement. Then, Howie leaves a humongous hunk of ear wax under his pillow for the Ear Wax Elf. But when the Elf doesn't arrive, it's up to Howie to figure out what he did to make the Ear Wax Elf mad!
What Would Batty DO – Episode 104
A Howie stunt goes very wrong and injures Poodle's assistant, Batty, so Howie takes over as Poodle's assistant while Batty recuperates at the Banana Cabana. Then, an electrical mishap leaves Duck with psychic powers – or so everyone believes. Poodle stages a Duck-napping in order to have a psychic of her very own.
Employee of the Month – Episode 105
Howie has been secretly awarding himself Employee of the Month for years. When the staff find out they challenge Howie to take on all their jobs and do them better. Surely he's up to it!
Duck Vinci Code – Episode 106
When the Banana Cabana runs out of food (thanks to Poodle), Howie plants a 'magic bean.' Next thing they know, the bean becomes a monstrous animal-swallowing plant! Then, Howie's trapped inside the Chateau Chattoo and all his friends are stuck outside, as a ketchup, mustard and relish hurricane rages across the beach.
Bonus videos include: Almost Naked Animals Music Video, Welcome to the Banana Cabana and Howie's Stunt school.
Almost Naked Animals:  It's My Party! DVD sells for $6.99 and will be available at Target and other retailers.
Almost Naked Animals Community and Cabana Craze Online Game
In addition to the DVD release AlmostNakedAnimals.com will be launching an online community for ANA fans and an awesome ANA game, Cabana Craze, which players can run the Banana Cabana as the cast of the underwear-clad animals.  The game will allow players to accumulate points and stars while running their own hotels,  which can be used to unlock extra play areas and exclusive videos.  Once all the codes are collected, an additional exciting mini game will be unlocked.  Certain retail items, such as the DVD, will also include codes so keep a watch out for those select products.
NEW Online Store Coming!
Beginning in Fall 2012,  fans can pickup some of their favorite Almost Naked Animal products!  Cafe Press, the giant online resource for custom T shirts and other unique gifts,  and 9 Story Entertainment have collaborated to bring fans a wide collection of Almost Naked Animal products in a new online store!  The store will feature cool items, such as bouncy rubber balls featuring favorite ANA characters, notebooks, huggable plush characters, colorful sky gliders, keychains, and more.  Furthermore, Titan's magazine dedicated  ANA issue will also be available at retailers nationwide October 16, 2012.
Cafe Press Almost Naked Animal Products
A selection of the Cafe Press Almost Naked Animal offerings at AlmostNakedAnimals.com will consist of:
Almost Naked Animals I Heart Duck Tote Bag -$18
Almost Naked Animals Cork Coaster- $7
Almost Naked Animals Pattern Journal -$11
Almost Naked Animals T-Shirts – From $17
Conclusion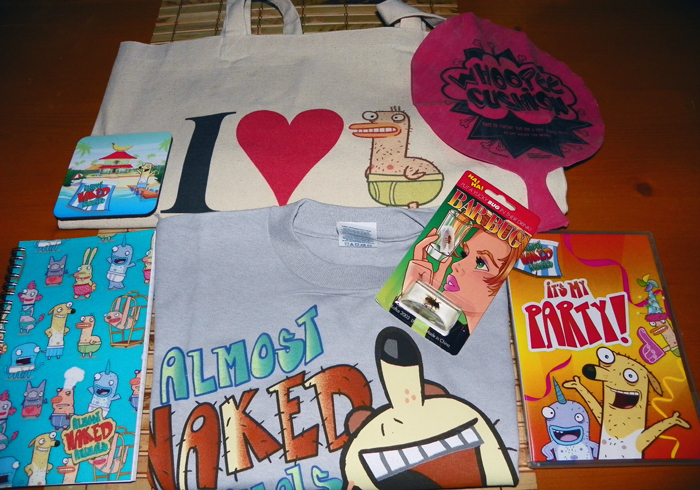 I received a goodie bag via Child's Play Communications containing the "Almost Naked Animals: It's My Party! DVD," tote bag, notebook, kid-sized t-shirt, party coaster, whoopie cushion and a plastic ice cube with a bug inside.  We found each of the products to be humorous and my son just loved the whoopie cushion!  The cartoon itself is very funny!  Don't count on seeing any educational lessons in "Almost Naked Animals," since it is made up of 100 % pure laughable fun that kids eat up!  There is some slapstick violence in it, but nothing worse compared to what your child probably has seen in "Spongebob" or "Bugs Bunny."  The third season of "Almost Naked Animals" is kicking off this Fall on Cartoon Network and we will be tuning in to watch the crazy episodes!