Halloween, the most magical kids day is almost upon us!  Since Halloween only comes once a year, like all doting moms you probably already have your camera loaded and ready to snap plenty of scrapbooking photos to mark the creepy momentous occasion.   However, perhaps you have been preoccupied with every day activities that you have not had the opportunity to choose a costume for you or your little munchkin yet.  The chances are the large department store aisles are packed with disappointments and all the popular costumes and accessories are picked over by now.  So what is a busy momma supposed to do?  Head to Halloween Express!
Halloween Express is the Halloween costume authority!  When it comes to Halloween costumes, decorations, props and costume accessories, you won't find a larger selection anywhere.  Whether you are searching for a popular adult, child, or even a frightening costume for your pet, Halloween Express has you covered.  Being one of the most aggressive and dynamic Halloween chains in the United States, the website store for everything Halloween is opened 365 days out of the year and ready to meet your spooky last minute celebration needs.
For the 2012 Halloween season Halloween Express has added more than 4,000 New for 2012 costumes, decorations, props and masks to their local store shelves and online collection.  You can find the hottest movie costumes everyone is seeking including Spider-Man 3, Batman – The Dark Knight, Snow White and the Huntsman, and much more.  Plus, they have added some extremely creepy animated props to scare the stuffing out of your party guests such as the Laughing Hag that looks amazingly real, rocks back and forth, laughing insanely.
Recently I had a chance to shop at HalloweenExpress.com and was highly impressed on the huge assortment of unique Halloween products they offered.  WOW!  I must have spent an hour just looking through the adult costumes alone!  What I love about this store is they have an abundance of costumes in stock and ready to be shipped the same day.  The service is impeccable!  Also, you can choose the level of creepy and frightening costumes and decorations for the appropriate age.  They have mellow and cute costumes for children and downright heart-stopping scary costumes for adults.  The website even has awesome super quality costumes, which are for the more serious Halloween enthusiasts.  There is something for everyone there!
My whole family gets into the Halloween celebration.  My daughter doesn't enjoy dressing up, but loves handing out candy so I didn't bother getting her a costume this year.  We decided to do the Batman theme and I chose a Batman Costume for hubby, Robin Costume for my son, and a Cat Woman Mask for myself.   The costumes fit true to their sizes and were of excellent quality!  My husband had a blast in the Batman Costume, as you can tell from the photos below.  I had a very difficult time trying to keep the camera steady to snap the pictures, since I was laughing so hard at his dynamic comic poses.  He really got into the spirit of things!  LOL!  My son also enjoyed his Robin outfit and was begging to go trick-or treating.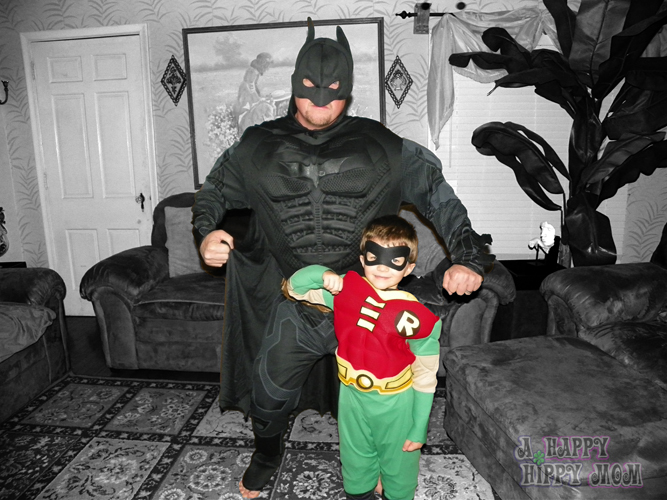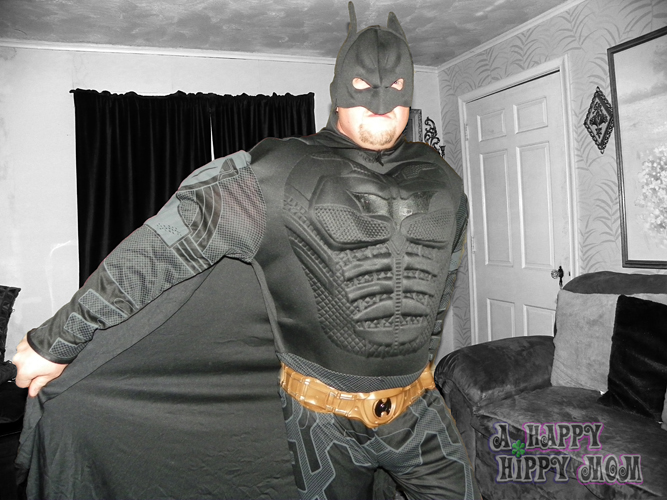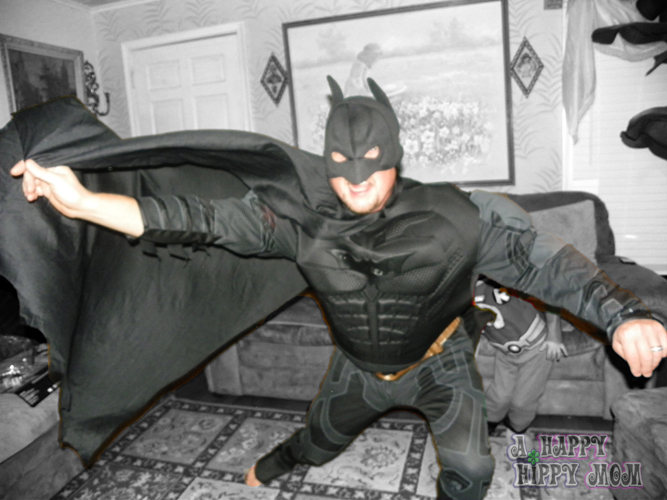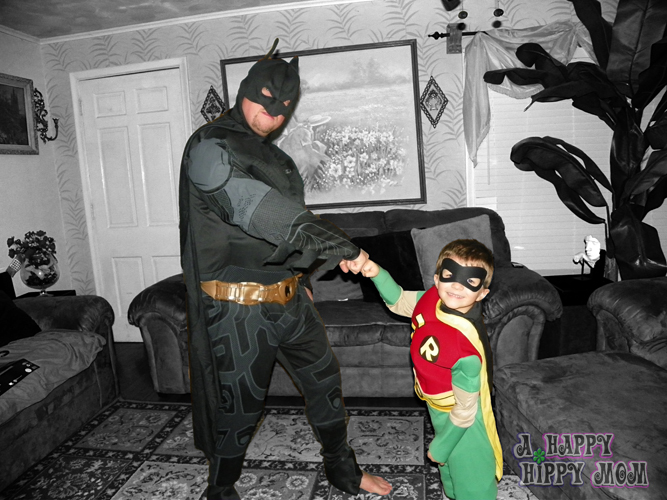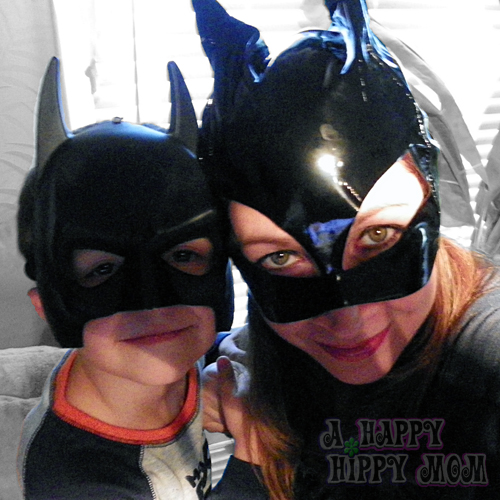 I additionally purchased a very cool Color Changing Pumpkin Light to place in my pumpkin this year as a safer alternative to using candles.  The 4 items cost under $100 with coupon savings and were shipped out the same day for FREE!  You can't beat the price, excellence of costumes, and service.  I will be doing all my Halloween shopping at HalloweenExpress.com for 2013!
Oh I almost forgot to mention that Halloween Express also offers costumes and decorations for almost every holiday occasion!  If you need a good Santa Suit this Christmas they are your source!
Stay Connected With Halloween Express
Like the Halloween Express Facebook page
Follow Halloween Express on Twitter
Visit the Halloween Express website
Join Halloween Express on Google+
Halloween Express $75 Gift Code Giveaway!
The very nice and generous folks at Halloween Express would like to give one lucky reader a $75 Gift Code to go shopping with at HalloweenExpress.com.  To enter the giveaway please follow the instructions provided on the Rafflecopter form. Any comments are welcomed below, but won't count towards the giveaway. Only entries using the Rafflecopter form will be eligible for prize. Thank you!
[field name= iframe]