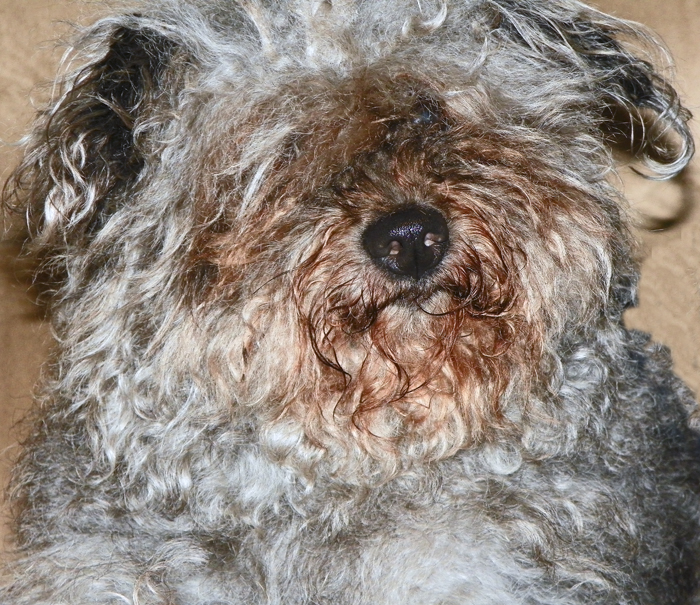 Every day you awake to a life revolving around a day of labor, stubborn co-workers, lousy food, crazy kids, sleep, and then it starts again. Though your daily routine can become solemn with the dull and non amusing activities, there are the small but life changing things that make it all worth wild. For me it is Pepper, the tiny black mop that dances around my feet and never fails to greet me with a smile. She is a sassy, sarcastic Cairn-Poo who has been the boss of my house for nearly seven years now. Ranging from the colorful toy lurking in the corner, or my two monstrous labs, nothing is too intimidating for her. Her encouraging spunk relentlessly lifts mine and my family's spirits. Pepper is not just a house pet, but an adored member of our family. Being the outrageous and courageous girls she is, her appetite is minute and picky.  It is difficult to find a doggy food that will satisfy her taste buds, and will keep her away from my plate and on to her own!
I want my little joy to receive a well-balanced and nutritious diet that is not only good for her but also a delight to eat. It is hard to resist the urge to give into those beautiful brown eyes when she begs for a slice of cheese I am cutting for dinner. Pepper is trusted member of my family and she deserves the pleasurable glee of a gourmet meal as well! My son feels that can be achieved by throwing scraps under the table for her, (which she does not scoff about). He is not the one though who is granted the special early Christmas gifts left behind… Pepper needs a dish that is delicious and calming on her sensitive belly.
Cesar is inviting all dog lovers to try their new Savory Delights, with especially tasty ingredients and toppings. Pepper has had the opportunity to personally try the dish for herself and gave raving reviews expressed by the wag of her tail and the joyous twinkle in her eye.  You too can have your beautiful pooch try and experience this dinnertime bliss! Cesar is promoting Savory Delights by sponsoring a giveaway that will give 5,000 lucky winners their very own two complimentary meals. Savory Delights comes in five different and unique flavors; Filet Mignon Flavor with Bacon and Potato, Porterhouse Steak Flavor with Peas and Carrots, Rosemary Chicken Flavor with Spring Vegetables, Ham and Egg Flavor with Bacon and Potato, and Rotisserie Chicken Flavor with Bacon and Cheese.
HOW IT WORKS
"Dog lovers can participate in the #sharethejoy 10,000 Savory Delights Twitter Giveaway, beginning at 9:00 am (ET) on Wednesday, September 5 and ending at midnight (ET) on Wednesday, September 12.

For Twitter novices and aficionados alike, the sharing process is simple:

1. Create a tweet sharing why your dog means so much to you and tag and follow @CesarCuisine

2. Include the hashtag #sharethejoy in your tweet

3. Encourage your friends and Twitter followers to #sharethejoy with others to receive their own complimentary meals from CESAR® Canine Cuisine

4. @CesarCuisine will follow-up to gather shipping details and reward 5,000 dog lovers with two complimentary Savory Delights meals."
Stay Connected With Cesar
Stay connected with Cesar using these social media sites:
Visit the Cesar website
"Like" the Cesar Facebook page
Follow @CesarCuisine on Twitter
 "I wrote this review while participating in an ambassador program by Mom Central Consulting on behalf of Cesar and received product samples and a promotional item to thank me for taking the time to participate."