Calling all ghosts, goblins, and ghouls! It's that time of year again where you can find your favorite childhood monsters haunting the cereal shelves! For a limited-time only, Target stores are featuring the delicious cereals, including Count Chocula, Boo Berry and Franken Berry. For more than 40 years, General Mills Big G Monster Cereals have inhabited the hearts of adults and children alike during the Halloween festivities and are a much loved yummy household tradition.
• Each vintage monster-themed cereal including Count Chocula , Boo Berry , and Franken Berry will be available at Target beginning in September; for a limited-time only
• These cereals combine chocolate, blueberry and strawberry flavored cereal with colorful marshmallow shapes that both kids and adults enjoy
• Each serving of the monster-themed cereal has no cholesterol or saturated fat and provide a good source of whole grain, calcium, and nine essential vitamins and minerals
I always looked forward to the Monster Cereals around Halloween when I was a youngster and now enjoy sharing the same spooktacular yumminess with my two children. The cereal is delicious right out of the box and makes an excellent alternative to sweet treats, such as candy and cookies. My son loves looking at the back of the cereal box while fishing out the marshmallow shapes and then munching down the rest of the cereal. It is so much fun to eat in the morning or as a late night snack! We delight in having the Monster Cereal boxes lurking within our cabinets during the Halloween season, because it adds a bit of inexpensive tasty, spooky fun!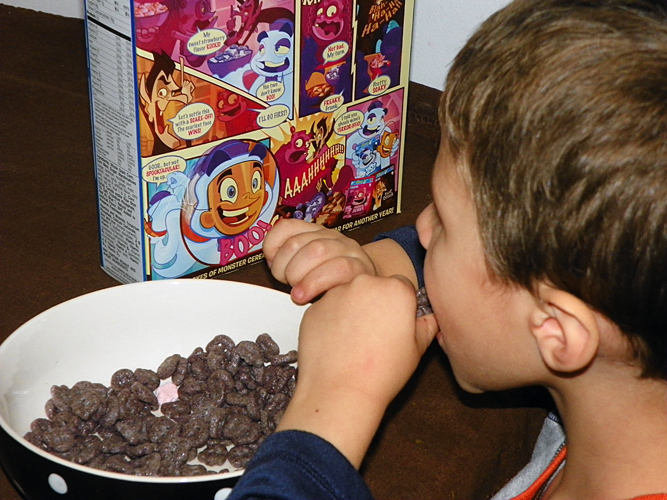 Want to help conjure memories of the gh'oul times to share with your kids? Head to your local Target store to stock up on General Mills Big G Monster Cereals before they're all gobbled up!
Stay Connected With General Mills & Target
Big G Monster Cereals Prize pack Giveaway!
Courtesy of General Mills, via MyBlogSpark, a lucky reader will win a spooktacular Big G Monster Cereals Prize Pack including:
(3) boxes of Big G Monster Cereals including: Count Chocula, Boo Berry, and Franken Berry
A $20 Target gift card
To enter the giveaway, please follow the instructions provided on the Rafflecopter form. Any comments are welcomed below, but won't count towards the giveaway. Only entries using the Rafflecopter form will be eligible for prize. Thank you!
[field name= iframe]
"Disclosure:  The product, gift pack, information, and additional sample have all been provided by General Mills and Target through MyBlogSpark."