As the conversations of summertime barbecues gradually fade and the discussions of back-to-school events become more prevalent, I begin feeling exceedingly anxious. It's not as a consequence of the  back-to-school shopping rush or due to the fact I feel as though I've been punted across the backyard at the end of the day. The key reason why I have anxiety is that  I worry about sending my teen daughter back in an environment in which there is unknown dangers and harmful influences.  I bet I'm not the only parent who is concerned and gets butterflies in their stomach as the new school year approaches! However, I try and hide how I'm feeling from my daughter, since I know she is nervous enough without  having me make matters even  worse.
Pictures On Gold, a manufacturer of 14 karat gold and sterling silver custom made jewelry based out of New York City, offers an exquisite line of Guardian Angel Back To School Jewelry to ease and comfort both parents and children while they are apart. The religious jewelry collection includes Back to School Lockets  which can be engraved with a personal photo of yourself as a reminder to your child that guardians are close at all times. Other back-to-school jewelry at PicturesOnGold.com consists of a variety of necklace pendants, religious earrings, and Patron Saint Of School Children  bracelets such as Saint Catherine Of Alexandria, Our Guardian Angel, and Saint Benedict. Additionally, they offer a Back to School Guardian Angel Pin perfect for pinning on scarves, sweaters, or backpacks.  No matter what you decide upon, it will help give you and your child a sense of security, guidance, and the assurance of always being protected.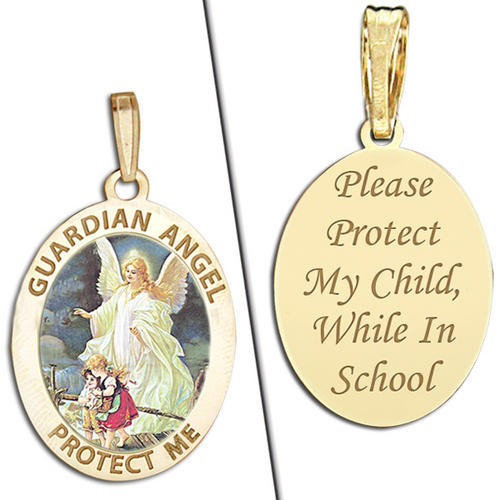 I was sent a Sterling Silver Guardian Angel "School Protect Medal," along with an 16 inch Sterling Silver Box Chain for review.  The medal is double sided with a colored picture of two Victorian looking children walking along as a gorgeous angel watches over them. On the front around the edges displays the words "Guardian Angel Protect Me." The back of the medal is engraved with the comforting message "Protect My Child While In School."  The necklace is light weight,  has a vintage appearance, and is very beautiful! The 16 inch Sterling Silver Box Chain is delicate looking with a lobster clasp. Together they make a fantastic combination and a wonderful back-to-school accessory for parents and children who need comforting.
All jewelry items are 100 percent waterproof!
Stay Connected With PicturesOnGold.com
Like PicturesOnGold.com on Facebook
Follow PicturesOnGold.com on Twitter
PicturesOnGold.com would like to give one reader a beautiful Sterling Silver Guardian Angel "School Protect" Double Sided Medal "Color Exclusive,"  along with an 16 inch Sterling Silver Box Chain TO ENTER THE GIVEAWAY PLEASE USE THE RAFFLECOPTER FORM INSTEAD OF LEAVING BLOG COMMENTS HERE. Any comments are welcomed below, but won't count towards the giveaway. Only entries using the Rafflecopter form will be eligible for prize. Thank you!
[field name= iframe]