Woot woot!  I applied to participate in the Oasap Fashion Hunter Program and was accepted to become an  Oasap Fashion Hunter!  Why am I so excited?  Oasap.com is a global online shop specializing in high-street fashion  providing a large selection of women's apparel, bags, shoes, jewelry, accessories, beauty products, etc.  The online store was established late in 2011, yet has already developed into a frontrunner of  high fashion in the online world marketplace.  It's not surprising, considering they are continually updating their product line featuring  more than 600 new cutting-edge fashion products each week.
Every month I receive credit to purchase apparel from the  Oasap.com online store in exchange for a honest review of the clothes I selected.  This is an awesome opportunity for me to update my current wardrobe as well as highlight some of the beautiful fashion designs available for you to purchase.  There is so much to choose from, but I hope to pick the best of the best and share with you about the quality of the clothes, fit, and overall appearance of the items.
At first, I felt a bit intimidated looking at the size of the models displaying the clothing.  They are extremely thin and my immediate reaction was the sizes were going to run way too small for my body shape.   Several of the Oasap.com apparel items are one size fits all and I was thinking … ummm okkkkkkkkk.  However, what I love about the online shop is on most  items it gives a complete breakdown of the clothing measurements such as bust, waist, and length. Additionally, they offer a 30 days unconditional return along with free speedy shipping worldwide, so if the item doesn't fit I'm able to easily exchange it for something different.
For the month of August I chose to feature from Oasap.com the  Vintage Rose Embroidery Lace Shorts  and Flower Pattern Bat Sleeve Loose T-shirt.  Both items arrived at my doorstep in less than two weeks after ordering and came nicely packaged. Plus,  they sent me a cute Oasap.com reusable shopping tote free too!
The Vintage Rose Embroidery Lace Shorts  are very elegant looking and made of white cotton, featuring elasticated waist with drawstring,  along with a beautiful all over rose embroidery pattern.  The shorts are available in one size fits all with dimensions of waist: 70-100cm, length: 27cm, and hip: 98cm.  What I adore about these shorts is that they are lined with a satiny material. They are priced at only $30 and a definite great buy for the quality you get!  However, something to keep in mind if you plan on purchasing these shorts is that depending upon the width of your thigh the shorts may not have the flirty loose fit look as displayed in the picture at Oasap.com.  My usual short size is a 6 and these fit, but snug.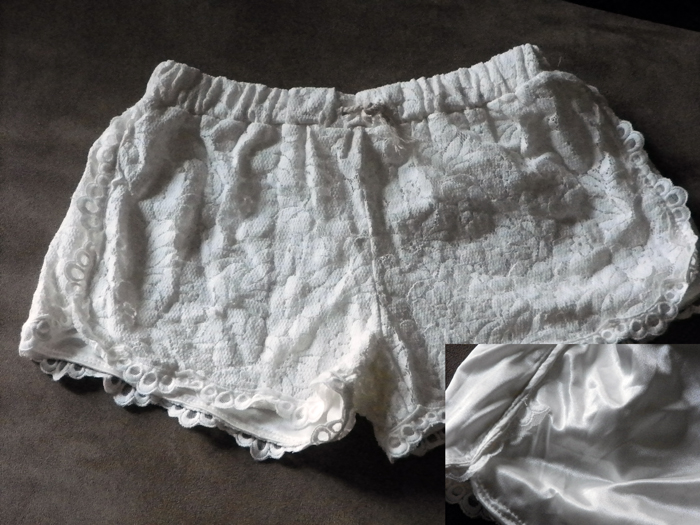 I selected the Flower Pattern Bat Sleeve Loose T-shirt as a match to the shorts.  The shirt is crafted from terylene (a synthetic polyester fabric), featuring a round neck, short bat sleeves, and flower pattern around the neck and bottom.  The t-shirt feels silky soft to the touch and comes in the colors red or white in sizes small, medium, or large.  It is very beautiful and would go wonderfully paired with jeans.  I decided to get the t-shirt in white and size large. I could have gotten away with getting it a size smaller. The large is extremely roomy and comfortable.  It  is priced at $48.00.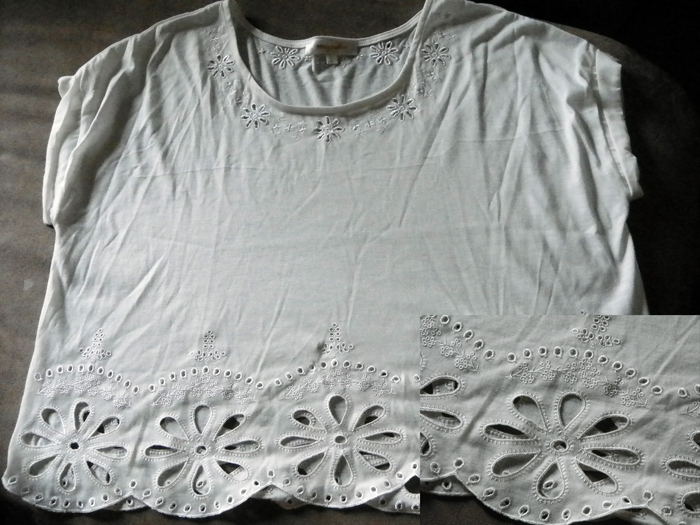 Here is a picture of me wearing the outfit.  Sorry about the photo!  I need a better camera!  The picture doesn't do the clothes justice.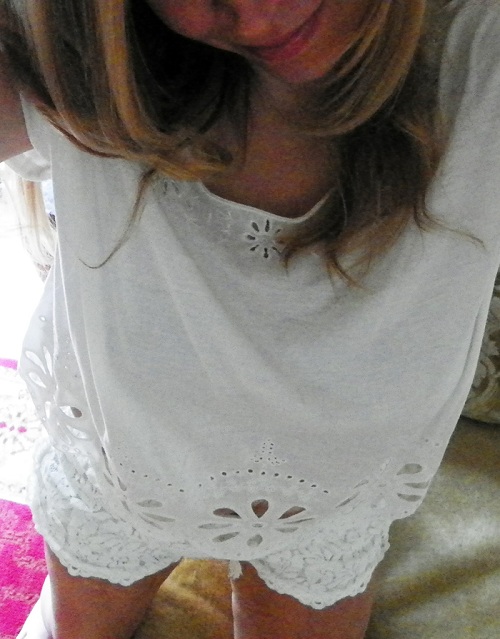 Thus far my experience shopping at Oasap.com has been nothing less than perfect.  The quality, selection, and customer service is top notch!
Keep watching for September's Oasap.com feature!
Join Oasap Fashion Hunter Program
Are you a blogger with more than 300 followers or fans on one platform and love reviewing lovely women's high street fashion? If the answer is yes,  I would like to invite you to join the Oasap Fashion Hunter Program where you can get freebies in exchange for a post on your lookbook, chictopia or blogspot.  PS: If you join through this invite and approved to be Oasap Fashion Hunter, I'll get $8 cash credit. You can invite your friends and get money too. Join Now.