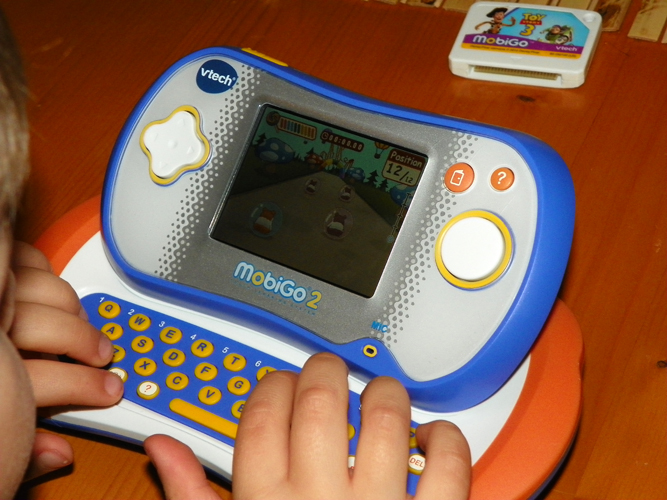 Children are constantly in motion and require educational toys durable enough to keep their developing young minds busy while they are on the move!  This is why I love VTech's products!  Since 1980, the leading world innovator of age-appropriate learning products, has been creating high-quality, imaginative educational items that strengthen children's development, from birth to preteen, through the mix of education and entertainment.  Their fun gadgets are built sturdy with little hands in mind and also help safely introduce kids to the digital world via the VTech's Learning Lodge Navigator.
Expanding on the original model, VTech recently released the NEW MobiGo 2 Touch Learning System.  The multi-functional, educational portable system makes it possible for kids age ranges 3-8 to delight in on-the-go play and sharpen their creative imagination all while learning fundamental skills including mathematics, vocabulary, spelling, reading, reasoning, drawing and much more.
MobiGo 2 Features
Two NEW ways to play: MobiGo 2 comes equipped with a NEW motion sensor and microphone in addition to the touchscreen:
The new motion sensor provides total game control, allowing kids to create action movements within games and programs while playing
The new microphone provides different methods of game play. Blow into the microphone to move objects, blow off dust, or initiate other special effects. Or speak into it to give a command or trigger an action.
Pre-loaded with FREE games: MobiGo 2 also functions as an e-reader, photo album, photo viewer, art studio and coloring book, and comes pre-loaded with three great games that take advantage of the product's many features.
Numerous apps for download: The expanded onboard memory allows kids to store more fun. More than 80 other apps are available for download at the VTech Learning Lodge Navigator at www.VTechKids.com/Download.
QWERTY keyboard: The MobiGo 2 helps kids become familiar with a keyboard layout.
[field name= iframe]
VTech,  through Mom Central,  sent  me the MobiGo 2 for evaluation for my son.  He currently has the original version which is considered one of his favorite playthings.  Actually, it is truly one of mine too, considering that it has been a humongous lifesaver in keeping him content in the vehicle, when shopping in the stores, and at home when I'm busy handling other mommy responsibilities around the house.   Having said that, he hasn't touched the first version of the hand held model after playing the MobiGo 2.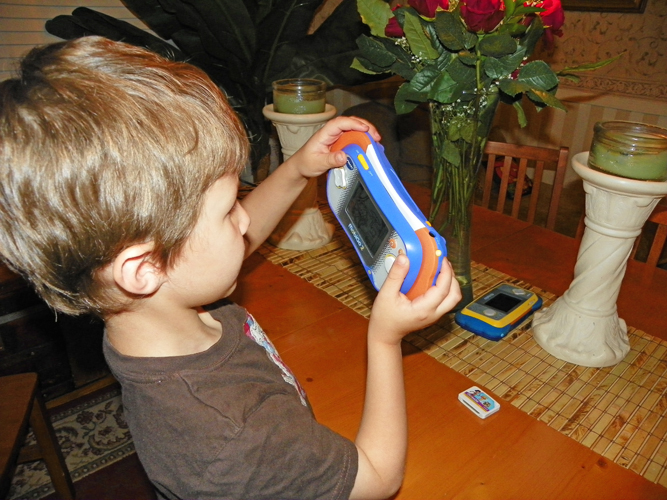 The MobiGo 2,  in my personal opinion,  is far more engaging compared to the original.  The new features of the motion sensor and microphone give an exciting sense of control over the game and grabs the player's attention,  while improving their motor skills.  Plus, it helps burn off a bit of energy as well, which parents will definitely appreciate!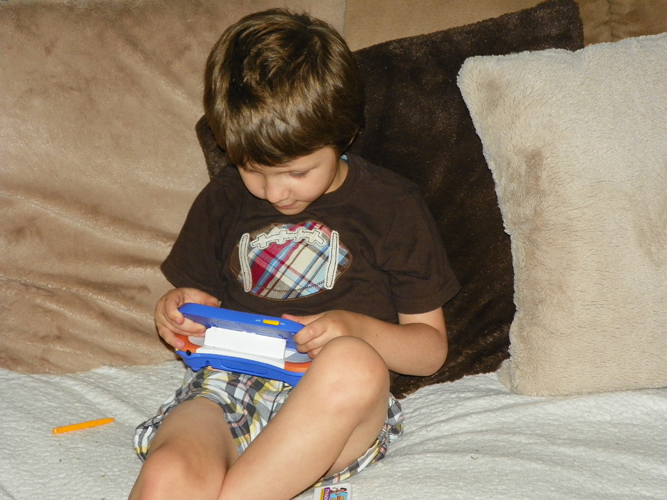 The  multi-functional handheld touch learning system comes preloaded with the fun motion control "Hamster Highway" game, which my son seem to like the best.  You have to tilt the hand held left or right like a steering wheel to race Henry against other hamsters and collect objects along the way,   such as stars that speed him up or lollipops for help. Additionally, the player  has to complete a small pipe puzzle to be able to keep going.  The game may not be the most educational activity VTech has to offer,  but it does teach children coordination and enhances their problem solving skills.
The MobiGo 2 also includes the "Shooting Gallery" where kids have to use the slide-out QWERTY keyboard to knock down the targets by typing  in the letters displayed on the easy level.  On the difficult level they need to type the letters in the correct order to spell the word. This game helps children get acquainted with computer skills and teaches letter recognition.  Both entertaining and educational!
Other stuff included is the "Art Master"  a type of drawing and coloring game as well as the"Photo Viewer" where the user can view plus tag pictures and apply fun effects on the photo by using the microphone or touch screen.
Furthermore, when you register your MobiGo 2 on the Learning Lodge Navigator you will receive 3 free downloads.  They are a special gift from VTech to help your child build a downloadable library. The MobiGo 2 has roughly 75 MB of internal storage, so depending upon how many e-books and games you download they might not all fit on the system simultaneously. However, if your memory is getting full, you can manage the content on your MobiGo 2.
I experienced some minor issues getting the Learning Lodge Navigator to recognize the MobiGo when connecting it to my computer utilizing the USB cable supplied.  I eventually figured it out that my McAfee Firewall was blocking the application.  As soon as I turned the firewall software off I was able to log into my account and select the three free games.  I have to confess I was significantly disappointed to discover the e-books are not readily available until December 2012.  I'm hoping VTech offers  a couple e-books free of charge for new users to have the ability to test out the feature without having to purchase them first.  Seems only fair,  due to the fact new account users have to wait months for the content to be available.  Also,  the Learning Lodge Navigator platform could use a bit of revamping to make it more user friendly.
Overall, the MobiGo 2 is an awesome educational gadget providing kids hours of imaginative play on the go!  My son loves the new features and I think they are fantastic too!  My 4 year old says it is a new  "Super Hero"  MobiGo! LOL!
[field name= iframe1]
Despite adding a motion sensor and microphone, VTech's MobiGo 2 is available now at ToysRUs.com, Amazon.com, Walmart.com and VTechKids.com for a suggested retail price of US$59.99, which is the same price as the original MobiGo.  How cool is that!
Stay Connected With VTech
Stay connected with VTech using these social media site:
Like the VTech Facebook page
Follow VTech on Twitter
Visit the VTech Website
"I participated in a campaign on behalf of Mom Central Consulting for VTech. I received product samples to facilitate my review."