Get Fired Up For New Exciting Rescues!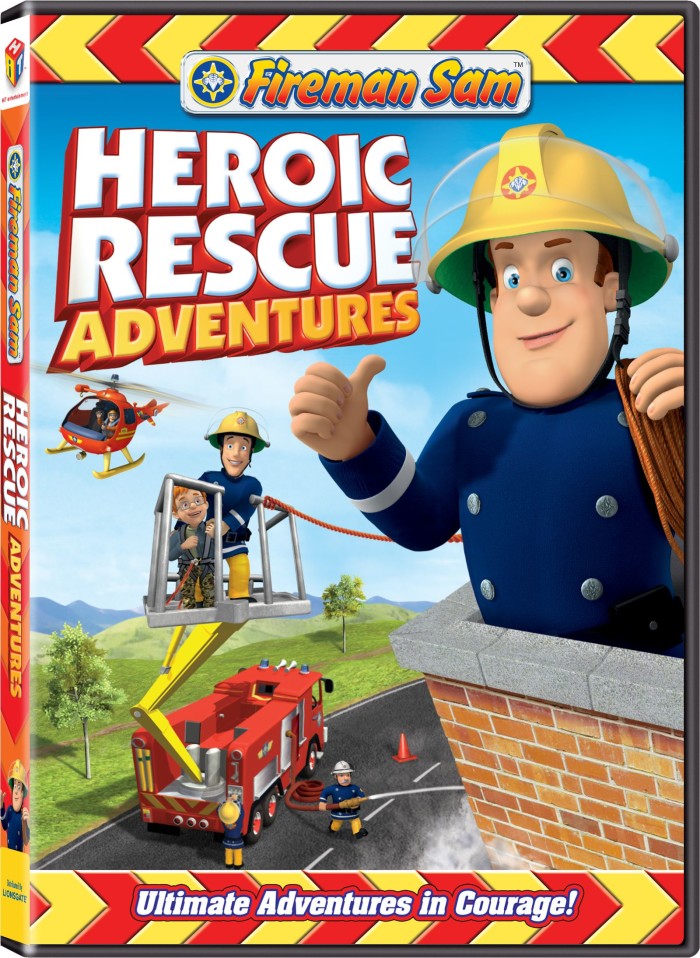 Fireman Sam: Heroic Rescue Adventures
Coming To DVD, Digital Download And On Demand August 7, 2012 From Lionsgate And HIT Entertainment
Summer is getting hot with "Fireman Sam: Heroic Rescue Adventures!"  Featuring six exciting, courage-filled episodes, this collection from the popular U.K. children's series follows the adventures of Fireman Sam and his fearless  firefighting crew as they teach the residents of Pontypandy and young viewers all about safety, responsibility, and good citizenship.
Released on August 7, 2012 from Lionsgate and HIT Entertainment, Fireman Sam: Heroic Rescue Adventures is available on DVD, Digital Download, and On Demand.  It is geared towards children ages 2-5 years old and has a total running time of 55 minutes.
DVD SYNOPSIS
Fireman Sam and his fearless crew are reporting for duty! The courageous team of heroes next door shows off their cool demeanor in a variety of hot situations! Whether it's Norman stuck in a fiery tower or deep in a wishing well, Mike or Penny dangling in a perilous situation or Sarah stranded on the cliffs, Fireman Sam is ready to rescue! Join the squad and get ready to race, run, jump, climb and rappel to save the day!
Episodes include:
"

Towering Inferno

" – The firefighters prepare for a training exercise while Sarah, James, Mandy, and Norman play a dangerous game of hide-and-seek.
"

Seeing Red

" – After Nipper runs out and almost gets hit by a car, Bronwyn decides to take Sarah and the dog out on a walk along the cliff path to help tire him out.  However, trouble strikes when Nipper runs off and Sarah tries catching him.  Sarah falls on a rock and hurts her leg. Bronwyn forgets her phone and needs to flag Sam to come to the rescue.
 "

Pontypandy Extreme

" – Norman is skateboarding in Dilys Shop when the skateboard gets away from him and inadvertently becomes  run over by Trevor Evan's bus.  Dilys refuses to get him a replacement until his birthday.   However,  Norman doesn't want to wait that long and gets impatient.  He comes up with a plan to retrieve the pennies from the wishing well to purchase another one, but drops in and requires rescuing.
 "

Elvis Sings the Blues

" – Elvis slips and breaks his leg and wonders if he is cut out to be a fireman.  Meanwhile, Mike Flood slips when he tries to fix the antenna and finds himself in need of rescuing from the roof.
 "

Fireworks for Mandy

" – Nipper the dog takes off with a flare when Thomas is preoccupied on the phone.  He drops it behind a rock and Mandy finds it while playing with Norman.  Norman gets a crazy idea to set the flare off.  However,  Mandy refuses to and wants to give the flare to Fireman Sam.  Meanwhile, Penny goes absailing, and gets stuck on the cliff.  Norman and Mandy find her and Penny uses the flare to get help
 "

Double Trouble

" -Norman's cousin Derek comes to stay at Pontypandy.  Norman becomes jealous when his mother is making to much of a fuss over Derek.  He sends Derek on a wild goose chase for some flowers in the mountains.  While searching for the flowers, Derek slips getting stuck on the cliff and needs rescuing.
VOD SPECIAL FEATURES
Bonus episode: "Alarm on the Beach"
Fireman Sam: Heroic Rescue Adventures is another wonderful DVD to add to your children's video library.  Like most little boys who love fire engines and sirens – my son enjoys watching the hero of the village (Sam), Station Officer Steele, Elvis, Penny and Trevor come to the rescue and save the day!  The main focus of the episodes are to teach kids how to act responsibly, teamwork, and always to practice safety.
Buy It
Fireman Sam: Heroic Rescue Adventures DVD can be purchases at Amazon.com for just $8.99!
 Fireman Sam: Heroic Rescue Adventures DVD Giveaway!
A lucky reader will win a new copy of Fireman Sam: Heroic Rescue Adventures DVD!  To enter the giveaway, please follow the instructions on the Rafflecopter form.  Any comments are welcomed below, but won't count towards the giveaway. Only entries using the Rafflecopter form will be eligible for prize. Thank you!
[field name= iframe]